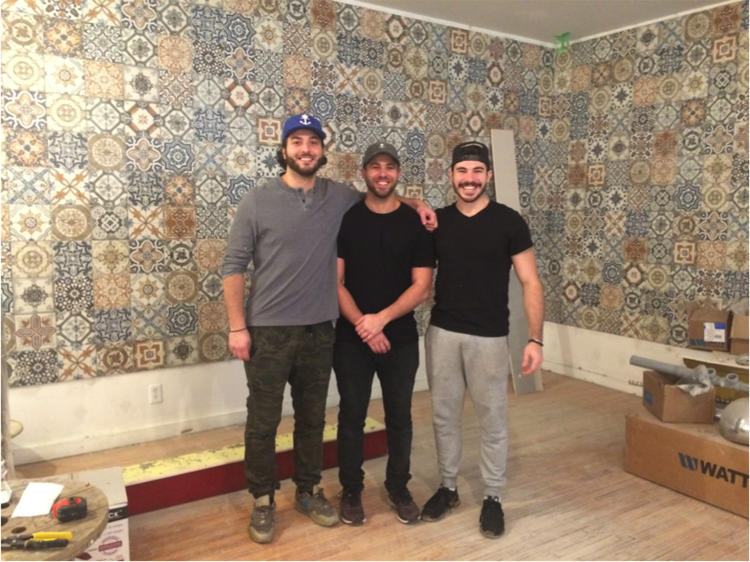 Known in London as the creators of the crispy chicken sandwich of the week, brothers Dimitris and Ilias Korakianitis, co-owners of Kosmos Eatery, are gearing up for their next venture: Dimi's Greek House.
"It's not an old school Greek diner, we want it to be modern," 26-year-old Dimitris explains. 
The brothers started Kosmos, a specialty sandwich shop, three years ago. The eatery was originally a storefront for their catering endeavor. Now, it has evolved into a go-to, casual dining spot for students and locals. 
Customers come to Kosmos on a weekly basis to try their outrageous crispy chicken sandwiches. One week it might be topped with homemade mac and cheese and the next it could be loaded with pulled pork and coleslaw. 
The anticipated soft opening of Dimi's Greek House will be on Dec. 15 and 16, and the grand opening will be in January. The new restaurant will be a few doors down from Kosmos' location on Richmond Row. 
To create the menu for Dimi's, Ilias lays out stacks of family cookbooks while scrolling through Instagram for inspiration.
"That's what the food industry is about, sharing ideas and ultimately seeing what tastes good," Ben Nani, the general manager explains.
As third-generation Greeks, this isn't the family's first restaurant. Dimitris and Ilias' grandparents owned a staple Greek restaurant called Huron House for 51 years in London. The eatery closed in 2014 and Kosmos opened.
"Each generation has taken their own spin on things," Nani says. 
The new restaurant will serve the traditional food the boys grew up on but with a modern twist. They predict the customer favourite will be a chicken shish kabob dinner — a 9-ounce kabob, with veggies, Greek rice, potatoes and house salad. 
"We want to be reasonably priced to hit the student market," Dimitris explains. He expects the restaurants' liquor license will also bring in students.
A make your own mimosa bar will be featured on weekends, along with elaborate Caesar cocktails topped with slices of pizza and lobster tails. The creative drinks menu will pair well with the 28-seat patio opening in spring. Once the weather warms up, a glass garage door will open up the front of the restaurant.    
On top of drinks and Greek food, "Dimi's is bringing the Toronto brunch vibe to London," Nani says. 
Avocado toast, pancake stacks and different styles of eggs benedict will all appear on the weekend menu.
Despite the fact that Dimi's front doors have yet to even open, the brothers are already looking forward to their next venture. 
"Toronto is definitely in the cards," Dimitris says.