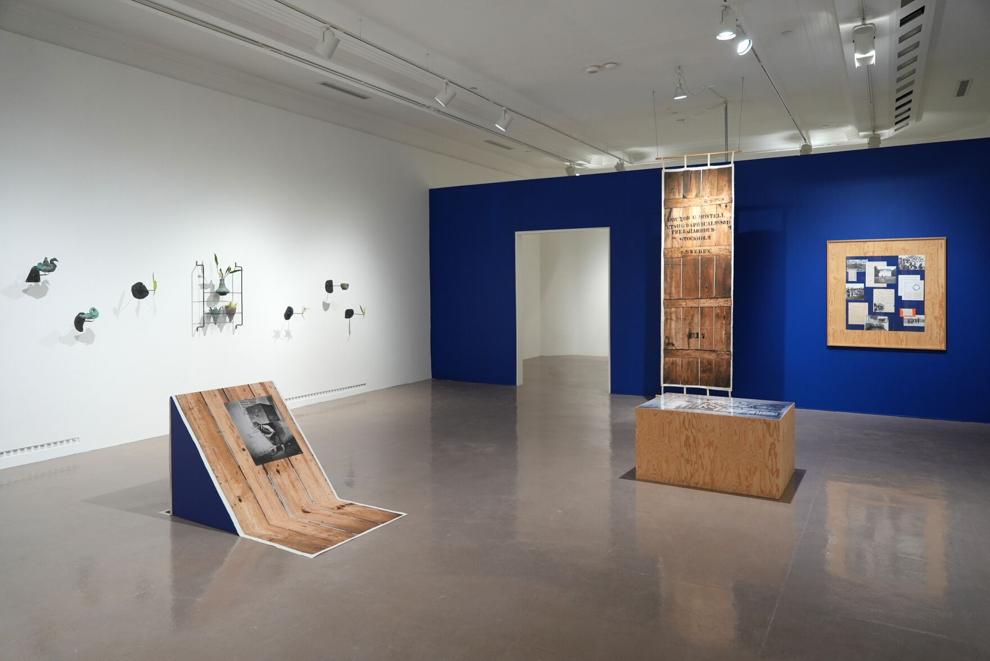 McIntosh Gallery's new exhibition explores how museums have supported and reinforced colonialist versions of history.
"Stories We Tell Ourselves" uses various forms of art — video, sculpture, artifacts and how these are presented — to critique how Canadian museums have historically taught Western-centric versions of history. 
Matthew Kyba, the events curator at McIntosh recruited five international artists and artist duos from multidisciplinary backgrounds: Aseel AlYaqoub from Kuwait, Toronto-based Sameer Farooq, Dutch artist Mirjam Linschooten, Canadian-born Jacqueline Hoàng Nguyễn from Sweden and Leeds-based Emii Alrai. Kyba hopes that the exhibit will allow viewers to reflect on the ways museums tell "political and agenda-backed stories."
"My hope is that this is a show that makes you question the validity of cultural institutions and their objective for the greater good, and ultimately how they manifest that in art," Kyba said at the exhibit's opening on Thursday evening.
The exhibit is free to all members of campus and the London community. Fourth-year biology student at Western University, Omar Alhalabi, visited the exhibit on its first day and expressed his interest in the art.
"I'm always curious about different ways I can engage in the campus community. Art is something new for me," said Alhalabi. "At first glance, it isn't obvious what the exhibit is trying to get across, so I'm trying my best to understand the pieces." 
Kyba explained that museums have colonial roots and practices that are hard to unravel, and he believes looking at stories of the past through a multidisciplinary lens can be a useful way to understand this history. 
"What I'm doing is trying to point attention to being cognisant of the power of institutions and what they try to call the 'story of history,'" Kyba said. "For me, art has allowed me to change the way I understand and think about different things. I'm hoping this can be that for other people." 
"Stories We Tell Ourselves"is open and free to all visitors until March 18.