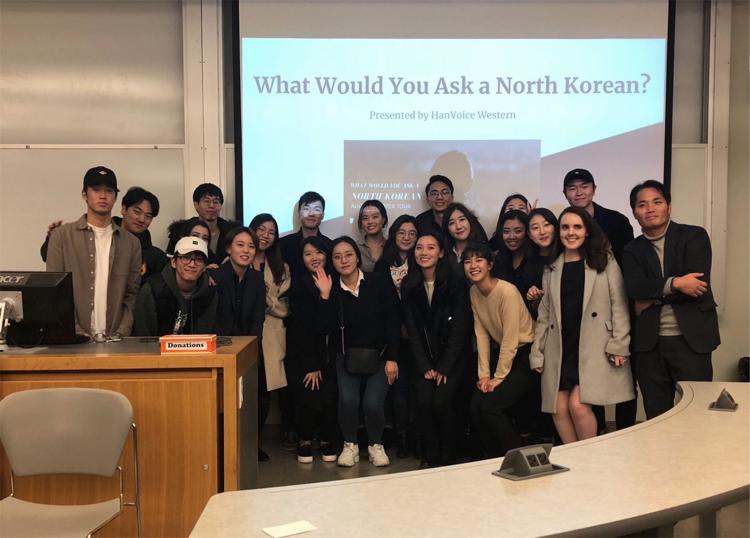 Alice Kim is the daughter of two high-ranking North Koreans. Her father was a general and a diplomat in China; her mother, a high-level secretary in Kim Il-Sung's inner circle.
It was for this reason that Kim was targeted for ridicule in South Korea, where they arrived on December 1997 after journeying through Macau and China.
Forced to flee the country after a failed assassination attempt on her father shortly after the death of Kim Il-Sung, Kim's family had to leave their eldest daughter behind; Kim's elder sister. Kim's older sister had to stay behind because of the diplomatic policy of North Korea, which stated that one member of the family must remain in North Korea. As an alien in South Korea, the South Koreans hated her for being North Korean, and the North Korean refugees despised her because of her family's elite status.
She recounted two experiences of physical mistreatment she endured during her years in school.
"When I was in elementary and middle school, I would open my locker to find trash spilling out," says Kim. "One time classmates hid sharp blades in my desk and I cut my hands fishing for a book."
As time went on, her torment changed.
"As I grew older, the mistreatment became more psychological," says Kim.
Now, the North Korean refugee is one of the pioneers of the HanVoice Pioneers Project. The pioneers of the program tour different universities and bring light to the situation that North Koreans live through.
According to Moojin Ha, a senior government official involved in North Korean affairs, North Koreans are unaware they have human rights. Ha elaborated, stating that more than 70 per cent of North Koreans have not heard of the term "human rights," and 80 per cent of North Koreans have never received education regarding it. 
The hope is to empower students to bring positive change to the brutal human rights abuses that North Koreans face under their political regime.
"'Han' means 'one' in Korean," says third-year biology student and co-president of the HanVoice Club, Lauren Lee. "The reason why Han is part of the name HanVoice is because we're hoping to bring all the voices of the people to be the voice of the voiceless."
On Nov. 13, Kim spoke in an event hosted by Western University's HanVoice branch, which focused on her family's escape from North Korea when she was a child, the struggles she faced in South Korea and her experience assimilating to a foreign culture.
Kim explained that they arrived at the worst time to be a refugee in South Korea. The country was almost bankrupt, and to get by, the family had to work in restaurants and gas stations to supplement the meagre government aid they received, which was not enough for two meals a day.
"My family continued to live in the same small apartment in South Korea," Kim says. "I continue to go to university and work another three part-time jobs to support my family and my studies".
However, Kim did not seem bowed or broken, despite nearly a lifetime of struggle; instead, she relates how she recently finished her first semester as a candidate of a master's degree program in political science and international studies.
Kim finished her speech on a poignant note; although she wanted to be a bookstore owner when she was a child, she has a new dream: "Now, I just want to be a great person."
Afterwards, the Gazette had the opportunity to sit down with Kim and ask her a few questions:
Q: Would you ever like to return to North Korea?
A: Once I had the chance to return to North Korea. We have a Kumgang mountain tour. It was very dangerous for me but my parents wanted me to go there and see what North Korea is like. They spent lots of money for me to go there as part of a student group, and I hid my identity as one of the group so we could pass. I passed the mountains which are very close to the border between the South and the North so in just two hours I could pass the border line and come back to South Korea. I think it was a really good time because I finally saw the real North Korea and I thought "I'm a North Korean" and I felt very emotional.
Q: Do you know where your sister is? Would you like to see her again?
A: Unfortunately, no. We can't find her or even know if she's still alive, because our family is very high-ranking in the government. Maybe the government in the North at the time, the policies against defecting elites were more strict than now, so we don't want to guess about the tragic situation, but we just wonder if she's alive somewhere. We hope. And then, finally, I'll find her and we meet her and have our whole family again.
Lee hopes that awareness events such as this one can help attract more attention to HanVoice. If there are any questions regarding being a general member or joining the executive committee, she suggests reaching out to her on Facebook as new members are always welcome.
Correction (1:44 p.m., Nov. 15): The article was updated in paragraph 11 to correct the definition of "han" from "want" to "one" and to correct the wording in the quote that followed.