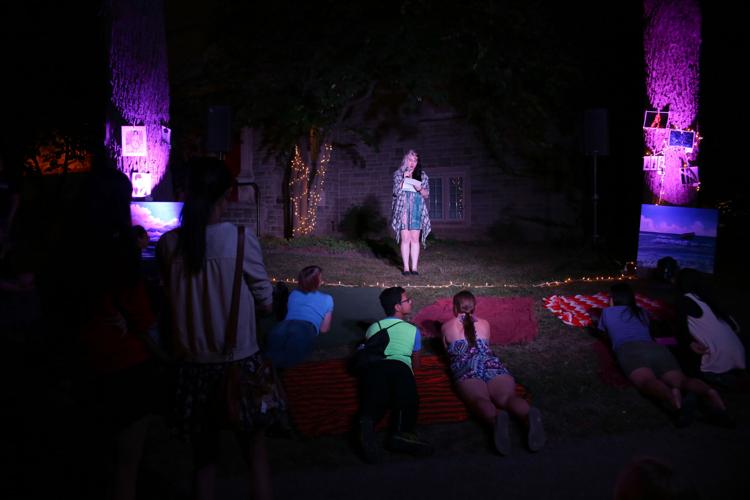 Sometimes art needs to be enjoyed outside the white walls of a gallery space in order to truly engage and inspire its visitors. Western University's upcoming Nuit Violette event — a new take on the popular "Nuit Blanche" festival — is set to achieve just that on Oct. 4.
"Nuit Blanche" French for "white night" is an outdoor evening arts festival. It's a concept that has spurred similar events worldwide, including one here on campus. 
While London Fringe hosts their own Nuit Blanche event, Western's Nuit Violette, French for 'purple night' is more intimate to the Western community.
University Students' Council public affairs coordinator, Vanshika Dhawan, explains that the event will feature an array of student artwork. The fourth-year medical science student hopes the mix of musical performances, sculpture installations, short films and large photography prints will help showcase different mediums of art and improve upon previous attempts at hosting the event.
"The first Nuit Violette was two years ago, and then it didn't run last year, so we're reviving it and hopefully establishing it as a tradition for years to come," she says. The USC public arts commission is aiming to promote and provide spaces for students to display their work, gain portfolio experience, express their creativity and foster art appreciation on campus.
Dhawan adds that the venue for Nuit Violette will be expanding to include spaces like Concrete Beach and McIntosh Gallery.
"We're getting more live performances this year, so we'll be using the stage on Concrete Beach to support larger bands," she says. "We also have a smaller stage for spoken word artists and acoustic performers, and we want to put it far enough away from Concrete Beach so that visitors can still enjoy [each of] the performances."
Artworks will be displayed primarily surrounding McIntosh Gallery. The gallery will extend its hours to allow students to visit the current exhibition, Futurisms.
While the spread-out environment for the event will allow for more student engagement, Dhawan also aims to improve the experience of performers and curators.
"Personally, something that's really important to me is to ensure that artists don't feel exploited," she says. As a spoken word artist herself, Dhawan wants to make sure contributors are compensated for their efforts.
"I feel like often, especially with campus opportunities, people tend to take advantage of artists by saying, 'oh this will be great exposure for you'," she says. "I felt that in the past … once you establish yourself in the community, people always expect you to perform and expect you to perform for free."
Dhawan wants to use part of their budget to give back to the artists and performers with a free Spoke coffee and muffin. "It's not huge, but it's a start," she says.
In keeping with the original Nuit Violette tradition, not turning any artwork away and maintaining an inclusive atmosphere is also important for Dhawan.
"The experience that I had was really supportive ... and comfortable, and I'm trying to create that for our contributors and performers this year as well," she adds.
Nuit Violette will take place Tuesday, Oct. 4 at 7 p.m. While performance applications are closed, students can still submit artwork to the UCC annex, room 301 on Friday from 10 a.m. to 4 p.m. To arrange an alternate drop off time, email publicarts@westernusc.ca.
Correction (3:52 p.m.): This article previously erroneously wrote that the city of London runs Nuit Blanche, and has since been corrected to state that it is run by London Fringe.