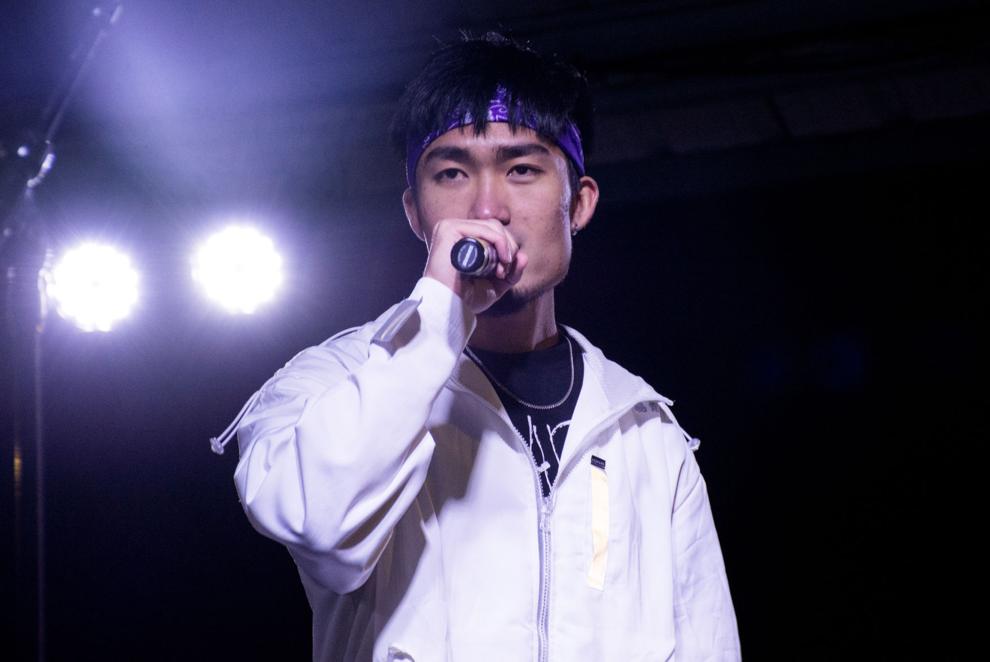 Last Tuesday, Concrete Beach lit up in a shower of dazzling white and purple lights for Nuit Violette, a celebration of contemporary arts.
Nuit Violette, hosted by the University Students' Council Public Arts Commission, ran late into the night. The French words, which translate into "purple night," showed off Western's school spirit in a similar fashion to the famous Toronto event, Nuit Blanche.
The highlight of the evening was the exhibit of the interactive art.
Three large drawings hung from a tall rack in the interactive art section. One depicted a stunning unicorn; another, a castle; the third, a large W, representing Western in its entirety. Paint brushes and cans of paint were littered across a table for students to use, allowing them to leave their mark in their own unique way through the use of different colours, paint strokes and text on the artwork.
"Students can appreciate the talent of their friendly neighbourhood artists while showcasing their own art by participating in our interactive art pieces, inspired by Yayoi Kusama," Kesavi Kanagasabai, fourth-year medical sciences student and vice-president of the USC PAC, explained. "These interactive pieces are symbols of the Western Community that will allow students to display their art."
Next to the art pieces, there was a "Before I Graduate" board, where students anonymously wrote their secret desires on sticky notes. While the contents of those sticky notes and their authors will be kept anonymous, their writing will remain engraved into the board.
The event opened with performers taking the stage.
Del, fifth-year political science student and one of the performers, explains why he chose to perform at the event.
"I'm always looking for opportunities where I can not only perform, but do things with the university. Because I recently performed in the O-Week in McGill, it started making me wonder why I did that before I did anything major for Western," he says. "I should be able to give back to this community if I'm here."
Different artists performed in different ways: some used a musical instrument, others sang covers of a mashup of songs, and some even played their original creations.
Del, an artist who performed his own songs, says he is most excited to perform again. "I don't like taking as long a time off the stage as I have. It makes sense with school and everything else I have, but I'm really excited to touch the stage one more time. Like see the fans and the people."
Music was not the only art to grace Concrete Beach that night. Visitors could explore a variety of visual artwork: aesthetic photographs with different models, original character sketches from several artists, and beautiful snapshots of moments in time. Despite the cold air, it didn't stop them from attending the event as they took seats on the benches around the stage.
Kanagasabai commented, "It's the best turnout we've had so far."
She also mentioned how the artwork was not created by students of the Faculty of Art, but of all the different faculties together.
"We encourage students from different fields of study to be able to exhibit their art regardless of their talent," she explained.
Booths were situated in front of the exhibit, promoting extracurricular participation with the addition of some free sweets for guests. Museum Studies Collective, which publishes every two months, is a new 2018 student-run publication geared toward other students and emerging or established art and museum professionals. Beside them was Open Wide, the Faculty of Information and Media Studies' alternative student publication. They publish everything from world information to Western life.
Kanagasabai said, "This event is important for us to reach out to as many people as possible, specifically those discouraged to follow their passions and dreams. All in all, our main goal out of this event is to increase inclusivity within the Western and London community along with creating inspiration as a stepping stone for motivation."