Camille Intson, current student writer-in-residence at Western, exhibited a series of intimate memories through a collection of her own objects in Objects: London, Portrait of a City at the TAP Centre for Creativity on March 14.
"I discovered the city of London during my class hours. For my history lecture, I think I went to a total of four lectures. It's a common thread for me. I kept my creative and academic circles separate," Intson said.
The exhibit was an intimate, eclectic, and fractured portrait of the city of London. One piece's description in the gallery would reference another; prompting you to find it. There was no linear progression to the objects in the space; "Object 31" was next to "Object 14." The numbers represented the order in which Intson had acquired the them.
This scavenger hunt created an invisible web the viewer had to weave in order to piece together her story.
As the narrative slowly came together it gave the feeling of having stepped into Intson's shoes. From moving away from home to questioning her sexuality, the observer uncovered them slowly. Almost as if watching her life progress as a ghostly observer.
Each piece presented was accompanied by an explanation of its role in her personal narrative. "Object 19," a bag and menu from Cousin Vinny's on Richmond Street, represented her experience the night of Donald Trump's election.
The most intriguing piece in the room is the final one, "Object 31." Sitting atop a plinth is a human form perfectly still in a pose of meditation. The piece was ambiguous. It was difficult to tell if the object was real or just a well crafted replica of the human shape. However, this was made clear afterward during the talk.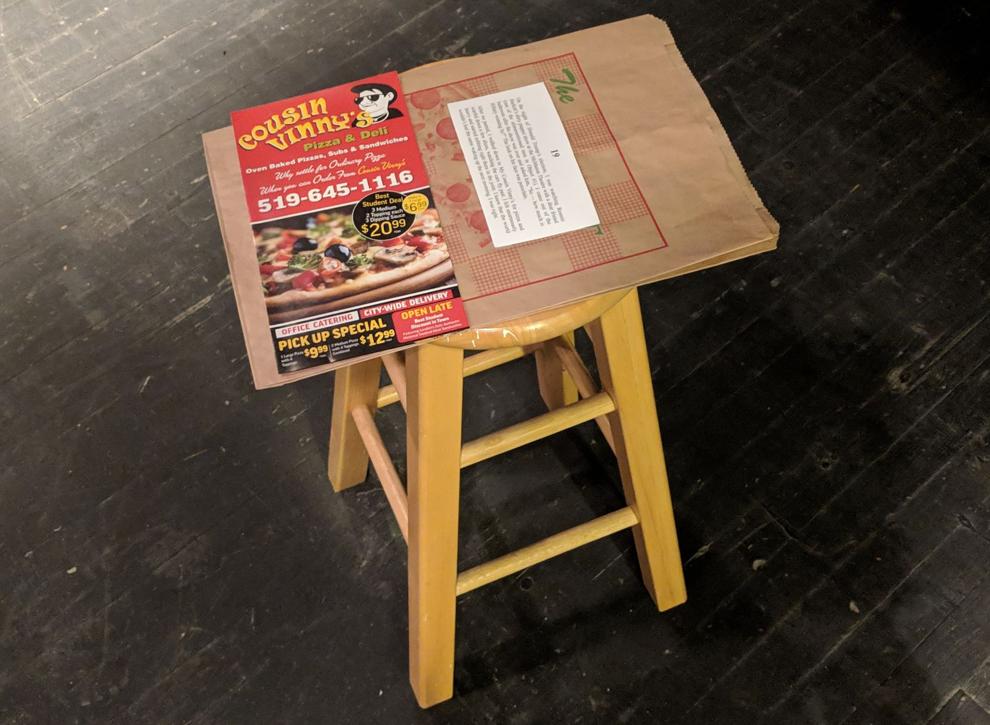 "I think my body is just as much of an object as anything in that room," Intson said, explaining her reasoning for adding herself into the exhibit as a form sitting on a plinth.
The gallery show was followed by an Unscripted talk, a series hosted by the TAP Centre.
During the talk, moderated by Josh Lambier, Intson discussed her journey so far. She was joined by Kim Solga, a professor of theatre studies and English at Western. The focus of the talk shifted, but often returned to Intson's decision to switch into the humanities after entering university as a political science major.
"Nothing challenged me the way [English] did.… [Political science] didn't feed me." Intson answered when asked about her reasoning behind changing majors.
The gallery was open for mere hours before the doors closed and it was taken down to make room for the next. This felt appropriate for the subject matter. Each work in the gallery was a passing moment in Intson's life, just like this gallery was a passing moment in the TAP Centre.
The show felt inartistic by academic standards. Intson did not create this exhibit through a series of intended projects, but happened to have created these objects through moments in her daily life. As she described in the talk, she exists in the process of creation without necessarily having a project or end result in mind.
While attempting to figure out how she wanted to portray London, Intson ran into an issue: "How can I, as a person coming from a position of privilege, convey the city as a whole. I couldn't do an exhibition without telling my story very intimately. I said what was I going to do, and I kind of said it as a joke, I was going to put objects of my most intimate moments out for everyone to see," she explained.
Objects: London, Portrait of a City was open at the TAP Centre on March 14 for one night.
Update (7:07 p.m., March 12): Paragraph six was updated for accuracy.