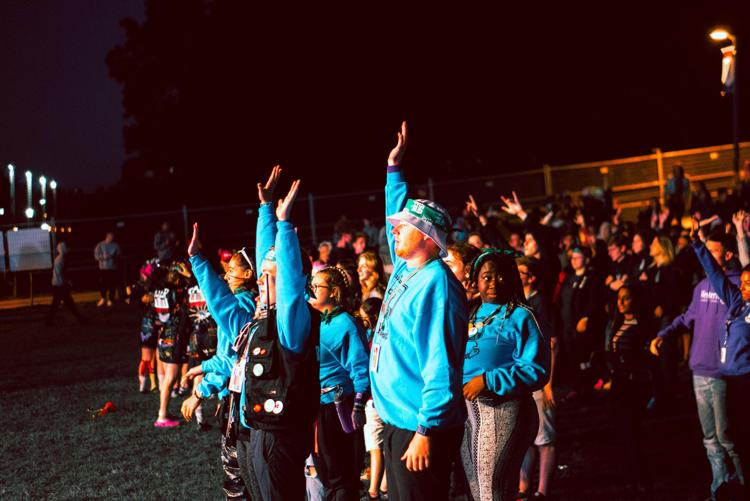 Content Warning: this article contains themes of sexual violence, mental illness and suicide.
---
The world is not always kind, an idea many first-year students are already familiar with. 
Moving out, starting classes and having a whole new life makes this realization inevitable. But, simultaneously, first year can be the same moment students are reminded that they are resilient.
This year and every year, One Love has spread the message: it's OK not to be OK. Last night, despite scattered crowds that only shrunk throughout the night, the OWeek hallmark delivered.
As the audience trickled in, chattering and laughing, hoping to be put on the big screen for a few special moments, they had little awareness of how their lightheartedness would be juxtaposed within the next few hours.
As the host and first speaker, Farrah Khan, took to the stage, purple pride ran high, inciting cheers and yells from the audience. 
These yells only increased as, mid-introduction, a flock of Western University's famous Canada Geese took flight and showered the crowd with droppings.
With the light mood, Khan didn't skip a beat as she laughed off the frantic students and introduced herself as an advocate and educator who addresses issues surrounding sexual violence. 
The speakers began with Vivek Shraya, a quadruple threat; she is an educator, model, musician and advocate. The famous author of What I LOVE about being QUEER took to the stage gracefully and immediately garnered the attention of first-years and sophs alike.
"We all have a role in creating belonging," Shraya explained. She went on to say that it was the individual's responsibility to allow yourself to belong but also to give room to others — to create belonging for the LGBTQ2+ community. 
Shraya ended her bit with an homage to powerful black women who have inspired her — a mashup of songs by famous black artists. While encouraged by the crowd at first with hollers and waving flashlights, the song continued long enough to lose the attention of the first-year students who had already been seated for the last hour.
This restlessness was evident as at the end of her act a third of the audience had upped and disappeared. Through the next seven minutes of Q&A, students continued to disperse until the next speaker, Sarain Fox, dominated the stage.
Fox was a powerhouse. Instantly drawing the crowd back in, she had them moving and hugging, spreading the love to their fellow freshmen.
She spoke of the power of an introduction. She, as an Anishinaabe Ojibway person, chose to introduce herself in her native tongue. Being unapologetically herself, she urged Western that what was most important was finding the seed of the area.
She challenged students to think about what makes them, them — where they came from and what that meant to them. Fox told them to not assimilate to the masses and to be the person they were born to be.
While Fox did a great job in keeping energy up, it was no surprise it was not entirely paralleled in the tired first-years. With more and more students leaving the hill and the focus diminishing, the next two speakers, Glen Canning and Kim Katrin received a scarcer turnout.
Canning spoke of his daughter. She was a survivor of sexual assault and cyber-bullying, and Canning gave an honest and detailed account describing the severity of the situation that ultimately led to his daughter's death by suicide.
"[I got] a phone call that my daughter, my 15-year-old daughter, had been raped. I thought then that would be the worst phone call any parent would get. It wasn't," he said.
He provided the students with the cold and dark reality that tragedies can happen to anyone, when least expected, and what it means to not be a bystander and what can be done to prevent them.
As Canning continued on, the crowd became only quieter, and more focused. He drew the remaining students in and ended his speech with a standing ovation.
As Katrin, the last speaker of the night, hit the stage, few students remained. Still, she gave a speech that could fit twice as large a crowd. She spoke about the diversity that was already available at Western and how much more there was to discover, hitting important topics like intersectionality and feminism.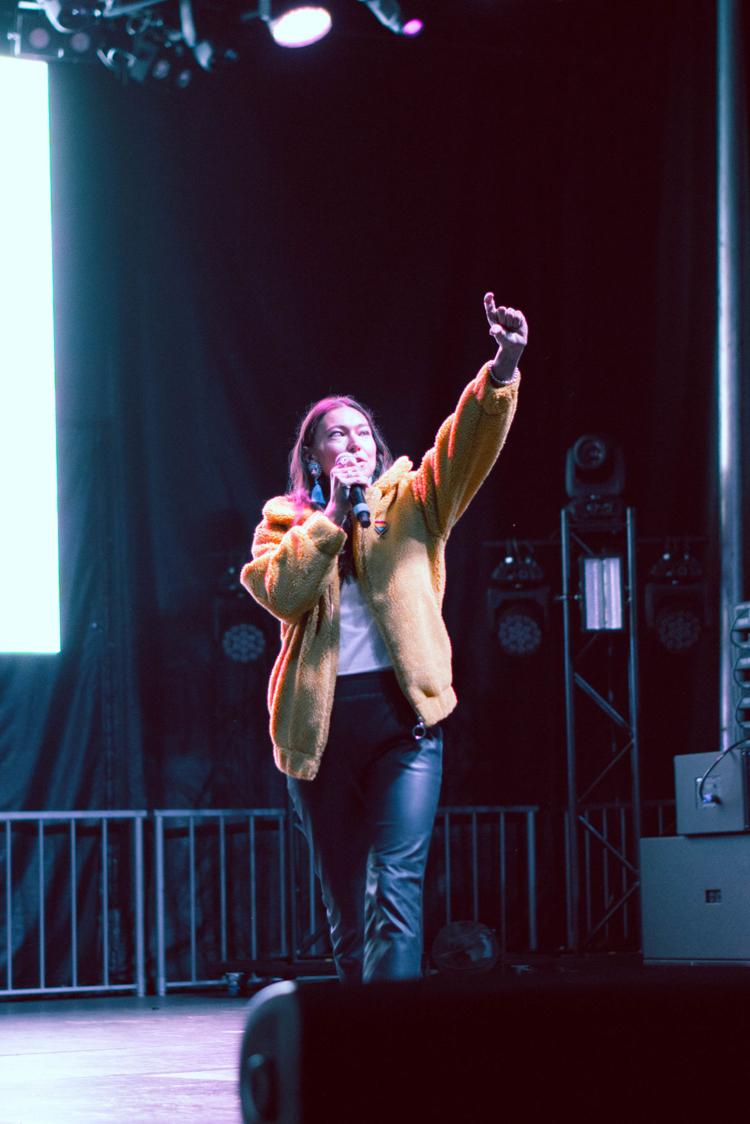 One Love overall was a long night, but an important one. Whether students stayed for the first hour or the full three, it was an opportunity to reflect on the vital issues that can plague every individual.
It was the opportunity to come together as one, and create that belonging Shraya spoke of — to spread one love.