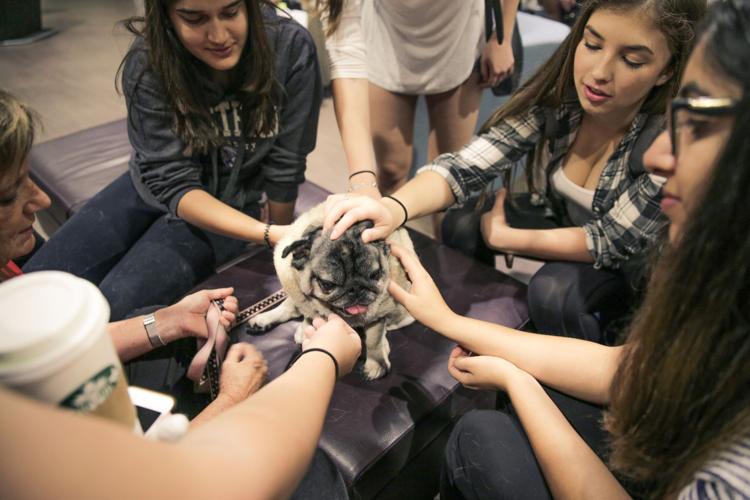 Ian Lantz, a second-year management and organizational studies student, calls his friends over to meet Willow — a special girl in his life — who sits comfortably on the floor of the Mustang Lounge. The five-year-old labrador's welcoming smile is one of the reasons students naturally gravitate toward her.
This is not the first time Lantz and Willow have met; Lantz has attended therapy dog sessions on campus multiple times.
"I don't have a dog, but I've always wanted one," Lantz says. "I love the therapy dog program so much, I even saved photos from last year."
Therapy dogs often come to Western University, with the latest event taking place in early October. Dozens of students flocked to the Mustang Lounge to meet five laid-back pooches from the London-Middlesex St. John Ambulance therapy dog program. The wellness initiative attempts to provide social engagement, stress relief and comfort to students and faculty members. While Willow and her owner, Fran Dow, also visit nursing homes and health centres, their favourite trips are to Western.
"It's great because I can see the stress relief on students faces; I see the love," Dow says. "You can't measure the happiness Willow brings to these students."
But are there real health and wellness benefits that come with the sessions, or is it just an excuse for students to meet some cute dogs?
Leslie Gloor Duncan, the associate director of Transition, Leadership and Enrichment at Western believes that there are substantial benefits that come with the program.
"While it may be short-lived, these dogs certainly help decrease stress and reduce loneliness for students," Gloor Duncan says. "It takes students out of their regular routine."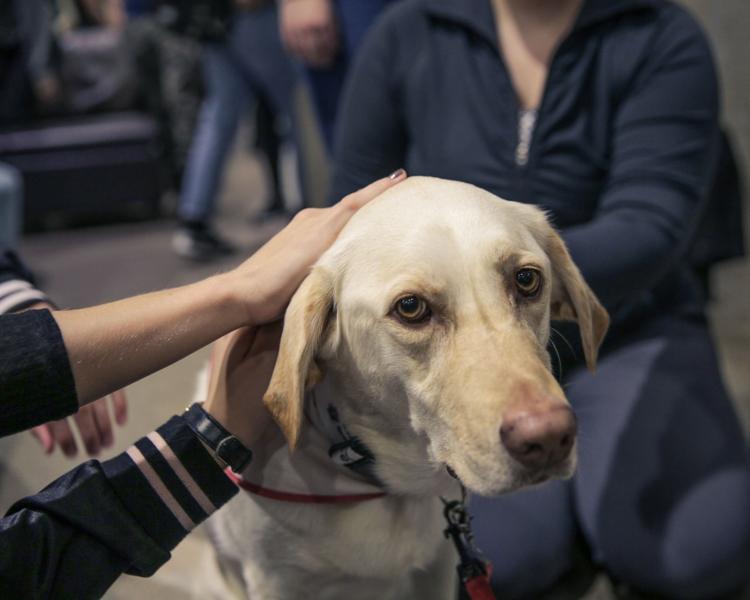 While she does agree that the program is a passive approach to wellness, Leslie still believes that these dogs provide tremendous benefits for students. An Environmental Research and Public Health study aligns with Gloor Duncan's beliefs, as the findings show that exposure to therapy dogs is a viable stress-management tool to decrease stress physiology in undergraduate students.
However, this contradicts the findings of Lyn Alexandra Brown, a Western animal behaviour studies graduate. Brown, who studied therapy dogs for her undergraduate thesis paper, found that the effects therapy dogs have on individuals is rather mild, and more research is required to determine the effectiveness of the program.
"My study did not find dogs to significantly reduce people's stress," Brown says. "Dog therapy may be limited to certain settings to be effective, or it may not be as effective as it is portrayed by the media."
She is skeptical about the media's portrayal of therapy dogs' effects on people's health and wellness.
"There's this bias to only publish positive results, but there is a lot of findings showing there is no real health benefits, or that there are really specific health benefits," says Brown. "But the media communicates this idea that therapy dogs have these wondrous, lasting effects on humans. It is skewed in that way. It could simply be a placebo effect."
Despite her skeptical attitude, Brown is still hopeful that there are real health benefits that come with dog therapy, but she argues that there needs to be more research done.
Whether or not there are health benefits that come along with the program, students like Lantz will always come out to the Mustang Lounge when the dogs are around.
"I'm not sure if this program helps me with my stress, but it definitely puts a smile on my face," Lantz says.
Students can find the therapy dogs in the Mustang Lounge Nov. 1, Nov. 6, Dec. 6 and Dec. 7 between 12:30 p.m. and 2 p.m.