On Jan. 10, the "Please - Do Not Take this Lightly" exhibit opened at the Artlab Gallery, showcasing artwork illustrating the danger and impact of tornadoes.
Coordinated by professor Patrick Mahon, director for the School of Advanced Studies in Arts and Humanities, the exhibit showcases work from 21 artists, 17 of which are Western University students. The art ranges from traditional canvas paintings to performance-based pieces, including a visual piece that depicts a tornado tearing through campus and an auditory piece that broadcasts what one would hear in a tornado.
"I think that this exhibit is fundamentally about complexity," says Mahon. "It's looking at that subject or those phenomena and actually trying to understand them from the vantage point of a non-expert."
The exhibition is linked to a major research initiative that has its roots in Western's Engineering department. Led by the acting dean of Engineering, Greg Kopp, the exhibition is meant to bring awareness to the efforts of Northern Tornadoes Project: a multi-year investigation into the effects of tornadoes.
It is estimated that nearly 230 tornadoes occur in Ontario every year. Of these, only 60 are documented. The goal of the NTP is to discover the missing tornadoes and gather data on them. Last year, Western researchers discovered 12 undocumented tornadoes and improved data for another 10 through the project.
The issue stems from the fact that many of these undocumented tornadoes land in sparsely populated regions. If a tornado strikes down in the forest and no one is there to see it, it can easily go unstudied and unreported.
"My understanding is that we're living in an age and in a region where there's definitely an increase in tornadoes," says Mahon, who stressed the importance of the project in helping to understand the increase in this phenomenon, along with other data present on the topic. "What does that increase look like? Are these tornadoes larger? Are their effects different than we might have experienced in the past? I think fundamentally there are some really primary questions that are being asked in the interest of doing this kind of research project."
The project stems from Western's previous work studying a multitude of tornadoes that made landing in Southern Quebec on June 18, 2017. Wind engineering experts from Western performed an extensive ground and aerial survey in the region, uncovering the largest-ever tornado cluster in Quebec's history and one of the worst to ever occur in Canadian history.
These findings are not without their benefits to Western.
"I think that Western's engineering program, from my understanding, is becoming increasingly understood, known, respected; they have the new building that I think certainly is emblematic of the ambitions of the engineering faculty," states Mahon.
He believes the NTP's expanse and ambition further helps showcase how visual and visible the intention for the engineering department's connection with other members of the community, such as students in visual arts and artists, is.
"Certainly, it can help the Faculty of Engineering, but it can also show Western to be in many ways leading in an area of real, urgent interest," Mahon adds.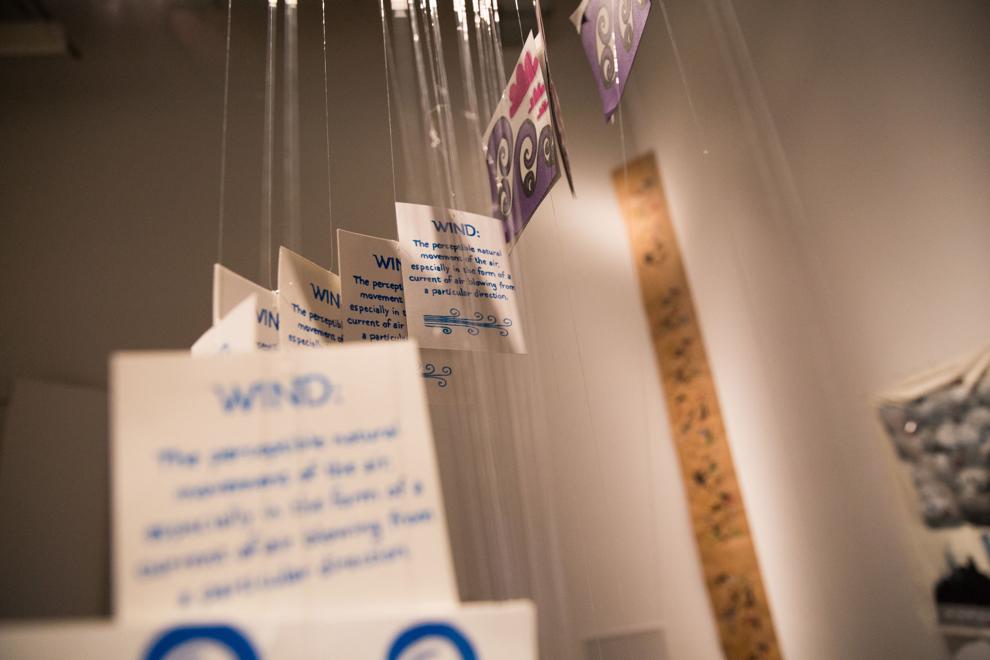 The artists collaborated with engineers and senior guest artists to bring the exhibit to life. According to Mahon, the artists were incredibly involved with the data that the engineers presented. "I really laud the fact that relatively quickly they did the research, they did the readings, they attended the talks with the engineers, and they really did become very engaged and very enthusiastic."
"I think that when you see this exhibition, you can see that it's made by a series of individual artists," Mahon says. "Although they're working collaboratively, each has a very particular vision, but they also do take on a commitment to really try and understand and communicate some of the information and ideas and the feelings that operate in relation to tornadoes and climate change and weather."
The true beauty of the exhibit lies in the fact that it is created by a series of individual artists that are working together on a common theme. In one corner of the room, newspaper headlines that relate to tornadoes are pasted high on the wall. In another, people and objects are depicted being thrown about on a long piece of brown parchment.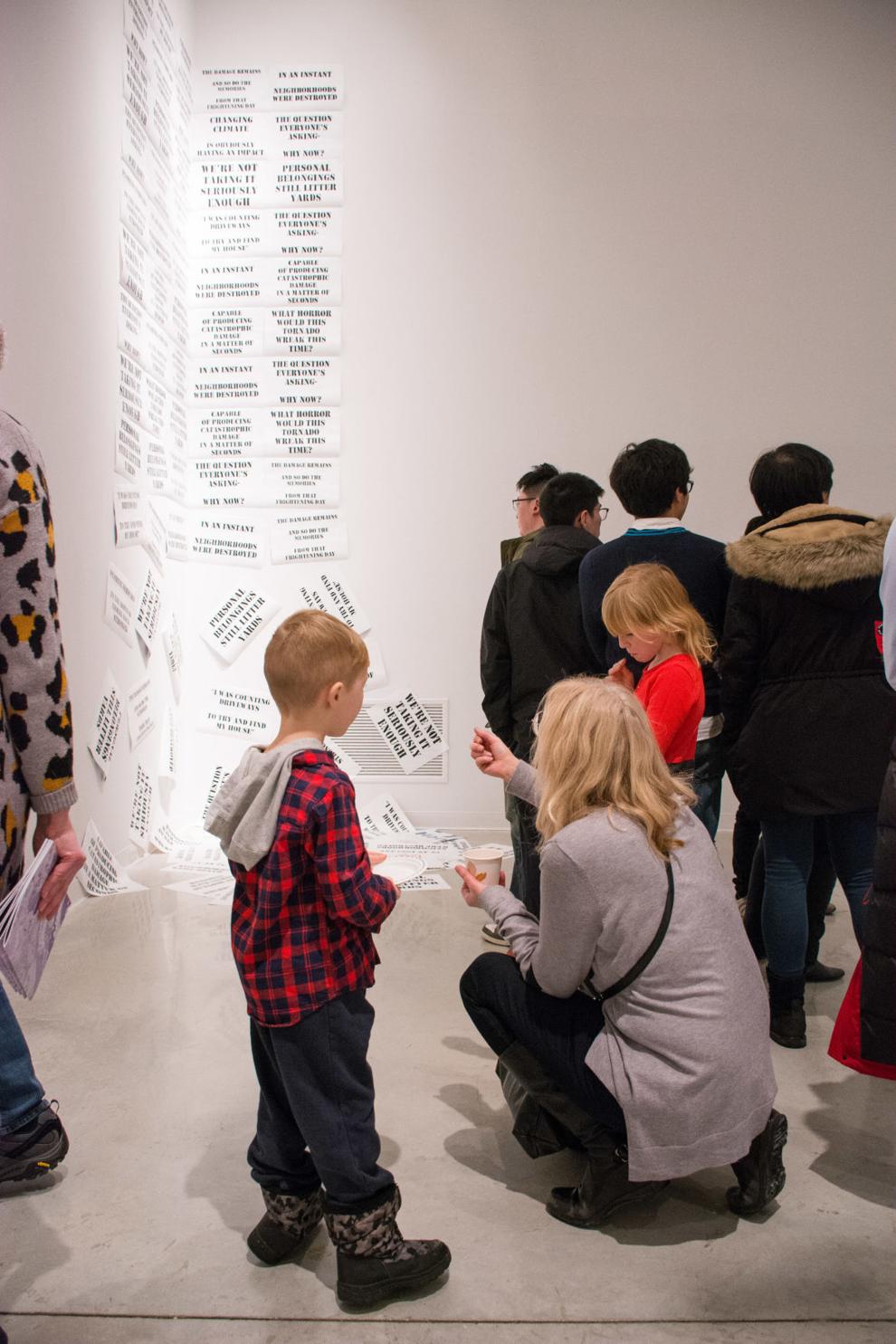 In the middle is a stall selling homemade merchandise pertaining to the topic. Patches to sew onto denim jackets are lined up side by side with uniquely themed tarot cards. On the walls of the stall hang T-shirts with tornado-themed prints.
"I'm really enthusiastic and proud of their efforts," Mahon adds with a smile.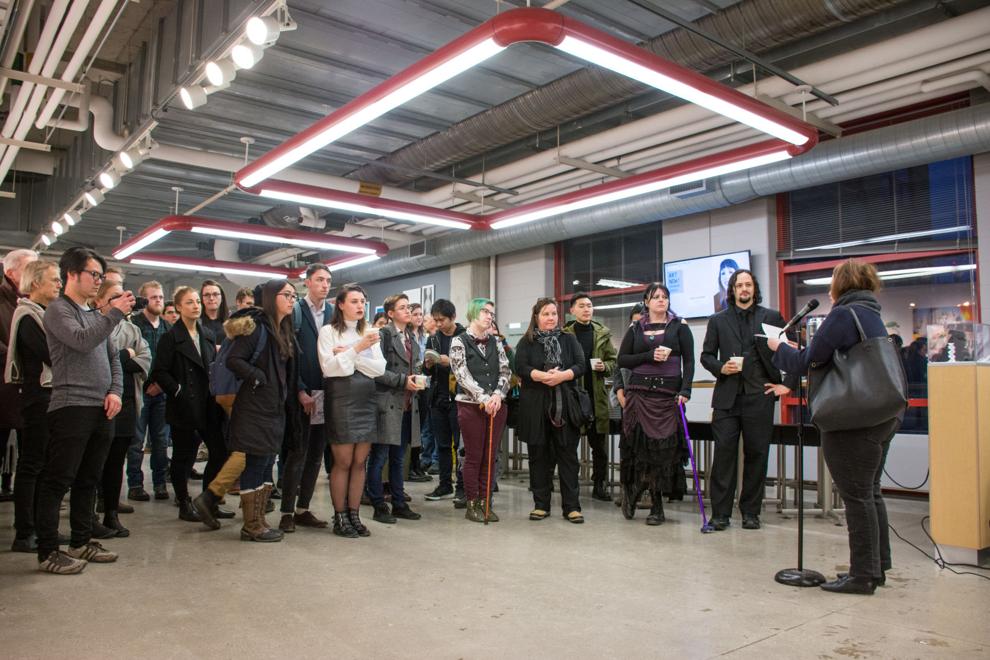 The exhibition will remain open until Jan. 24, giving students ample time to enjoy and appreciate the art that has been presented.