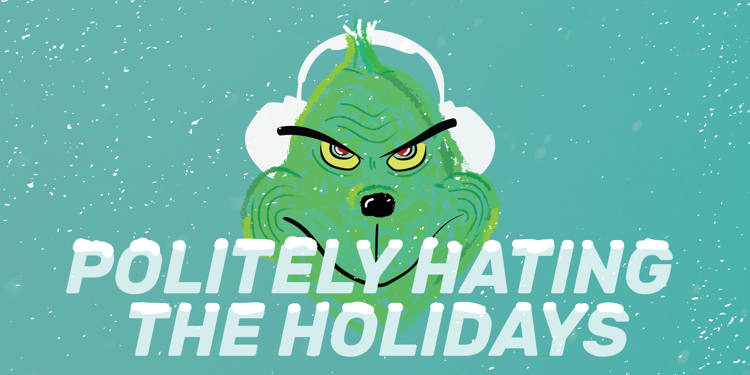 Blinding lights of every colour, screeching carolers and a big, old and creepy white-bearded man dressed in a blood-red suit — probably how the Grinch sees the warm holidays most people love and cherish.
But feeling this way about the holiday season doesn't mean your shoes are too tight or that your head isn't screwed on right or even that your heart is two sizes too small. Especially if you're spending it alone, there's more reason for feeling melancholy than joy. 
If you're not decking your halls with boughs of holly, then the festive season can seem like a nightmare. 
Although, there are more polite ways to express dislike toward the overly-joyous season, because it's the Canadian way to go, and better yet, you won't be best described as "stink, stank, stunk," like the yellow-toothed anti-Christmas critter.
For the average jolly fellow, putting up lights around the house and wearing different holiday sweaters every day of the week aren't exactly chores. If you're feeling a pressure to perform being happy this dark winter, don't. There are plenty of plain red socks and green hats you can wear to show your spirit in a subtle way without screaming Yuletide. And on the bright side — literally — let's admit that the illuminated houses decorated with lights make the dark winter nights a little less gloomy.
Like the green grouch, some of us might just feel like "Jingle Bell Rock" blasting through the mall in November is excessive, and it definitely gets you fretting too early about how much holiday shopping you need to do.
But a publicly vocalized opinion around jolly holiday ravers about despising redundant cheerful music and mediocre eggnog could result in glares and being labelled a bitter cookie. It's no wonder the Grinch was so resentful; no one wanted to be around him. Plugging in headphones for your own music or even just doing your shopping ahead of time during the year could result in a less stressful spree; thankfully, you'll be avoiding contact with any mall Santas and elves.
Feeling like shouting at commercialism for turning the love-filled season of the holidays into a materialistic song-and-dance predicated on forced happiness and profit? Try making your own sentimental gifts so you can give something other than a mug or cheap gift cards for expensive stores, and get away from supporting large, greedy companies. Or since it's the season of giving, you can treat yourself to a pizza delivery while binging Netflix, so at least that way, your "grinchy-ness" is safe from any merry mischief within the confines of your cozy bedroom.
That is, of course, until your family calls for an annual gathering, also known as the dreaded hours of hearing your nosey, distant relatives say how much you've grown and ask you how your non-existent partner is, while you have to pretend to love the purple knitted mittens your Aunt Carol gifted you.
If you've survived the tight squeezes — not hugs — from every aunt in your family, you can probably survive the wait until the big dinner. Awkward small talk really is painful, but you could instead answer any question directed at you with, "I could tell you, but I'm in pain from food poisoning I endured two days ago," when really you're really in pain trying to avoid any truths about how your life is going. You'll be sure no one wants to go further in detail about your trips to the toilet. At most, your bowel movements will be the talk of the night.
Like the Grinch with his loving companion and pet dog, Max, we aren't all alone. If you're not so into the whole holiday hype, the chances are likely that there's someone else who wants to grind up gingerbread cookies out of spite too.
But being a Grinch doesn't have to mean spoiling all festivities. You could still participate in a Secret Santa with your friends or coworkers for a swell time, and you could still eat peppermint candy canes that seem exclusive only to the holiday season. You don't have to love the holidays, but tolerating those who do is how you can show your sentiment and love. 
Those who cry tears of peppermint hot chocolate and bleed Christmas cheer have almost two months out of twelve to release their inner Mariah Carey, but after that, most of us are all back to being at peace again.