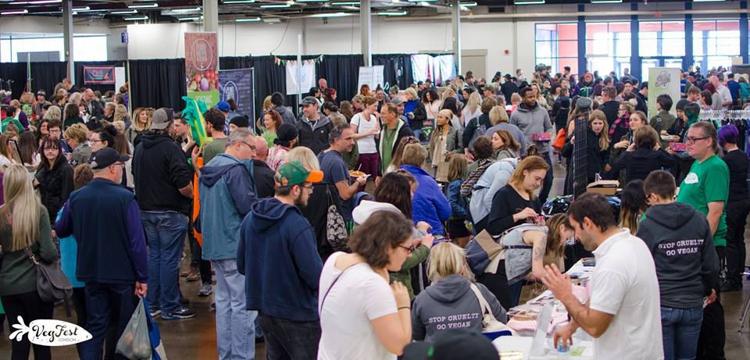 James Aspey took a vow of silence for a year in support of animal rights. Robert Cheeke is the bestselling author of the book Vegan Bodybuilding and Fitness. Gene Baur was recognized by TIME magazine for his animal rights advocacy. 
These are just a handful of speakers coming to 2017's VegFest London.
The fourth annual VegFest is coming to London Nov. 11 at the the Metroland Media Agriplex at the Western Fair District. The event hosts vegan cooking demos, vegan food and product vendors  and rescue organizations. The event will occur during World Vegan Month, pausing to honour Remembrance Day at 11 a.m.
VegFest London founder, Krista Kankula, is excited about the growth of the event since it began four years ago.
"When we first started, I think we had 30 vendors and this year we're close to 150 vendors which is just kind of crazy to believe," she says. The event has also expanded to include two stages with guest speakers set to cover topics from animal rights to nutrition to personal experience.
Kankula started the event after transitioning to a vegan lifestyle herself and finding inspiration from similar vegan festival events in Niagara and Toronto. She says that educating people and connecting them to is an important goal of VegFest.
Kankula attributes much of VegFest's growth in London to the evolving local vegan scene.
"There's more vegan restaurants out there and more organizations, and so that's a big evolution in terms of the variety and number of vendors that we have on site," she says.
London has increasingly embraced more vegan food options with restaurants, cafes and food trucks such as Plant Matter Kitchen, The BoomBox Bakeshop and Globally Local, all of which are on the vendors list. According to Kankula, such variety helps combat the stigma that veganism means having to deprive yourself.
"A lot of times, when people think about going vegan, they think of all the things they have to give up," she says. "VegFest is a way of showing that there's so much out there. There's lots of great businesses and organizations to get involved in, and I just wanted to give people those resources so they leave feeling inspired to make a positive change."
However, learning to prepare vegan meals independently is something people need to consider when living a plant-based lifestyle as well. To help with this, VegFest will also feature a "Fuss-Free Vegan Cooking" demo hosted by Sam Turnbull, the creator behind the blog, It Doesn't Taste Like Chicken. 
As Kankula explains, this is something that may be especially useful for students still learning how to best cook and prepare meals for themselves and explore their food options.
At it's core, VegFest seeks to inform and inspire. According to Kankula, more VegFest events are popping up across Ontario and the world.
VegFest London 2017 will run from 10 a.m. to 6 p.m. Admission is $5 and the first 500 visitors will receive a swag bag. For more information and to view the full vendors and speakers list, visit their website.