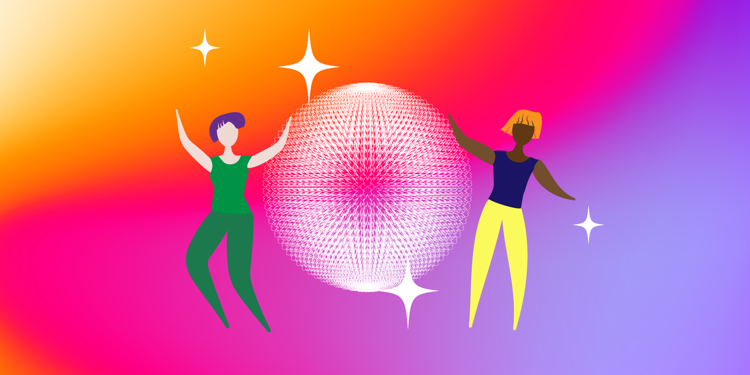 A night to be remembered, Pride Ball has been an iconic event in PrideWestern's history, inviting patrons to enjoy a free night out with friends.
At the Wave on March 8, PrideWestern is calling Western University's and London's queer community to dance the night away at the annual Pride Ball.
"[It's] a safe space for LGBTQ+ people to have a good time. To feel relaxed and welcomed in a community,… just to go out and dance," says fourth-year history student Rosa Kniivila.
This year, expect to be swept up in the glam and glimmer of the all-encompassing theme: Glitter Ball. With shimmer and shine transforming the Wave, the event invites attendees to dress up however they please and to bring both partners and allies in order to provide a queer safe space hosted by PrideWestern.
With a DJ at the event, PrideWestern executives urge students to come with their song requests. However it won't just be good music. Pride Ball will also have finger food platters available for all attendees.  
"I'm excited to go and see the people I know enjoying and having a nice evening.… We almost didn't have enough in the budget [for Pride Ball], so I'm just excited to see it happen," says Kniivila. "If you're LGBTQ+ and looking to have a good time, you should definitely come out."
Pride Ball, a part of Western's Pride Week, which runs from March 4 to March 8, is the last event in a week's worth of speakers, discussions and events. On March 5, 1 Girl 5 Queers ran a panel at University College's Conron Hall, and on March 6, queer poet Kavi Ade took the stage in the University Community Centre community room for a spoken word performance and speech.
While Pride Ball marks the end of the big events for PrideWestern this year, they will continue providing yoga sessions on a monthly basis, as well as discussion centred on trans groups, non-binary groups, general LGTBQ2+ groups, QTPOC groups, neuro-divergent groups and disabled LGBTQ2+ groups. PrideWestern has striven to create a community based on the pillars of inclusivity, openness and acceptance — the same pillars this year's Pride Ball hopes to celebrate.
Pride Ball takes place on Friday from 10 p.m. to 1 a.m.
Correction (5:40 p.m., March 7): The story incorrectly said Spectrum UWO was involved in Glitter Ball's organization in paragraph four.