After 32 years, the Canadian wrestling hall of famer Ray Takahashi will step down as head coach of the Mustangs wrestling program.
Growing up in Ottawa, Ray has been immersed in the world of martial arts his entire life. His family owned and operated a dojo, a training place for Japanese martial arts. As a child Ray practiced judo, and he credits his brother Allyn with getting him involved in wrestling as a way to improve his martial arts skills.
Although Ray's tenure as head coach of the Mustangs wrestling program began in 1985, his history with the program stretches back to 1978 when he joined the wrestling program as a student.
"I didn't know much about Western. When I was young it was hard to do research — back then we didn't have the internet. I hadn't been to campus, so I never saw the place. I just heard they were a good school and they had a good team," Ray says.
Ray had a tough time deciding whether he would attend Guelph or Western. Both boasted successful wrestling programs. What ultimately sold him on Western though was the prospect of a lifestyle that equally balanced athletics and academics.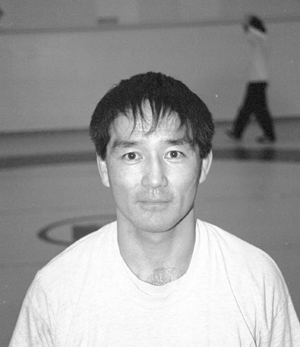 Fast-forward to the present and Ray still finds balancing school and athletics just as important. 
"I feel good about student athletes who come here and want to do well in school. We don't want them to come here just to wrestle because it's pretty hard to make money with just the sport," he admits.
After nearly a lifetime of balancing school and athletics, first as a student and athlete then as a lecturer and coach, Ray feels the time is right to relinquish his duties as head coach.
"I certainly want the best for the program and part of that is it needs something extra," Ray says.
Perhaps that "something extra" will be Scott Proctor, the Western wrestling program's newly appointed head coach. A former Mustang and three-year captain of the wrestling team, Proctor has been an assistant coach with the program since 2005.
Ray isn't quitting cold turkey however. He will continue to be a kinesiology lecturer and will remain on the sidelines as a volunteer assistant coach.
When asked where he sees himself in the future, Ray laughs and says he just hopes he's still around. For now, he's just going to appreciate the extra time on his hands.
"I'm looking forward to going home for supper," he admits. "One of the things I didn't like about coaching, especially when my kids were growing up, was not being able to have supper with them."
Ray's children, Mariko and Steven, may be all grown up now, but he's still eager to spend time with them.
His daughter Mariko graduated from Boston University on a track and field scholarship and now works full time in New York. His son Steven is a Western graduate and former member of the Mustangs wrestling program.
Steven recently qualified for the Wrestling World Championships in Paris next month.
Ray along with his wife Janet, who helps coach the track and field team here at Western, plan to take some time off to visit Paris and support their son as he competes among the best wrestlers in the world.
Just as Ray can look forward to the future, he can look back fondly at his time as head coach of the wrestling program.
"I just feel really lucky to have had a career in coaching, doing what I like and developing overall as a coach, a faculty member and as a person," Ray says. "I got to coach my son. I feel really grateful."