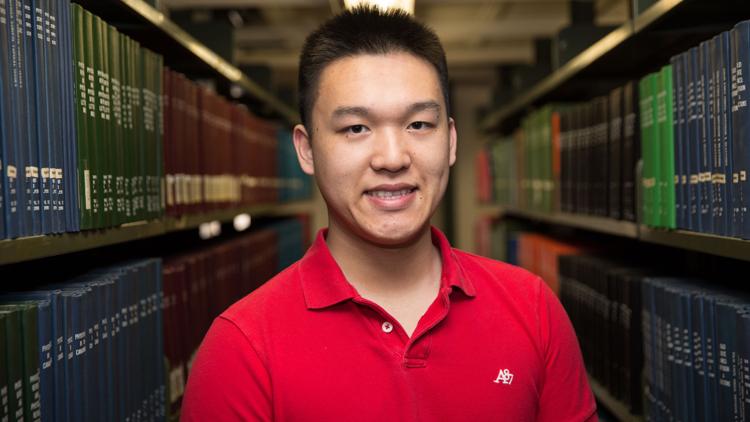 For our interview, second-year medical sciences student Ronald Chow booked off 45 minutes in his calendar, from 1 to 1:45 p.m. He budgeted 25 minutes of walking time; he arrived in 23.
Chow is a meticulous organizer. His life is strictly regimented for maximum productivity, and it shows. His resume is downright extraordinary: he's written or contributed to over 180 peer-reviewed papers, 60 published abstracts, 50 book chapters and 12 honest-to-goodness books. Oh, yeah, and he's only 19 years old.
Still, he'd never tell you about it unless you asked with the dogged tenacity of a journalist on a deadline. Chow keeps a low profile; he's modest about his accomplishments and careful not to overstate them.
"There's more beyond the numbers," he says. "It's not just reads — it's the impact, what it does to the community."
Chow had an early start with research, kicking off in the summer of his Grade 8 year. Driven to do well by others, he quickly found himself drawn to the flourishing field of oncology: in elementary school, he lost friends to cancer.
As well, Chow was inspired by his father, who is a radiation oncologist himself. An immigrant from Hong Kong, Chow's father worked long and hard to attain a position in Canada. For some 20 years, he trained for the job of radiation oncologist. Chow recalls how his father would struggle to keep his eyes open as he drove him to school after sleepless nights working on his master's degree and PhD.
"Watching [him work] was an inspiration," he says. "I was just really astonished that someone worked so hard to help other people. … I think that was amazing to see."
He internalized his father's philosophy of helping others, and today it's his driving passion. Chow is a board member for the Children's Ministry Committee at his church where he helps organize the Sunday service for some 200 children. He does all this from London, Ontario, which means a lot of Skype calls and back-and-forth emailing to coordinate details, but Chow manages with the help of his ironclad schedule.
Still, not everything is set in stone. In some aspects of his life, Chow is happy to just kick back and enjoy the show.
"When I'm doing stuff like schoolwork, I invest a lot of time and effort to meticulously plan," he explains. "But my music choices — I just let it be. I get in the car, turn on the radio and it happens to be the Top 40. And suddenly I'm like 'Oh, I kind of like this.' "
Chow takes care to point out, too, that he's not particularly special. He was fortunate to get involved in research early, he says, and fortunate to have supportive parents. Beyond that, there's no trick, no shortcut. Just dedication and careful planning. Sometimes, he admits, he does feel slightly out of place on a campus with such a reputation for partying.
"I'll be sitting at home on a Friday night, working on research papers, and I look out the window, and I'm like, 'Oh, wow,' " he says. "That's Western. Everyone's out right now, and I'm sitting in my bedroom, doing work. … I'm just an outsider, temporarily passing by all these people who have made themselves at home."
At every institution, though, there are like-minded people, and Chow has a core group of friends with similar aspirations. In the long term, too, it will be worth it; he hopes to become a clinician, where he can fulfill his dream of helping others through treatment and research alike.