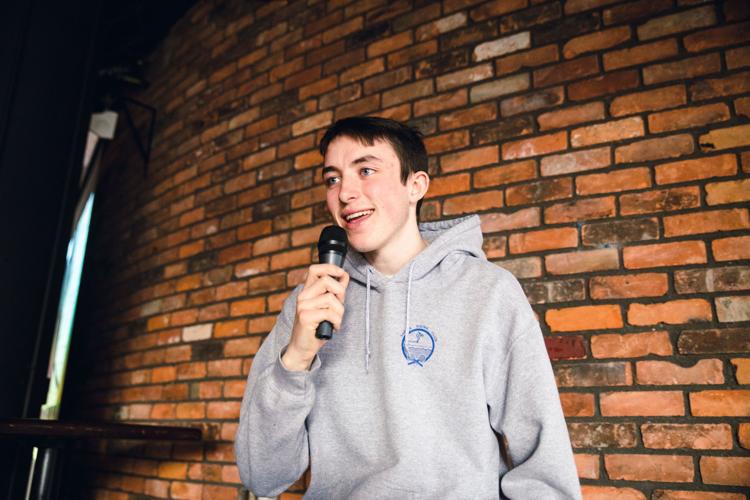 How did third-year Ivey student Thomas Valade become so interested in writing and performing comedy?
"Narcissism," he jokes.
Thomas has a knack for making people laugh. So much so, in fact, that he's vice-president of the Western Comedy Club. A club that allows him to write, perform and teach other budding comedians on campus.
"Getting on stage and having people laugh with you is great," he says. "You don't know how it's going to go when you get up there, so the feeling of doing something super well is addictive."
Fortunately, he has no shortage of opportunities to feel that. For the Comedy Club, Thomas runs weekly workshops with members. He works in all kinds of comedy, from scripted standup to group improv. 
"It's a really in-jokey crowd," he says of the group. "We have a very core group of people that spend a lot of time together; we're very much on the same page."
Thomas first tried improv in high school, which prompted him to join the club at Western University. According to him, he found out pretty quickly that he could mesh with the group's other members.
After joining the Comedy Club, Thomas tried his hand at writing comedy. When just starting out, he found it hard to not fall in line with his comedic influences — Bo Burnham and Andy Kaufman, to name a few — but with practice comes originality.
"As the years progressed, stuff got more off-the-wall and weird," he says.
Off-the-wall and weird certainly describe Thomas's personal taste. When asked what his favourite movie is, he offers up Tampopo, an absurd Japanese comedy from 1985.
Thomas admits that there isn't always a lot of room for joking around at Ivey, though. He says comedy can help him provide a unique perspective in things like group projects, but it's still not very practical.
He's hoping to find a creative career in a field like marketing or communications. Still, Thomas prefers to keep his comedy and his academics separate.
Thomas explains that not everything has to be career-focused or to look good on a resume. Hobbies can help prevent you from becoming too absorbed in one thing.
"It's more important to do what you're interested in than to do what you think is going to be showy," Thomas advises.
That said, Thomas's comedic influences do come out from time to time, sometimes subconsciously. People often tell him that he's funny, such as when he gives a particularly memorable fun fact in an introductory class. In truth, though, Thomas isn't so sure that's strictly true.
"I wouldn't consider myself a funny person," he clarifies. "I would say I make funny things."
Ultimately, Thomas just likes to make people laugh. He admires comedians who do things nobody has ever done before, and Thomas hopes that he can do the same. With more experience comes more opportunities for him to reach this goal.
But whether or not comedy is a part of his professional life in the future, it'll always remain part of his personality. Thomas insists that careers and hobbies don't need to mix.