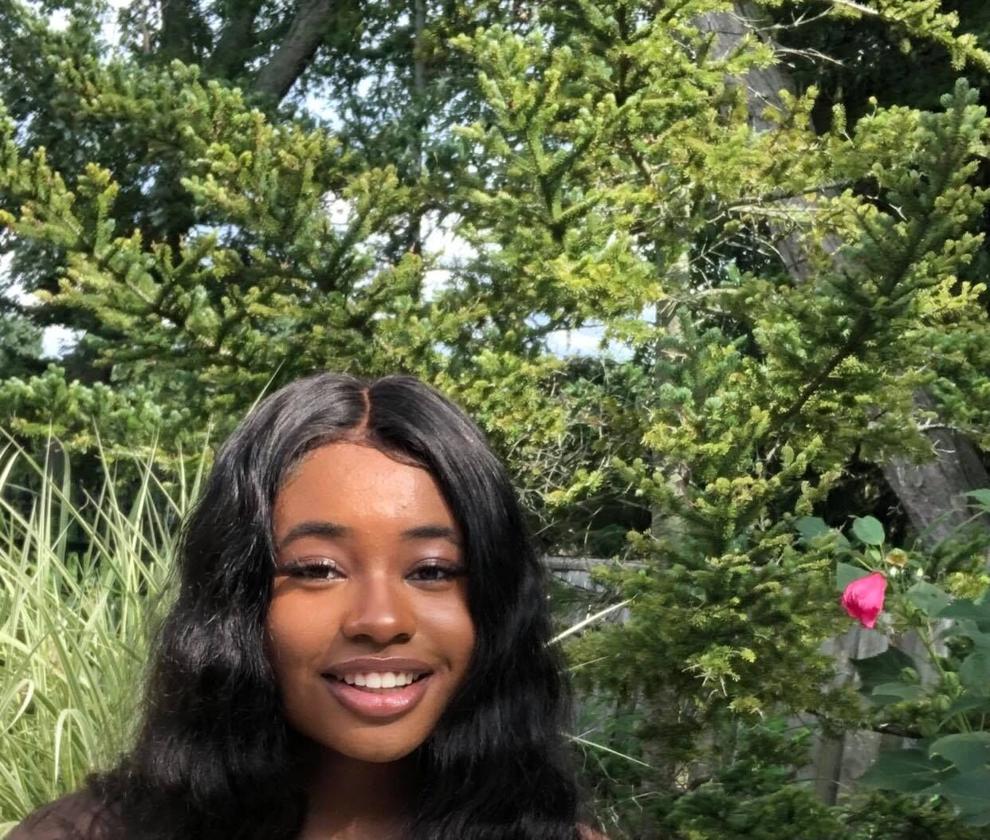 After growing up hating her identity, Fauzia Agbonhin turned her coping mechanism into a platform to spark change.
The second-year criminology and Media, Information and Technoculture student made headlines this month for the release of her book I Never Truly Hated You — a collection of poems describing her journey to self-confidence. Featured on CBC, CTV and Rogers TV, Agbonhin's poetry and activism have recently become spotlighted, positioning her as a spokesperson within the racialized community in London.
Agbonhin's rise to local fame began last summer after a poem she wrote in response to the murder of George Floyd went viral.  
The poem looked at the commodification of Black culture and sharing "trauma porn," — which she describes as the exploitative sharing of traumatic experiences for shock-value or viewership.
"Everyone was experiencing the same thing and could relate [to it] in some way. Everyone was sharing it — it reached places in Dubai," says Agbonhin.
She performed the poem in front of thousands of people at the London Black Lives Matter protests last summer, as well as the Pillar Innovation Awards.
During Black History Month, she was featured on CBC News.
"I guess after the CBC article featured my social media, other people found out how to contact me. It's cool to think that I am known in London. Like if I go to the local Walmart, someone there will know who I am," she says.
Agbonhin immigrated to Canada from Africa in the second grade. I Never Truly Hated You consists of poems she has written since her arrival in Canada, until her high school graduation.
"There was a lot that made me different: my 4C hair, my name 'Fauzia,' my ethnicity and my Muslim religion," she says. "As a kid, I did not know why I experienced the things I did, or how my intersectionality played out. The only thing I did know, is that I hated everything about myself."
The book documents her struggles dealing with internalized self-hatred while coming of age. She describes the book as an homage to her childhood.
"I lost a lot of years being hateful to myself and I am so sorry for treating myself that way. That is where the book gets its title from. It is my way of trying to deal with the damage I did to myself," she explains 
While she had received a lot of positive feedback, Agbonhin notes that handling her success has not always been easy. In fact, she first found out that her CBC article had been released when a friend sent her a Reddit thread where people were commenting on it.
"People were making very mean and nasty comments. One was sarcastic and about how hard it must be for me in Canada, while another claimed that if I did not see Black Muslim representation, I was not looking hard enough," she says.
Abgonhin described feeling a flurry of emotions upon her discovery of the online discussion and the article, including anxiety and excitement as she ran in circles around her house.
"A lot of my poems are me literally showing my scars to people and detailing experiences that really hurt me," she says. "How can you see a minority reclaim their power after being oppressed and say those things?"
"I turned off comments for some of my poems because I just don't want to hear it. I write my poetry because there is someone out there who needs it. I don't need it to be judged unfairly, ripped apart or torn down."
In addition to handling hatred, Agbonhin finds difficulty in dealing with the responsibilities of being viewed as a role model. 
"I have become the face of an activist," she says. "[I] get messages from people saying their 12-year-old daughters look to me as a role model. I am not allowed to say or do things my peers are allowed to because there is a feeling of constantly being watched."
Looking towards the future, Agbonhin hopes to publish a novel she started writing at the age of 16.
"[The book is] about this girl who has Androphobia, a phobic disorder of men due to a childhood incident and is trying to re-socialize in high school … It's a coming-of-age story with a little bit of romance."
While she finished the book at age 18, Agbonhin is currently in the process of rewriting to make it "perfect."
In the midst of writing, publishing and spearheading activism, Agbonbin speaks to how easy it is to become your own biggest critic.
"It is very overwhelming. I have imposter syndrome and so I always felt like I was undeserving of the praise I got and continue to get," she says.
She refused to believe her poetry was worthy of publishing until it was praised by an English professor. The professor was a friend of Agbonhin's mother, who flew down from Ireland to read her work.
"She said [my book] was amazing!" Agbonhin recalls. 
Agbonhin hopes to pursue poetry or writing as a career — but if writing does not work out, she is also open to law or journalism.
"Every year I get more exposure and opportunities, so I can't say where the future will take me."