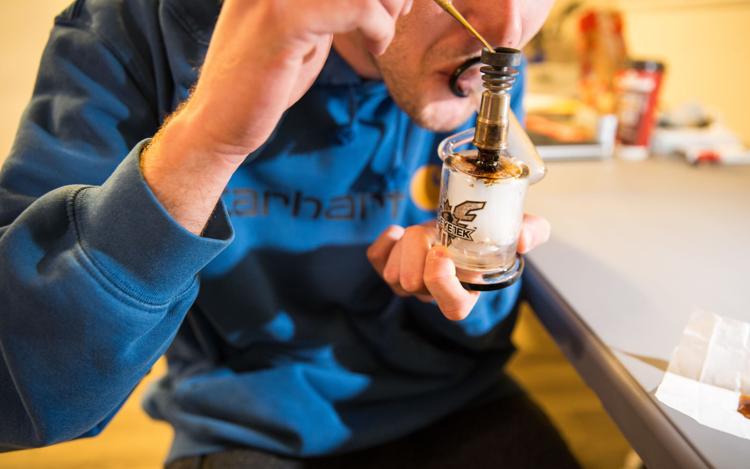 The Canadian cannabis industry is currently undergoing an unprecedented renaissance: strains are stronger, consumption methods are flourishing and the bud has officially entered the mainstream.
While most entrepreneurs are focused on the flower, Ian Haase has a different business plan: oil extraction.
He's the co-founder of Motif Cannabis, a cannabis oil extraction company that hopes to produce everything from flavourful edibles and packaged vaporizer products to cannabis-infused cosmetics.
Haase, formerly the director of entrepreneurship at the Propel Entrepreneurship Centre, decided to capitalize on the budding industry once he realized how untapped the market was.
"What we started to see in the legal U.S. states is that consumer demand very quickly shifts away from the flower itself to concentrate products: oil from a vaporizer, edibles, sprays, creams and basically anything else involving cannabis," says Haase, citing that such demand has arisen because some consumers are searching for other consumption methods outside of smoking.
Giving up a comfortable position on the Sunshine List may seem like a questionable move to some, especially given that extracts are still illegal in Canada, but with Ottawa currently putting together a regulatory framework for edibles and extractions to be released within a year, Haase is confident that Motif Cannabis will be ahead of the game once these products become the norm in Canada. 
He knew he had to dabble in the industry after Mario Naric, Western alumnus and former Imperial Oil engineer, approached him with the bright idea of providing licensed producers with high-quality and cost-effective extraction services, since the machinery involved with extraction is too expensive for most large-scale cannabis cultivators to purchase themselves
"All of these people with licenses to grow are starting to think about extraction, and as opposed to trying to buy all of the equipment and figure out how to do it in-house, we're trying to position ourselves as a site where you can send us all of your material, we will make your oil and sell it back to you," says Haase.
Both entrepreneurs quit their comfortable, stable jobs for an opportunity they couldn't pass up.
"Sooner or later, I think that all entrepreneurs need to take that dive because it's the only way to really have the fire in your belly, to not have a backup, to no longer have a salary," says Haase.  
But the industry is still risky business for Motif Cannabis, which is currently in the process of applying to become a Health Canada licensed cannabis producer. And for all of the positives associated with the legalization of cannabis in Canada, it's nearly impossible to ignore the stigma that's still associated with joining the industry.
"We don't have a licence yet. There's also a social risk and a stigma risk; I have young kids, and I'm jumping into this industry before it's mainstream. But overall, I've found that people are really excited to talk about it now," explains Haase. 
Currently, cannabis extracts and edibles are being manufactured and sold on the black market in numerous dispensaries and online websites across the country. Illegal oil extraction can be a dangerous production method, since it usually involves a strong solvent like butane or propane to extract THC — the psychoactive ingredient in cannabis — from the flower.
In many cases, illegal producers set up makeshift extraction labs in their homes to create these concentrated, highly potent forms of cannabis. Police and fire departments across Canada are confronted with numerous explosions linked to these illegal labs every year. London officials have dealt with two butane extraction explosions that have destroyed houses since summer 2017, caused by illegal cannabis oil extraction.
Explosions like these give the market a bad reputation and put lives at risk, but companies like Motif Cannabis are eager for the federal government to release a legalization framework that could take the industry off the black market.
Motif Cannabis' extraction process involves strict upfront testing protocols so that their products meet all specifications set up by Health Canada, ensuring a clean and safe product.
The company recently submitted a 700-page application to Health Canada to receive a cannabis producers license, which Haase describes as a long, intense and expensive process.
"We're somewhere in that process with Health Canada, and we're estimating that we'll receive our build-out approval in early spring," says Haase, with the business currently working with three core members of engineers and scientists. They hope to grow to a team of eight to 12 once they're fully operational, including workers from business and sales to lab technicians. 
Currently, Motif Cannabis has solidified a factory at an undisclosed location in Southwestern Ontario, and they're working under the fourth cohort at Western Accelerator, a full-time program for high-potential startups open to Western faculty, staff and alumni. Haase is reaching out to investors who are willing to help fund the project, and they've received a number of hopeful responses. 
Ontario has been a leader in licensed cannabis producers, with 53 licensed producers currently on the market right now. Haase believes that the potential reward and payoff — given how young the industry is in Canada — is massive in terms of the total number of licences in Canada right now.