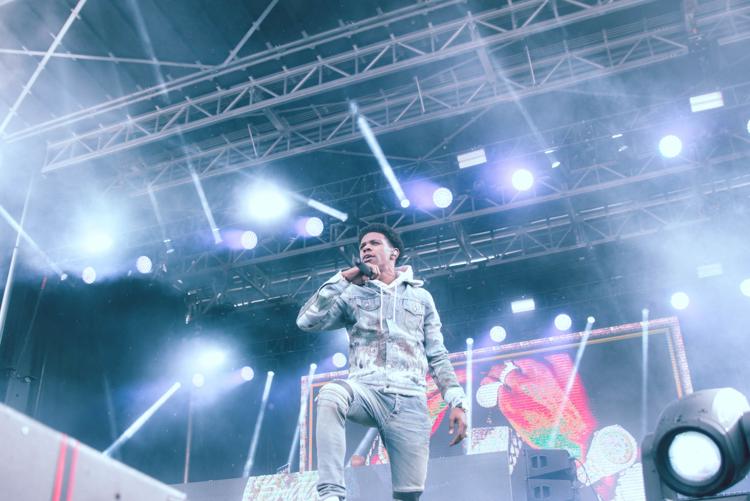 Just 12 hours before the concert was to start, it looked like Purple Fest was ready to take off.
It was then that headliner A$AP Rocky tweeted that he was unable to enter Canada after encountering visa issues and would have to cancel.
The reactions were immediate: confusion, anger and overwhelming disappointment. Rocky's appearance was too good to be true, after the rapper's criminal scandal in Sweden — and for the 13,000 people headed to Purple Fest the next day, it was all too painfully real.
Planned months in advance, the University Students' Council's Purple Fest was slated to host hip hop superstar A$AP Rocky during this year's Fake Homecoming weekend. Booking talent of this calibre as a Canadian university is practically unheard of.
The whole event was thrown into question. But by the end of the day, despite Rocky's absence, the festival came out a success.
The USC's efforts with the concert were impressive. Completely covered in synthetic white tiling, the normally emerald green TD Stadium field was terraformed into a massive lunar playground, its flat open space allowing for an impressive view of Purple Fest's attractions and main stage.
A massive silver inflatable stick figure towered above the thousands of attendees and served as the festival's eye-catching centrepiece. Bright white tire-swings and other art installations dotted the festival floor and served as colourful backdrops for photo-obsessed concert-goers.
Away from the concert area, food and beverage tents stood near the back of the stadium with major brands such as Nescafe in attendance. A licensed 19-plus section also offered alcohol to students with ID but quickly became too clogged for many to get in.
While Rocky's last-minute cancellation certainly left some students feeling spurned. The remaining lineup — composed of bülow, Tyga, and A Boogie wit da Hoodie — delivered energetic performances.
After the cancellation, the other acts were delayed, with bülow's set beginning at 1 p.m. instead of the planned 10:30 a.m.
The 19-year-old, German-born indie-pop sensation kicked the festival off with her signature synthpop sound and relaxed vocals. Performing her hit single "Sweet Little Lies," the up-and-coming artist seemed totally in her element, dancing along to the booming bassline in a carefree, euphoric fashion.
Playing to the crowd's drunken energy, she asked, "Western, are we getting fucking stupid tonight?" before jumping into her aptly named hit track "Get Stüpid."
The late start of performances agitated a number of students however, as some in the crowd complained that Tyga should have been on by the time bülow was.
Following a lengthy break between performances, Tyga's burst onto stage in all black while rapping along to an explosive drumbeat. Performing hit songs such as "SWISH," "Haute (feat. J Balvin & Chris Brown)" and "Rack City," Tyga's performance was met with rapturous cheering from the crowd and hundreds singing along (despite the rapper's microphone dying mid-set).
The performance was further bolstered with fog cannons, confetti and a frantic light show. Dancers in leather and fishnets joined the rapper on stage for his performance of "SWISH" and returned for several other songs.
The crowd was packed, predictably chaotic and nearly impossible to breathe in, with students forming mosh pit after mosh pit. Tensions broke out here and there between some students, and one resulted in a fight between three women in the crowd.
Following Tyga was A Boogie wit da Hoodie, whose performance was immediately interrupted by members of the crowd throwing cups and what looked like a bottle on stage, prompting the young rapper to cut the music and swear at the crowd while his DJ asked that people refrain from throwing things.
After a shaky start the performance got fully underway with Boogie performing chart-toppers such as "Look Back at It," "Mood Swings" and "Drowning (feat. Kodak Black)." Donning an all-denim look and later shedding his jacket to reveal a pink Dior hoodie, the singer's trap swagger and pretty boy looks were met with constant swoons of approval from the audience.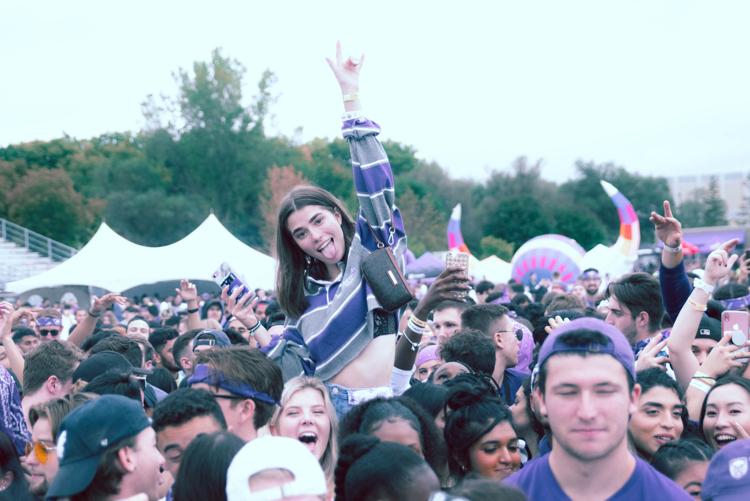 Returning to the stage, Tyga joined Boogie for an electric performance of their song "Startender (feat. Offset and Tyga)." Boogie capped off the festival with an encore performance and kind words for Canada.
"I love Canada man, it's like a second home to me," says Boogie.
While the lineup performances did deliver, many students still felt disappointed by Rocky's absence and especially by the late notice.
Arjun Bawa, a third-year computer engineering student from the University of Waterloo who bought his ticket months ahead, was particularly concerned with how the news was handled.
"Everyone knew that he might not be able to come but I thought they would let us know a lot sooner," says Bawa.
While Purple Fest offered students a microcosmic music festival experience, many students opted to spend their Saturday morning on the other side of campus
Since its inception in 2016, the unsanctioned and student-organized Fake Homecoming party has been a constant source of administrative headaches for Western University.
Under increasing pressure from the London Police Service and government to do more to curb the annual Broughdale bash, the university quietly implemented a new policy that allows police to pass on information about Western students charged with provincial or federal offences so that the university can charge them separately under the Student Code of Conduct.
This and a number of other colourful party deterrents, such as street cameras on Broughdale Avenue and the threat of enormous fines, hung heavy on the roughly 25,000 students who took Broughdale on a grey Saturday morning.
The security measures were far from ineffective. Broughdale, while certainly flooded with students from 10 a.m. to 2 p.m., was noticeably tamer than in previous years. With the new nuisance fines specifically targeting staple Fake Homecoming antics such as roof climbing, students were wary of pulling their usual stunts — especially while under the police and their cameras' watchful eye.
Brad Akbarpour, a third-year Ivey student, believes that this year's Fake Homecoming is a departure from earlier years.
"You can definitely tell that people are nervous about getting fined or getting a ticket and so they aren't trying anything really crazy this year," says Akbarpour. "It's still a lot of fun though and basically a Western tradition at this point so I think people will keep going — I know I will."
Despite the threat of punishment, the horde of inebriated, purple-clad students gallivanted about the Broughdale neighbourhood.
Trudging through the sea of students on Broughdale, there was debauchery abound. The air, thick with humidity, vape smoke and the acrid scent of alcohol was nonetheless buzzing with energy as thousands of students raged along. 
One look at the littered ground showed the countless beers shot-gunned and joints sparked.
Regardless of the sometimes heavy-handed approach to the new punishments, Fake Homecoming was notably less chaotic than previous years and tension between students and police was largely absent.
Broughdale was still the flexible party option. Especially after Rocky's cancellation, and wth the allure of his performance gone from the setlist, Broughdale was the star of social media the day after.
Even in the weather, cold and dampening, 25,000 people turned campus purple. Fake Homecoming stayed infamous: in its fourth year running, the weekend was a Western exclusive.