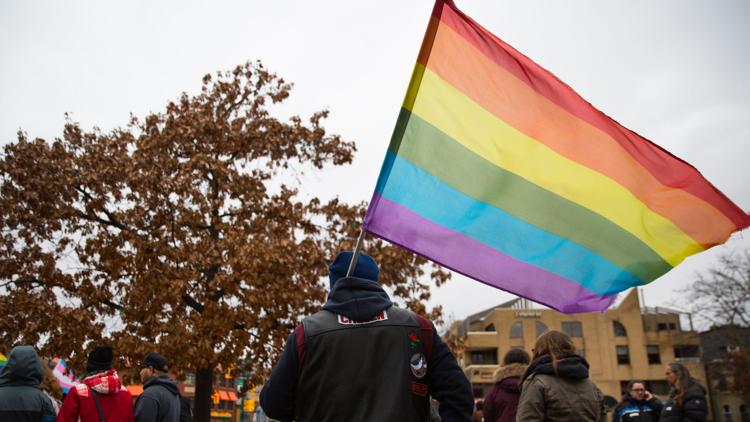 Living through the coronavirus pandemic is no doubt, difficult.
But there's an added layer of stress, sadness and frustration that comes with no longer having access to safe spaces, the community that acts as a family, the ability to be authentic and validation of identity. This is the jarring reality for many LGBTQ2+ students living through COVID-19. 
Like many students, the most obvious change for LGBTQ2+ students has been moving back to their hometowns — or back in with their parents. While for some students this simply means no longer living with their friends across the hall, for LGBTQ2+ students it means losing entire support systems and being thrust back into discriminatory communities they left behind. 
Many LGBTQ2+ students have a "chosen or found family," a group of friends that act as a family in the place of their biological one. They provide mentorship, care, love and compassion that may have otherwise been lacking and by moving back home, many students have lost this pillar of support.
Callie Whalen, a fourth-year gender and sexuality studies student and residence don of the LGBTQ2+ floor in Ontario Hall, is no stranger to this idea, as she's witnessed friends lose their chosen families through the pandemic.
"For people who rely on their chosen family for support, they suddenly lost the physical in-person support that they [need]," Whalen notes. "I think that for queer individuals who maybe don't want to live with their family anymore, living in a house with people who don't accept them is extremely invalidating."
However, moving home isn't the only barrier for LGBTQ2+ folks, as students able to stay in London and still access their chosen families still face a variety of challenges.
The Pride Library at D.B. Weldon Library is one of the only overtly LGBTQ2+ spaces on campus, but it has been closed since Western reverted to a modified stage two of reopening in the fall.
Blake Smith, a fifth-year chemistry and English student, usually studied and spent his time on campus at the Pride Library. Now that it's closed, he has trouble finding spaces that he feels comfortable in.
"I've been studying a lot at home and [it's] been a challenge ... I've had to go on a lot of walks [to avoid feeling trapped]," says Smith.
The Pride Library was one of many queer spaces available to Western students. Other spaces around the London community have also been closed or had limited access over the past few months. 
"A lot of the most visibly and easily accessible queer spaces are night clubs like Lavish ... [during] a regular year," Smith says. "I would probably go to Lavish and have fun and be super gay probably twice a semester, and that's not even a possibility right now."
He explains that with another iconic London LGBTQ2+ location, Spot of Delight, being closed, a lot of their programs about LGBTQ2+ sex-ed and dating stopped running, making it harder to connection with London's queer community. 
As a trans woman, Whalen acknowledges that she and her community face even greater barriers. 
"I've noticed that my gender dysmorphia has been intense over the past couple of months and it's been impacting my mental health," she says. "I just have this really weird sense of dissonance with my body and I think it's because I'm just in my room and I'm not seeing people who make me feel valid in my identity."
Whalen also mentions that people attempting to transition medically are facing longer wait times for surgery, hormones and seeing doctors — all issues that she personally knows people are facing.
Smith echoes the same sentiments.
"I guess for me, a lot of the big services for mental health aren't available anymore because of COVID-19," he says.
Despite the challenges each of these students face, both still reiterate messages of hope.
"[I]t's been hard to find the energy to go to virtual events ... but I find that I've been able to dress how I want, since I'm not being perceived in straight spaces as often and feel more free to explore my gender expression," Smith said.
Whalen mentions that virtual events work better for her, allowing the opportunity to see friends in a casual setting without putting effort into leaving the house.
PrideWestern has changed and updated their programming to stay up to date with COVID-19 protocols and provide support in the best way possible to impacted students. Their events gained significantly more traction throughout the pandemic, as the online format allows students to remain anonymous if they choose.
LGBTQ2+ students currently facing challenges can reach out to PrideWestern and those facing psychological distress can reach out to the Center for Addiction and Mental Health crisis center.