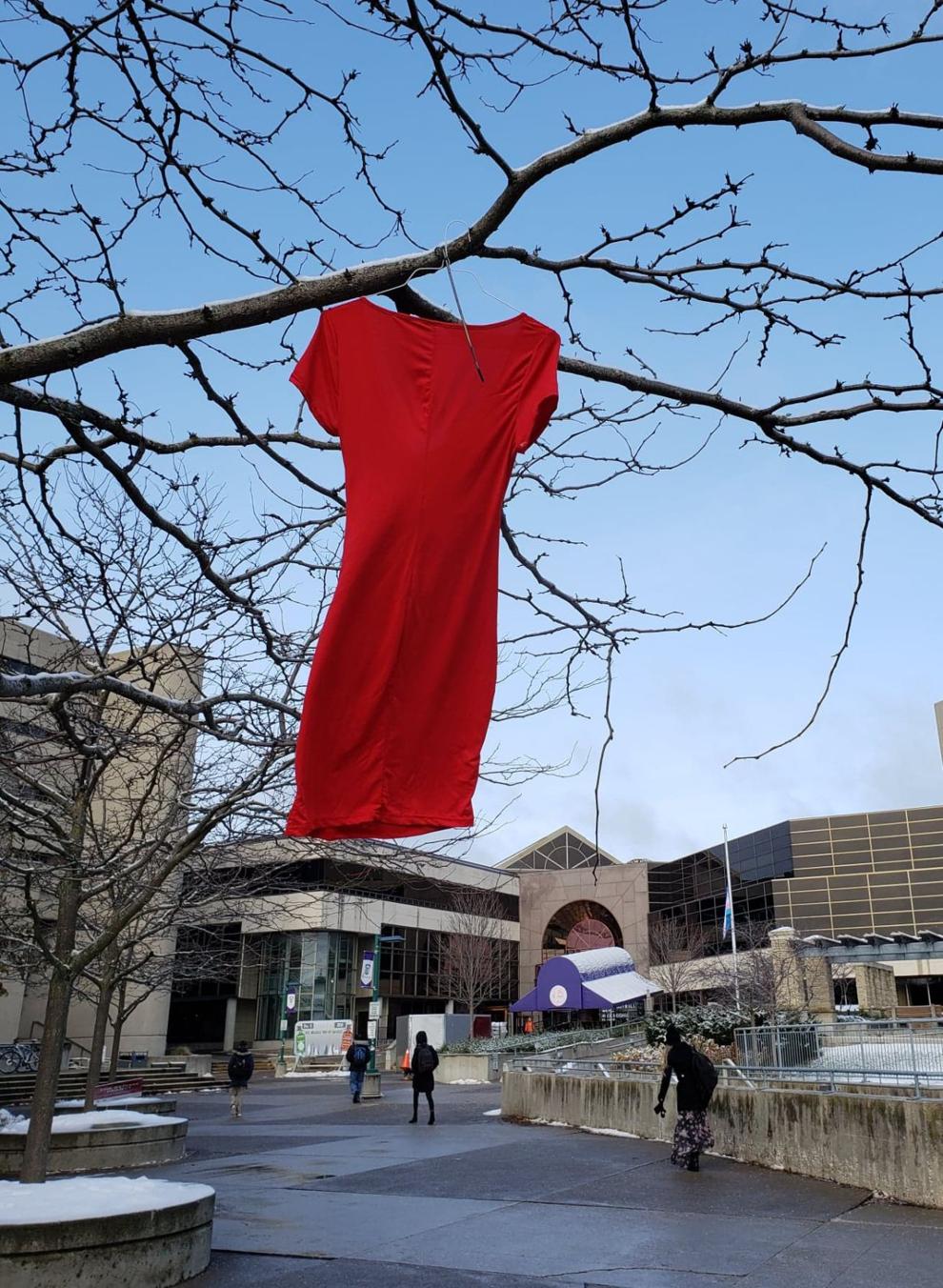 Over 40 red dresses hang from trees across Western's campus: a powerful reminder of the thousands of missing and murdered Indigenous women and girls that scatter our nation's soil. 
The REDress project was created by Métis artist Jaime Black in 2011 as a response to the critical national issue of gendered violence toward Indigenous women. Since then, installations of empty crimson dresses have been recreated at universities and high schools throughout Canada.
Mary Capton, the Indigenous student representative at King's University College and the president and co-founder of King's Indigenous Student Association, says that the issue is not one of the past. For Capton, bringing the instalment to Western University was about more than raising awareness. It was about leaving a lasting impact on each person whom acknowledged the dresses' symbolism. It was about encouraging Indigenous students and their allies to honour the women whose cases remain unsolved due to lacklustre law enforcement efforts.
Despite years of protest and activism, many of these cases are documented as misadventure or suicide. But the families and community members of these victims know that there's more to the story when it comes to the deaths and disappearances of their daughters, mothers, sisters and aunts. 
Above all, they know there is justice to be served.
"The most important message to take from this project is that, even though we take these dresses down, as Indigenous peoples, we don't get to forget about this issue and the emotional burden it carries on us and on our communities like the rest of society does," Capton explains.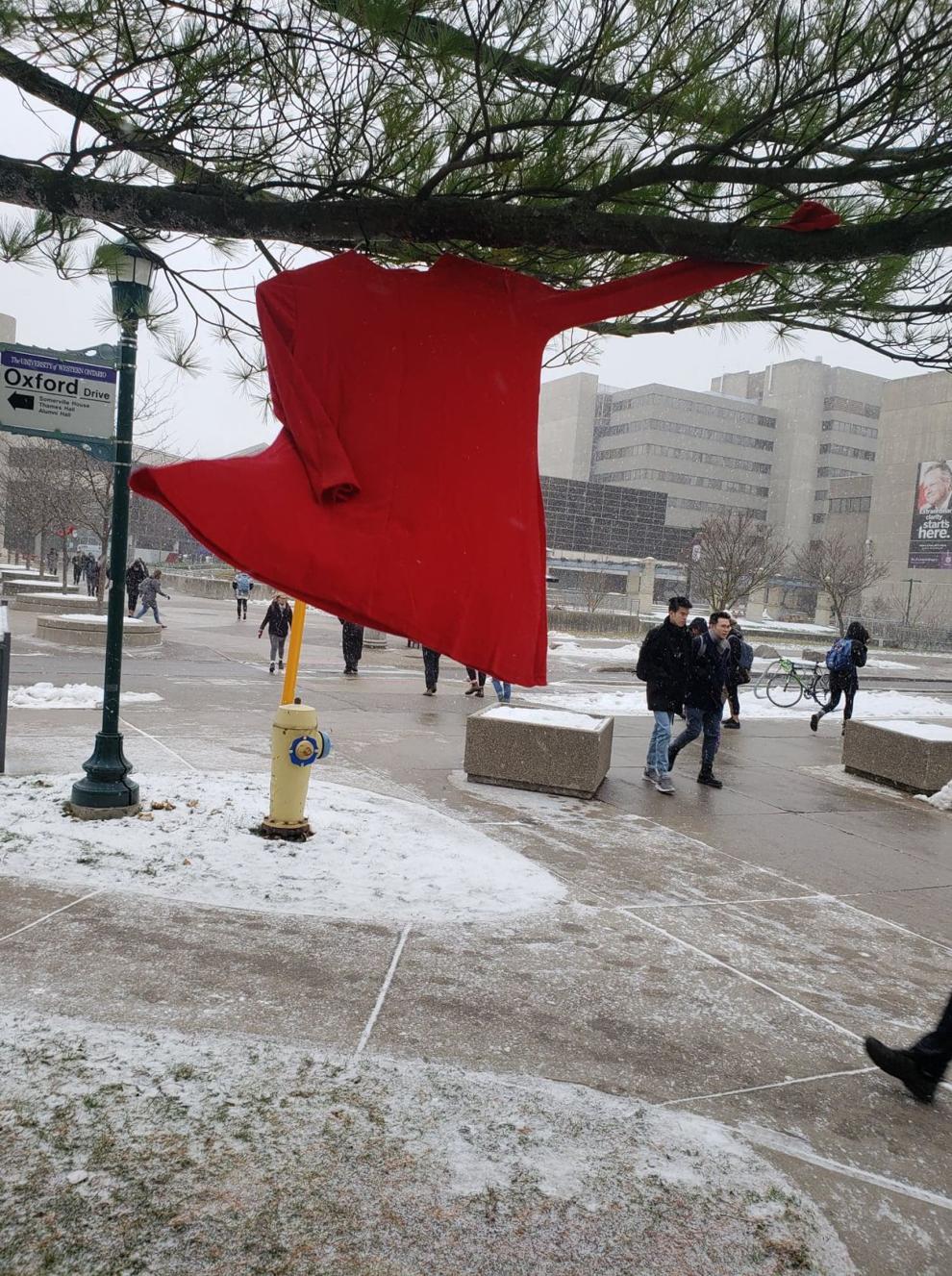 Talk surrounding the over-representation of Indigenous women in homicide and missing persons cases has been in flux since the 1970s. Many Canadians are familiar with the Highway of Tears, where dozens of Indigenous women and girls have been recorded missing and murdered since 1969. In a project called E-Pana, which ran from 1969 to 2006, the RCMP documented 18 cases along the stretch of British Columbia highway. In 2013, the Human Rights Watch released a report that estimated the number topped 40. The disproportionate targeting of Indigenous women can also be seen in the case of Robert Pickton, a serial killer who admitted to murdering nearly 50 women in the Vancouver area, many of whom were Indigenous.
After the public uproar regarding the E-Pana project report and the chaos of the Robert Pickton murders, Paul Martin's Liberal government allocated $5 million to research initiatives for the Native Women's Association of Canada. Under Stephen Harper's government, NWAC was faced with challenges that hindered their research and progress for their Sisters in Spirit initiative. The NWAC subsequently saw their funding strategically decreased between 2004 and 2012 by 75 per cent. Over the course of 12 months, the government contact for NWAC's initiative was changed 11 times. Each time it was changed, the project had to be restarted.
More recently, Statistics Canada released a study in 2015 that found that one-quarter of all female homicides in Canada were Indigenous. Their research found that 1,181 Indigenous women and girls had been murdered between 1980 and 2012. But longtime activists collecting data on the ground have closer to 4,000 names.
Robyn Bourgeois (Laughing Otter Caring Woman) was the keynote speaker at the Nov. 27 event during Western's Indigenous Awareness Week. Much of her research confronts the victimization of Indigenous women and girls in Canada. She feels unsettled knowing that, though Indigenous women and girls make up only four per cent of the Canadian population, they represent 16 per cent of all female homicide cases. To her, this shouts over-representation and demands investigation, resources and widespread change.
"It's knowing that you have a 5.5 per cent greater chance of being murdered than any other woman in this country. How do we live with that?" she asks.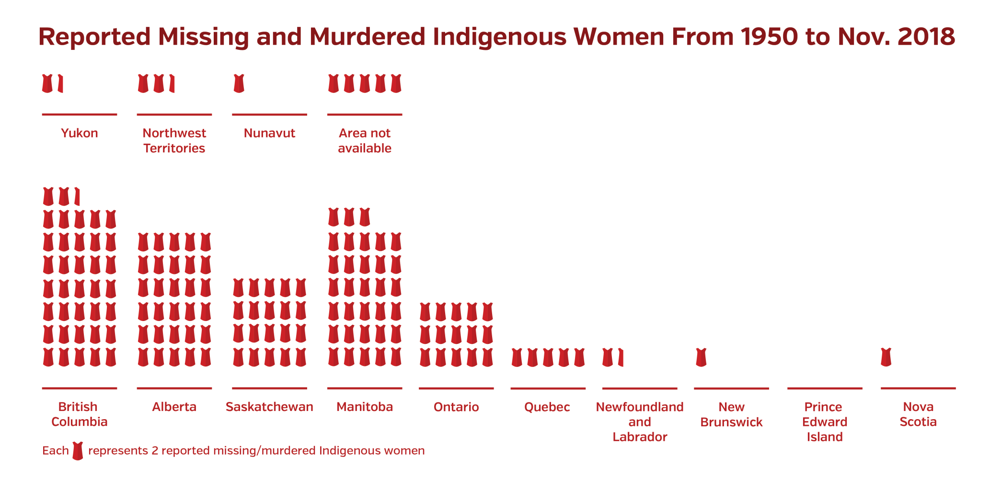 Bourgeois recently testified for the National Inquiry into Missing and Murdered Indigenous Women and Girls. The federal government launched the project in 2016 with a research and action commitment of more than $53 million over the course of two years. The testimonies for the inquiry remain ongoing, and Bourgeois is wary of its progress.
As a Cree activist, scholar and author, she says that the dehumanization of Indigenous women and girls is long rooted in the North American stereotypes and persists due to inadequate documentation and law enforcement.
During her talk, she recounted two children's movies that highlight the way youth first encounter Indigenous culture. In the 1960 version of Peter Pan, Captain Hook ties an anchor to the Indigenous princess Tiger Lily's foot and holds his hook to her throat, ready to gut her. 
Similarly, in the Disney cartoon Pocahontas, Captain John Smith first encounters Pocahontas' feminine body shrouded in mist and holds her at gun point. In both cases, viewers understand that violence against Indigenous women must be ingrained into their identities. Bourgeois notes that regardless of how the Indigenous woman is portrayed, the white colonist views her as a sexual object.
"Saying that a group of women is sexually available implies they are inherently sexually available to anyone," Bourgeois explains. "And in that case, where they are already inherently available, violence doesn't matter — because you can only violate bodies that aren't inherently available."
This problematic discourse, which is deeply rooted in North American culture, perpetrates heteronormative and colonial structures that have denigrated and diminished Indigenous women to being understood as low-priority statistics, wherein their only public acknowledgement comes from the red dresses swaying in trees across the nation.
Bourgeois shares that over the last 25 years, 75 per cent of her work has been spent educating Canadians about the violence towards Indigenous women and girls. 
"If we can get people to understand the underlying system and why it operates the way it does, then we have a better shot of fighting the violence and ending it," she says. 
She draws attention to the primary cause of the violence: settler colonialism.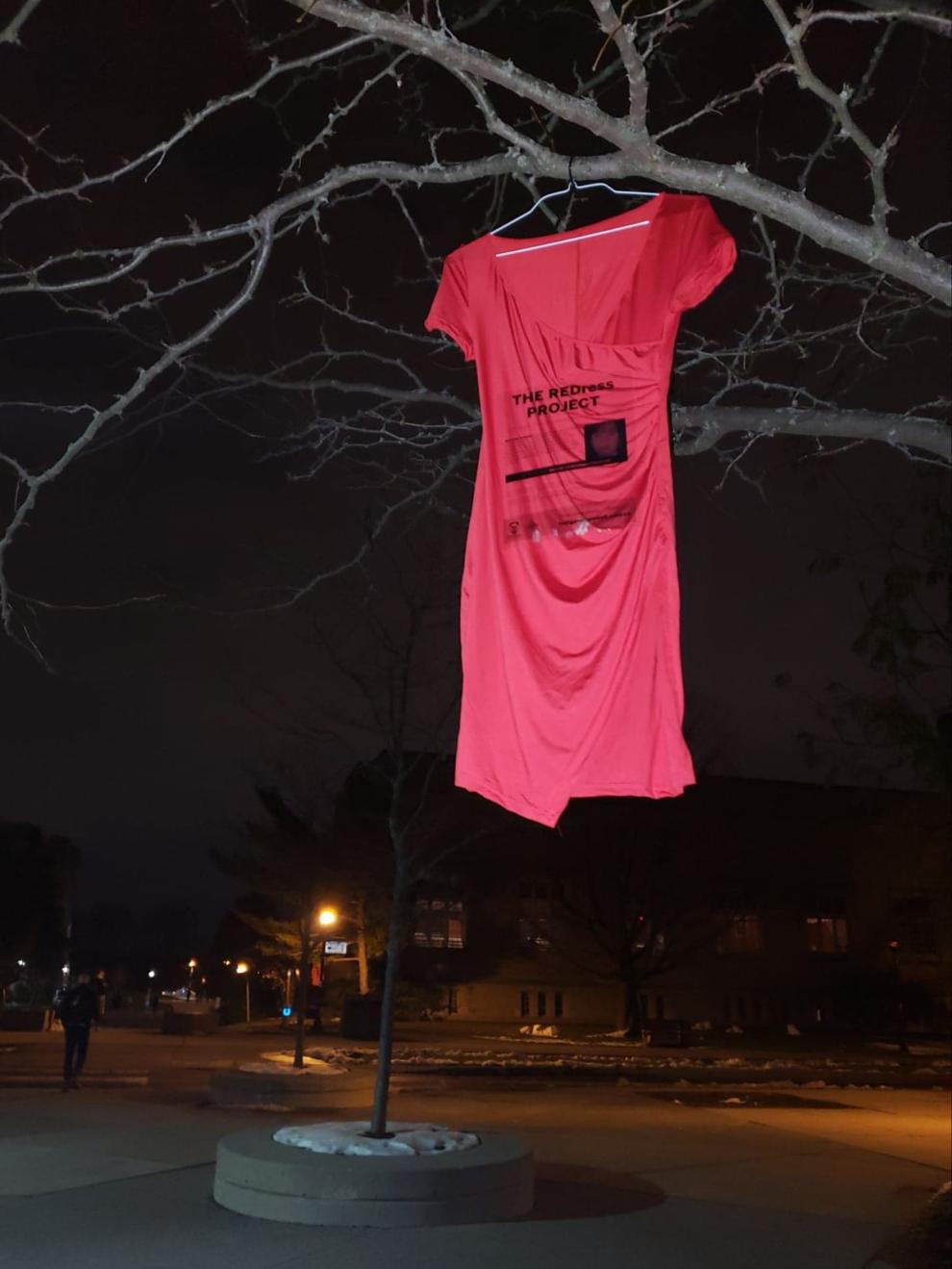 Despite the lacking statistics surrounding the perpetrators who have and continue to victimize Indigenous women and girls, it's known that violence can also occur within Indigenous communities and households. Bourgeois explains that statistics prove most people are murdered by somebody of their own race. But Indigenous women and girls are the only group of people who are just as likely to be targeted by one of their own as they are by someone outside of their community. These cycles of abuse are often attributed to the effects of residential schools, which were aimed at colonizing Indigenous youth and communities. Many families remain trapped in the teachings and tormenting experiences of these schools. Although this system had proven ineffective at assimilating Indigenous youth by the 1940s, the last Canadian residential school was not closed down until 1996.
"When you send generations of children through a system that was bent on shaming people's culture and punitive treatment — like sexual abuse, physical abuse, emotional abuse, spiritual abuse — and you still expect them to have children and be parents, you set up a cycle of harm," Bourgeois says. "That's where we're at in our communities."
Today, Indigenous women and girls are not only victimized through the colonial binary of the princess and the peasant, but through the long-term harmful effects of cyclical abuse within their social and familial circles. This only heightens the already normalized violence.
The historically documented theft and occupation of Indigenous lands by non-Indigenous settlers was made possible through the domination of Indigenous heritage, culture and teachings. In stripping so many Indigenous peoples of their fundamental understandings of self, the women and girls of these communities were pigeonholed into stereotypes. They turned from stereotypes into victims, and from victims into statistics. 
But many of the statistics remain outdated and unresolved.
Despite the overwhelming national crisis that continues to scar Canada, Bourgeois remains hopeful. The instalment of the REDress project at Western and beyond shows the potential of the future.
Bourgeois' talk shows hope for a time in this country where Indigenous voices are heard, violence towards Indigenous women and girls comes to an end and the thousands of missing and murdered are finally honoured. 
Bourgeois expresses that Indigenous women at Western and all across the nation are living proof of the resistance and hope that drives the movement forward:
"The reality is that we're still here, and I think that needs to be celebrated before talking about violence. We're still here and still fighting."