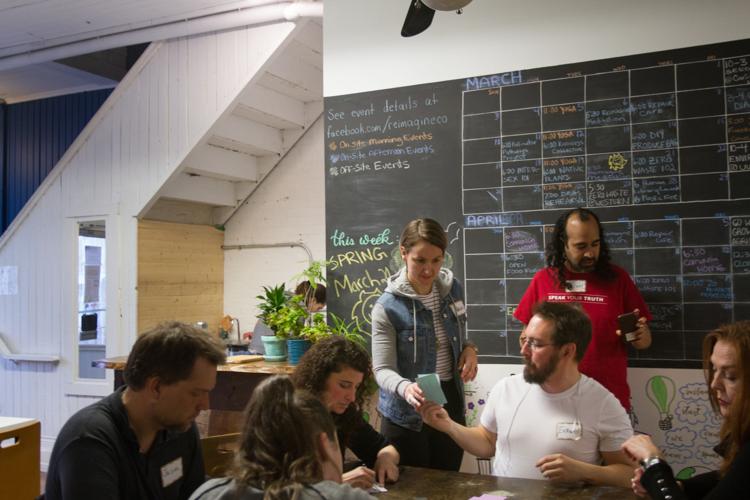 Libraries (the great-great-grandmothers of Google) have been providing us with an effective means of obtaining knowledge for centuries. Just find what you want to learn, check out a few books and there you have it: an easily accessible hub of information.
Though it's easy to take out inanimate objects this way, can the same be done with humans? Could people teach and be taught, checked out and checked in, just the same as books?
The "Human Library" was launched March 28 at Reimagine Co., organized by Reimagine Co's co-founder, Heenal Rajani, and Genevieve Forsyth, a library and information science master's student at Western.
Rajani explains that the Human Library stems from the question,"How can we connect on a basis of what we have to offer and what we want to learn?"
It runs just as an average library would; you can browse through index cards containing skills that different people are well-versed in and decide whether you want to "check out" any humans. Each card has been specifically written by someone interested in offering their talents. Some teach astrology, gardening, the Japanese language, fitness, guitar, tarot cards and more. Once you've found a human you're interested in, their contact information will be provided for you. 
"It's another way of connecting people and sharing those skills and getting people out of their comfort zone," Rajani says.
Rajani was first introduced to the idea of the Human Library at a festival in England.
"It was such a cool way of connecting people on a different level," Rajani says. "It was super effective and worked on the idea, like I said, that we all have gifts, we all have stories, we all have something to share and something to offer the world."
After his move to London two years ago, Rajani has been working diligently under Reimagine Co. and Innovation Works to kickstart the Human Library.
Forsyth moved to London in September for her master's, not knowing many people in the community. In her experience as a student it was important to get involved in things outside of Western and volunteering was a great outlet.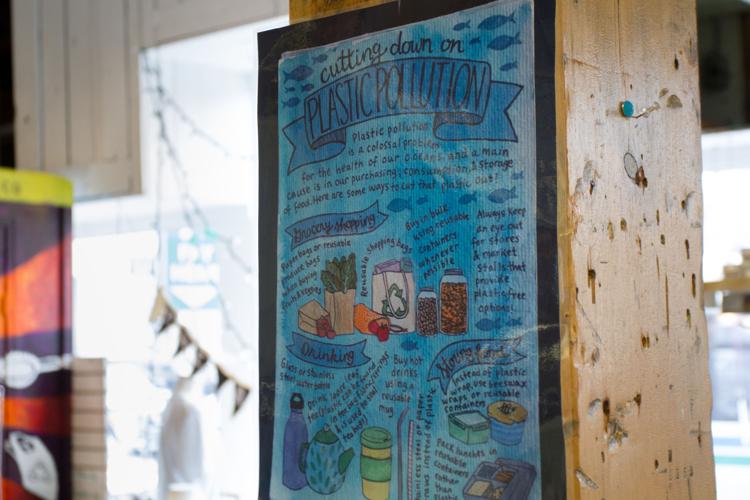 "I think that when you're a student and you do things outside of campus, you feel a lot less isolated, and your life isn't just school," Forsyth says.
The project was first introduced to her by Rajani after she volunteered with Reimagine Co. in autumn 2018. Upon being asked to organize the event, Forsyth agreed to give it a try.
This is the fourth iteration of the Human Library. Forsyth says that it had achieved "varying degrees of success" in its first launches under Innovation Works, a co-working and collaboration space downtown. This is the library's first launch under Reimagine Co.
The mission of the library is simple: to strengthen community.
"I want people to just make genuine connections: to learn new skills and meet people in the community that they otherwise wouldn't meet," Forsyth explains.
Forsyth believes that in bigger cities people tend to be stratified;  "we really only hang out with people who are like us," she remarks. Forsyth hopes people who go to the Human Library and are open to meeting people with diverse stories and backgrounds will benefit the community in aspects of both empathy and communication.
Rajani walks the same line. "Everyone in our society has gifts. But how can we harness those gifts? How can we support one another and live sustainably?" he wonders. Rajani hopes that the Human Library is able to break down pre-existing relationship structures within work, family and school, while introducing people that wouldn't normally have the opportunity to meet. To Rajani, community is about the power of collaboration and co-creation; "It's supporting one another, it's about what we can do together."
Rajani believes that between individualism and materialism, there's an obvious separation in this world as well as a lack of community and connection. The Human Library works to build connections and invest in collaboration. "We are a lot more powerful when we collaborate, when we work together," Rajani states.
People of all backgrounds are encouraged to partake in the library, but the specific importance of student involvement is an ongoing question. "You know that's something we're trying to figure out," says Rajani. "Students have such a potential to make a big impact; it's just how do we tap into that? How can we support them?" He asks.
There is such a "diversity in student groups," says Rajani, with different majors, stories and cultures to share with the library. It's just a matter of sharing them
The best way for students to get involved as of now is to reach out. Reimagine Co. is a zero waste demonstration space and community hub with the goal of connecting people who are on a journey to reduce their waste and live in a more sustainable way.
"Our mission, fundamentally, is peace and harmony for the whole world. Whatever part we can play in that, to be of service to humankind, living beings and the planet that we inhabit is what we're all about," Rajani says. The reality of our planet's oncoming inability to sustain life is what Reimagine Co. is working to combat. 
Rajani believes in first reducing impact locally and Western University has been a valuable community to help do so. Between Zero Waste at Western workshops and other pop-ups in the University Community Centre, there are plenty of opportunities for students to get involved come September. For those staying in London over the summer, Reimagine Co. also works events such as Sunfest.
Forsyth found Reimagine Co. in the Facebook events section. She urges students to be aware and seek out events. "Local organizations are always looking for volunteers," says Forsyth, and it's important to get involved.
"From a student perspective it's good to show that you were involved in the community outside of campus. It shows what you're actually passionate about," Forsyth explains. 
The Human Library is open now at Reimagine Co. and new humans are always welcome. Alternatively, Reimagine Co.'s volunteer application can be completed online for those hoping to get involved directly.