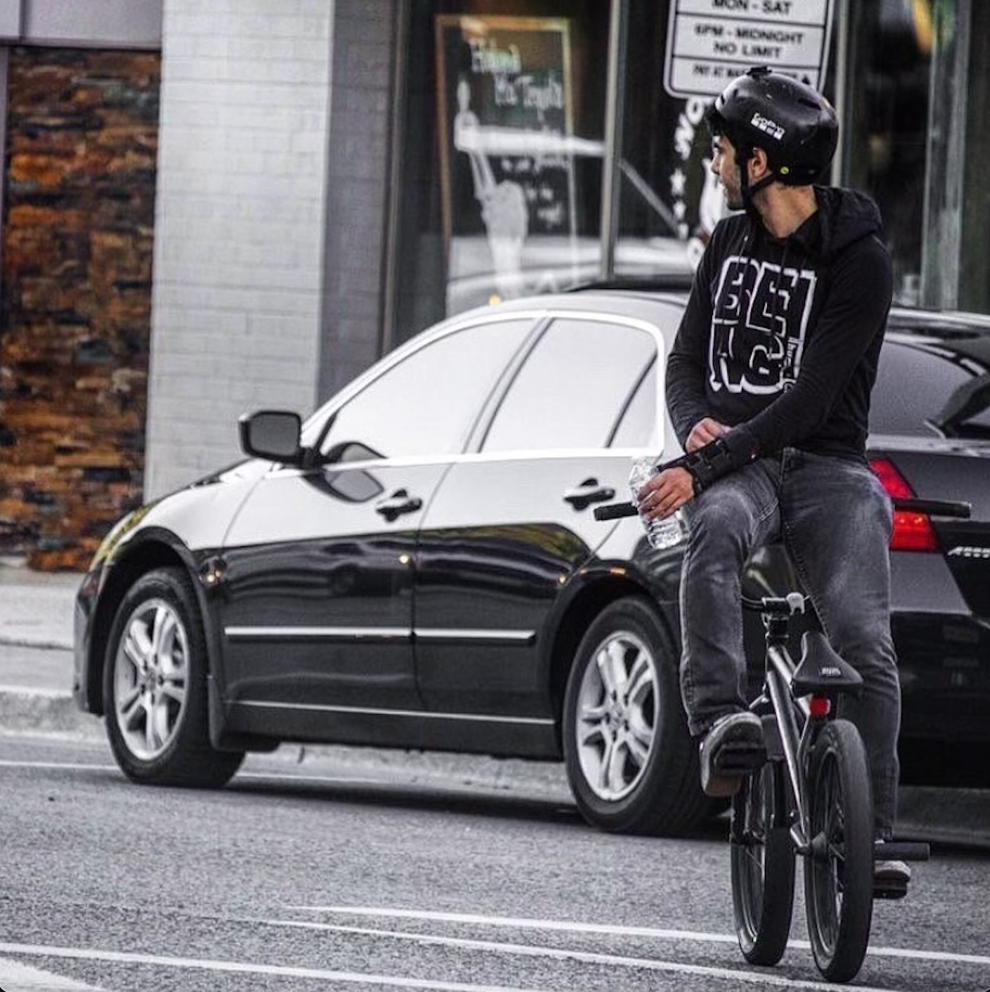 Before Hashem Abou Ahmad became the guy known for riding his bike backwards on campus, he had a different passion: riding his bike forwards. 
The 21-year-old computer programming student at Fanshawe College first began biking backwards after suffering a wrist injury while living in Dubai. 
"I was trying to figure out a way to ride with one hand … but it wasn't as comfortable," says Hashem. "So I just discovered riding backwards — and yeah, it worked for me."
He sits on the handlebars of his BMX bike — facing backwards, but looking forwards. He rides hands-free, maneuvers with his butt and breaks with his foot on the tire.
It took him about two and a half years to master biking backwards and now he feels more comfortable biking backwards than he does forwards.
"Riding forward is not my thing," says Hashem.
Riding backwards gives Hashem more control.
"I feel like it's safer for me and for other people around me if I ride backwards."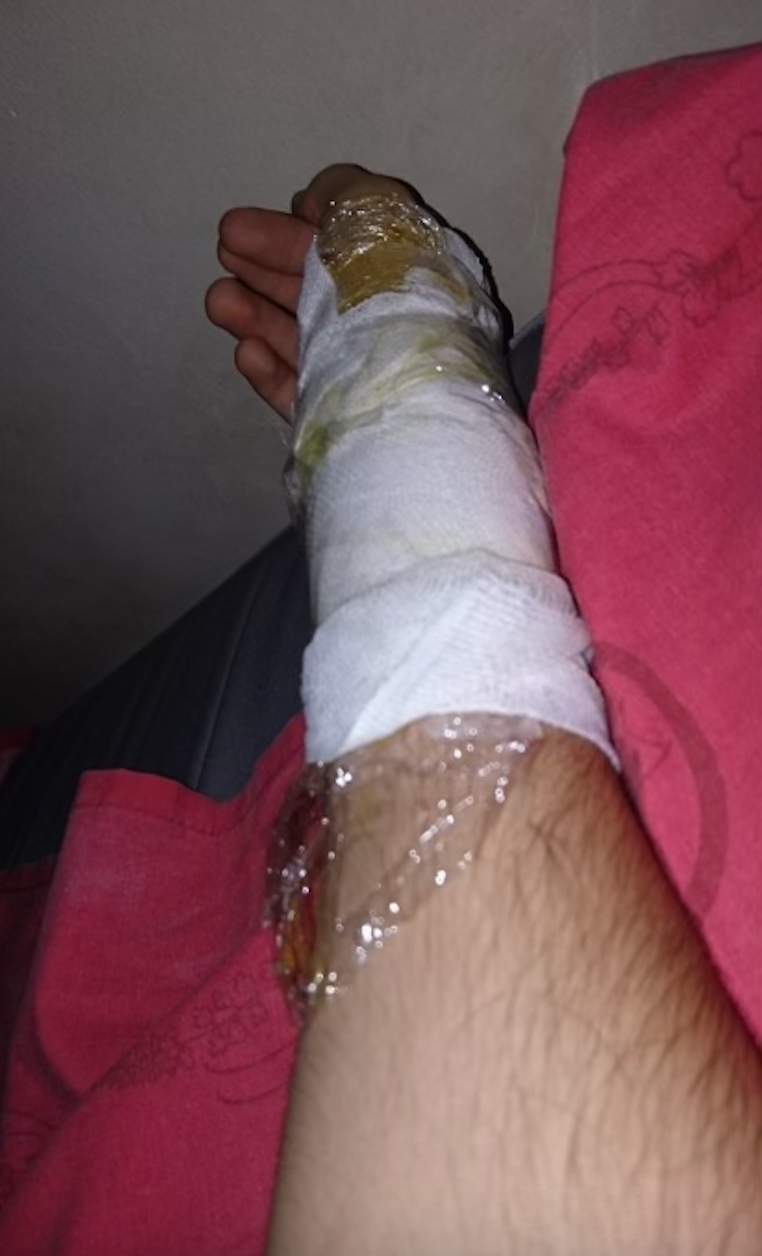 He finds it gives him a better feel of speed and more control while maneuvering. It's more comfortable for him to sit on the handlebars of his bike, and since he's sitting higher, he can pedal more and have more power to bike up hills.
While students may gawk or take photos of Hashem as he bikes backwards through campus, he's usually too busy listening to music to pay any attention. Listening to music while biking helps him alleviate stress and lifts his mood. 
"That's my favourite part. If I had to ride my bike without music, I would not ride my bike. I would go home, to be honest," comments Hashem.
Hashem wasn't aware of his campus-wide fame until a friend showed him posts on Facebook and Reddit. He was shocked — mostly because he couldn't understand what the craze was about. He's even received some criticism from users in online student communities who perceive him as attention-seeking or careless.
"It's not careless driving," says Hashem. "It would be careless driving if I'm riding forwards with an injured wrist. I might fall and get run over by a car or something."
Hashem did almost get run over by a car — while biking backwards — in December 2020.
He was biking through a green light near Delaware Hall, in the middle of the afternoon, when a speeding car turned into him at an intersection. 
"Even if I was riding forwards, I would still get hit," states Hashem. "It was really quick — there was no way for me to avoid the situation. I feel like riding backwards actually saved my life, because I feel like my back absorbed the impact. My face, my chest — it was all safe." 
Initially, he didn't feel any pain at all, and so he went to confront the driver, who was in tears. 
"I felt so bad for her," says Hashem. "And I gave her a hug, even though we're in a pandemic."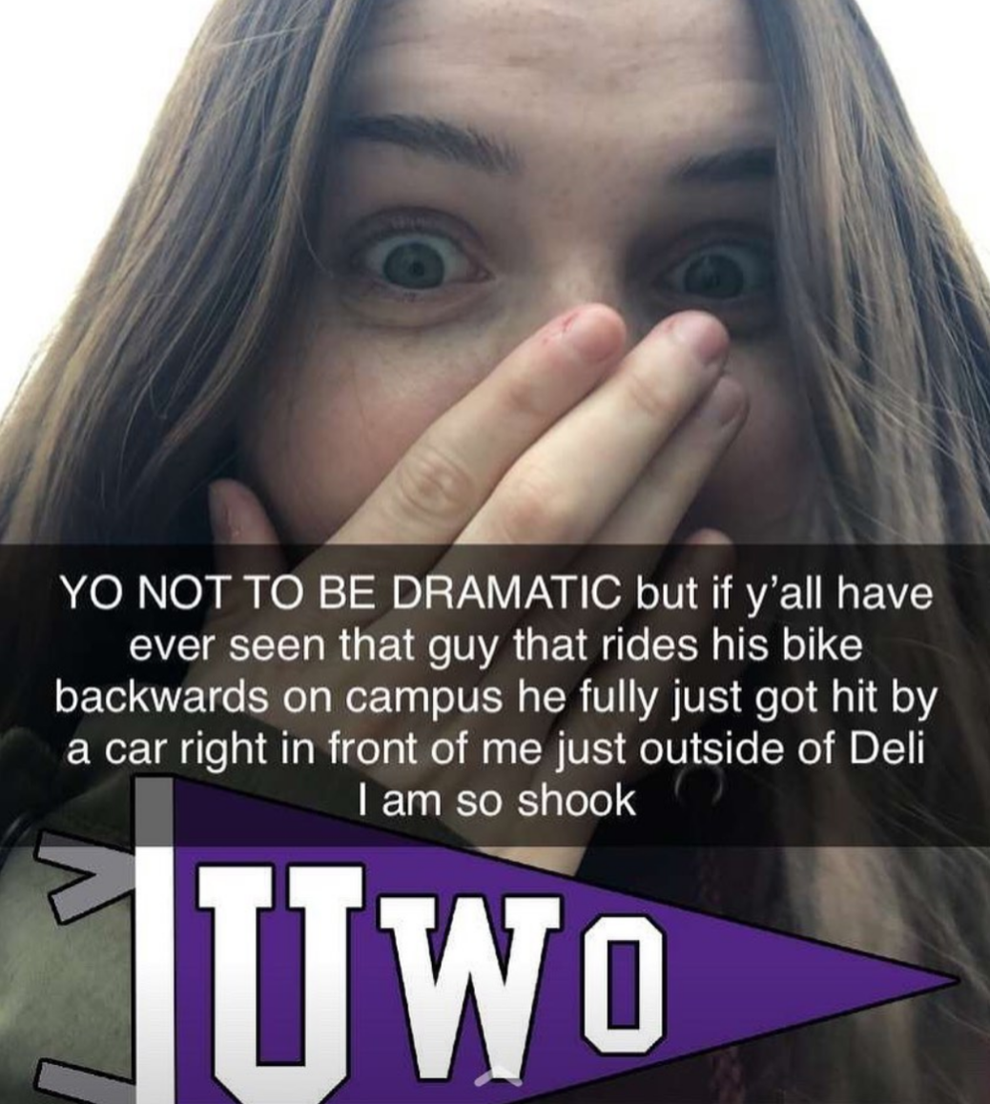 After comforting the driver, he told her that he was okay and wouldn't be calling the police. She left, and about five to 10 minutes later, the shock of the incident wore off and his entire body was in pain. 
Still, Hashem didn't feel that he had sustained any serious injuries, so he simply biked back home — backwards, of course — and took a warm shower. 
Meanwhile, a student who witnessed the car accident posted their reaction on Snapchat. A screenshot was posted on Western Savages' Instagram account and news of Backwards Bike Guy's car accident spread like wildfire among the Western University student community. 
"This girl just made me look like I died," laughs Hashem.
This was when he decided to come forward as Backwards Bike Guy and break his anonymity, and so he left a comment on the post.

"I actually wanted to stay anonymous," continues Hashem. "But then when I saw that post, I read the comments and I saw: 'Rest in peace.'  I'm like, — 'Okay, I have to say something, you know, like, I'm alive.'" 
His comment led several Western students to follow his Instagram account, but he couldn't care less about the attention — Hashem maintains that he's just a guy who likes riding his bike backwards.
After revealing his identity, and in the face of "new-found fame," Hashem has just one message for the Western community.
"I care about everyone's safety around me, and I care about my safety," says Hashem. "If you think that I don't see behind me while I ride backwards, if you think it's reckless, then how am I still alive?"
"I'm not going to stop riding backwards, no matter what," he continues. "I think I'll be riding backwards when I'm fifty years old. I'm not going to stop ... I found what I love."