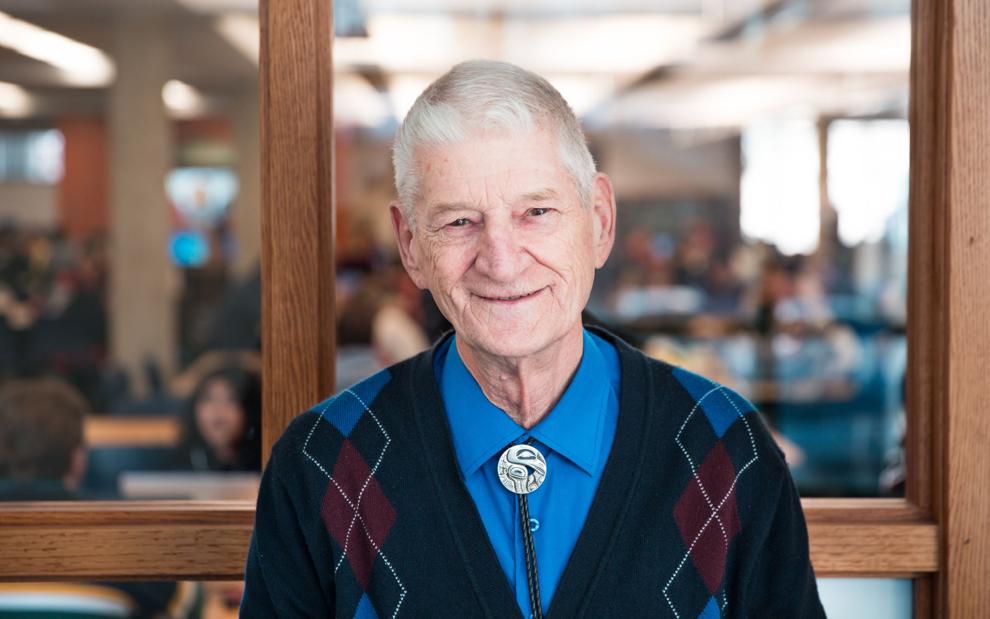 Ron Robert is undertaking some of life's milestones backward — so he can keep moving forward.
After a winding career as a political journalist, Ron is pursuing his first university degree in political science at the age of 81.
From selling newspapers on the street to working closely with former prime minister Pierre Trudeau, Ron's life has taken some interesting twists and turns. Unfortunately, it took an unexpected turn for the worse four years ago when he was diagnosed with Alzheimer's disease.
He received a phone call after a series of long, tedious tests. The voice at the other end of the line nonchalantly informed Ron of two things: he had Alzheimer's disease, and his driver's license would be taken away.
In hindsight, Ron says he should've been better prepared after losing multiple siblings to the illness. However, bearing witness to his siblings' deterioration under the chokehold of the disease gave him the strength and determination to fight back.
"I decided I didn't want to do like I've seen others do, including my brother. They're diagnosed with Alzheimer's, and they think it's a death sentence almost, and they give into it," says Ron. "I thought, 'No, I'm not going to give into this sucker. I've never given into anything, so why would I start now?' I thought I've got to find out how to fight this thing: keep it at bay, at least."
Ron needed to keep his mind active. He started learning French for a year, but he felt little improvement. So he decided to attend university. He was intimidated by the size of Western's main campus at first, so he commuted to Wilfrid Laurier for some time, before a Western academic advisor introduced him to King's University College and its smaller, more intimate campus.
Although multiple-choice tests and scholastic writing challenged Ron at first, he quickly started catching up. His grades soon showed marked improvements along with his long-term memory.
"It's the testing that makes a difference," says Ron. "When I first went to Laurier, they suggested perhaps I would rather audit classes, and I thought, 'No, that's not going to make me remember,' so they agreed to put me into first-year political science, which is a natural for me, of course. That's the way I made my living for a long time."
For Ron, a university education is a lifelong bucket list item that is finally coming true. Born to a poor family in Halifax, he dropped out of high school and started selling newspapers on a street corner at 12 years of age to support his family.
At 15, he hitchhiked to Penticton, B.C., for a work opportunity, picked up by drunks and dropped off in the middle of nowhere along the way. When he hitchhiked back home months later, he found his family had moved, leaving him homeless.
He was taken in by a friend's family who directed him to an opportunity at a local radio station. Ron landed the job, and from there, went on to build a prosperous career as a political reporter that lasted over 20 years. He covered politics at all levels, from the legislatures in Alberta and Saskatchewan to the House of Commons in Ottawa.
"One of the things that always bothered me [was] that I didn't have an education," said Ron. "I always felt a little bit inadequate when I was a reporter, because I was working with a lot of very intelligent people over the years, premieres and presidents... and I always felt I was lacking. I used to buy Reader's Digest books because they had a vocabulary section. That's how I worked at building up a better vocabulary."
Above all else, Ron enjoys being surrounded by the energy and spirit of the younger generations, who often turn to him for advice and for stories of the past. While at first he simply intended to complete a few university courses, he now has a new bucket wish: to cross that final stage with his young friends. He finds in them hope for a better future.
"I have almost adopted them all as grandchildren.… I basically feel as loving and protective of them as I do of my own," says Ron. "I see young people that care, young people that want social justice, and they care enough that they do something about it.… This world's upside down. We're not leaving you a good place. We're giving you a lot of work to do, but I think this generation is going to make some great changes."
As one of the ambassadors and faces of Canada's Alzheimer's campaign, he works to spread awareness and provide resources for others impacted by the illness. Particularly, he is an advocate for increased support programs for caregivers, who perform a 24-hour job without respite. Further, he calls for a reform in research practices to directly involve the "real experts" of an illness; the individuals actually living with it.
"I'm diminished, but I'm not incapacitated," says Ron. "I can still do a lot of things. Don't write me off when you're doing research into Alzheimer's; include us.... Too many times when they're doing research with us, we're like patients or objects instead of being a good part of that research."
The illness might have brought pain into Ron's life, but it has also brought great new meaning. From taking buses to writing exams, he is confronted with new challenges every day, but he is determined to face them headfirst and stand undefeated.