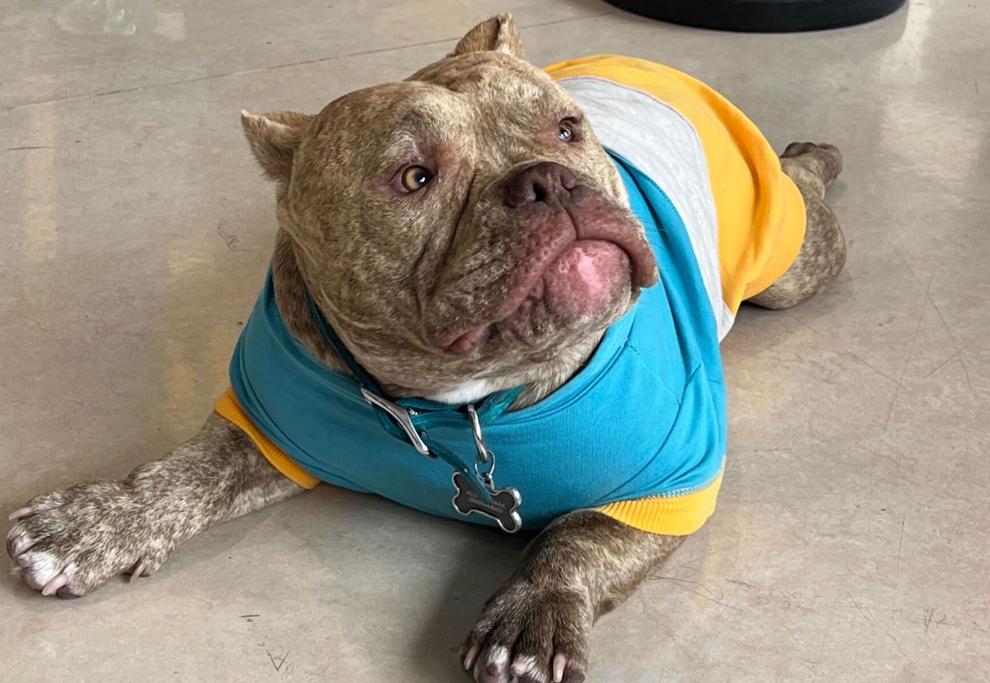 On a cold and rainy day, there was one small ray of sunshine in the University Community Centre: Potato the American bully. 
Potato tagged along with his owner, fourth-year finance student Ally Katigbak, in the busy UCC during the height of Western's club's fair and lunch rush. He attracted an army of onlookers with his cute and calm demeanour. 
Katigbak has been bringing Potato with her to campus since the start of the school year. She described him as a low-energy dog that minds his own business. 
"I don't like leaving him at home, so I bring him to school," said Katigbak. "He's always with me, so I make sure he's well-trained." 
Katigbak works as a server late into the night, so she doesn't get to see Potato much unless she brings him to school with her. 
Despite his chunky appearance, Potato is only a puppy at nine months old. While he currently weighs approximately 18 kilograms, adult American bullies can weigh from 25 to 34 kilograms.
Potato wore a casual, colour-blocked shirt to keep him warm during the rainy day. He's used to functional and fashionable looks — Katigbak said Potato has four sweatshirts, two onesies and five shirts. He shows them off on his own Instagram account. 
Katigbak said she hasn't run into any trouble bringing Potato on campus. She's brought previous dogs to classes in her first-year, and said her professors didn't have a problem with it as long as they were quiet. 
"He just goes under the chair and then we're usually at the back, so we are not distracting," said Katigbak. 
American bullies are known for being loyal and friendly companions. Katigbak said that, while Potato usually ignores other people, he is very affectionate and attached to her. 
"He's very lazy," said Katigbak. "He's definitely a couch potato."
Correction (Sept. 22, 5:45 p.m.): This article has been corrected to reflect Potato is an American bully