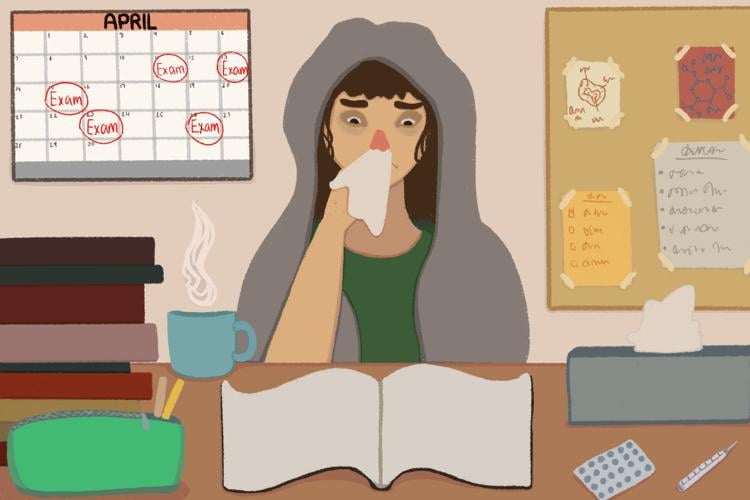 Cue the chorus of sniffles and sneezes, the pockets stuffed with tissues and the time of year when everyone seems to get sick simultaneously: exam season.
But it's not a coincidence students get sick right in the midst of all their final papers and tests. 
Sore throats and pounding headaches during the most inconvenient times of the year can partly be blamed on stress levels, although they're not a direct cause. In fact, stress only plays a role in influencing behaviours in unpredictable ways.
"Lack of sleep, poor diet and lack of physical activity are all behavioural risk factors which may be driven by stressful conditions," says Saverio Stranges, professor and chair of the department of epidemiology and biostatistics at Western University.
When students are under pressure from exams, stress levels inevitably rise, which supports unhealthy lifestyles. For example, losing sleep by studying for an exam may affect your appetite regulation and may increase the production of certain hormones like leptin, which causes people to eat more, or ghrelin, which causes people to eat less, according to Stranges.
Immune systems may also be negatively impacted by these stressors. Stranges says that when immune systems are under pressure, the individual is more likely to get a common illness, like a cold or influenza. Individuals can also be vulnerable to more serious diseases, such as irritable bowel syndrome, which affects the large intestine; anxiety issues, which are intensified by stress; heart palpitations, which are irregular heartbeats; increased blood pressure, which increases the risks of a heart attack or stroke; or even more systemic chronic diseases.
"Good health starts with good lifestyle habits," says Stranges. "When our bodies go outside that physiological window of balance and hormones driven by a healthy lifestyle, we're more inclined to get diseases, and the immune system is one of those systems which is most affected under these circumstances."
One of the most important things, Stranges emphasizes, is trying to keep a good balance in terms of sleep. He advises keeping in mind the amount of hours students spend studying, but also spending time doing physical activity, which also reconciles with good quality sleep. Preparing healthy foods, maintaining social interactions and avoiding social isolation are all things Stranges says students could do to reduce their stress levels and partake in healthy lifestyles.
Although these seem obvious, they're friendly reminders to consider, especially during exam season when the brain tends to be forgetful as it's preoccupied with other things.
This is not to say there's no pressure, because there is an overwhelming amount of it when students are focusing on their grades, their social lives and their health at the same time. The education system — and its emphasis on high grades — can be detrimental, but at the end of the day, Stranges reminds students that if they are sick or unhealthy, they are less likely to perform their peak in terms of brain function.
"This is something you learn to balance over time," admits Stranges. "In a sense, we need to educate ourselves to living a healthy lifestyle, [and] we need to consider it as part of our life,… not something that you need to do in addition to your daily routine. So you need to allocate time to do this."
In other words, taking an extra 10 minutes the night before a study day to make a simple and healthy sandwich could go a long way to fuel the brain and body. Even within these stressful periods, building daily routines to incorporate and cultivate a healthy lifestyle is something students should embrace.
"Don't look at your lifestyle as something out of your control," says Stranges.
There are always ways to cope and get support from family, friends, professors and health professionals. Remember to take a break if you need to.
Students can receive direction and support from the Wellness Education Centre at (519) 661-2111, ext. 87127. The WEC has drop-in hours Monday to Friday from 10 a.m. to 6 p.m. in UCC Rm 76.