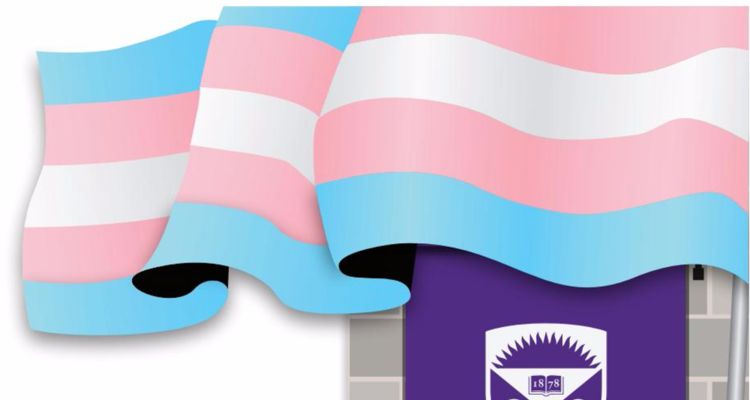 Wrapping up classes for the day, Max* stepped in the stall of a women's washroom in the Spencer Engineering building.
Two women entered the washroom after Max. One pronounced, "I just want to make sure everyone is reading the sign on the washroom."
Sitting silently in the stall, Max did not respond. 
Reflecting, he now quips, "Is it me? Are you referring to me?"
As Max left the stall, he caught a weird look from one of the women who came in after him.
---
---
Some people's lives are deemed more disruptive than others. 
Noah Reid, Layne Clark and Max know this well. As transgender students, carving space to grow in a community where their sense of self is seemingly up for debate can be hard. Proper pronoun use and free speech— as recent guest speaker Jordan Peterson elaborated upon —  are popular topics concerning what society should accept as normal.
Max has warmed up to his masculinity over the past year. He planned to 'pass' — a term for performing your assigned gender — his whole life. But the dual life has grown tiresome, and if he physically transitions, taking testosterone to lower his voice and square out his face, he cannot hide that from his parents who still believe him to be their "daughter." Max says Western never called to him like it does other students, but it is a refuge from old friends and old expectations. 
Max and Noah have been dating for over a year, but Max is less connected on campus than Noah. Unlike his partner, Max did not live on a rainbow ally floor, missing out on building early relationships because he could not afford Elgin hall.
However, housing is not Max's main grievance.
"It's the bathrooms," he says.
Remembering another incident in a women's washroom, a student walked in, saw Max and startlingly did a double-take of where they were. He said nothing.
Given old expectations like gender-binary views of bathrooms, as reinforced through legislation in parts of the United States, and as bathrooms are a primary source of violence for trans* people, Max laments a lack of bathroom accessibility as a constant reminder of his struggle for inclusivity, and says a lack of all-gender signs on washrooms suppresses the existence of trans* people.
Noah also holds frustration with Western washrooms. But his annoyances on-campus lie more so with residence and Western's administrative structure.
Noah grew up in a small town surrounded by traditional male values. He encapsulates these values with a hearty, "Grrr sports."
But Western has provided him a chance for self-exploration: living on the rainbow ally floor in Elgin Hall during first year, meeting a small community of LGBTQ+ individuals and finally getting to express himself in feminine ways as a male. He cites last Christmas break when he dyed his hair bright pink. At times, his story's recitation sounded routine, as though he has done it a thousand times before.
Every time he updates his documented old name or meets new people, he feels obliged to share his story: visiting ITS to change his OWL and Student Centre profile, the office of the registrar to change his transcript, calling the government to change OSAP and then hoping the names all line up. Administration often need an explanation along with documentation. Though, if they asked for his old driver's license, the story becomes a little less routine.
"My old license is in about a million pieces in a dump somewhere having also been mildly lit by a lighter."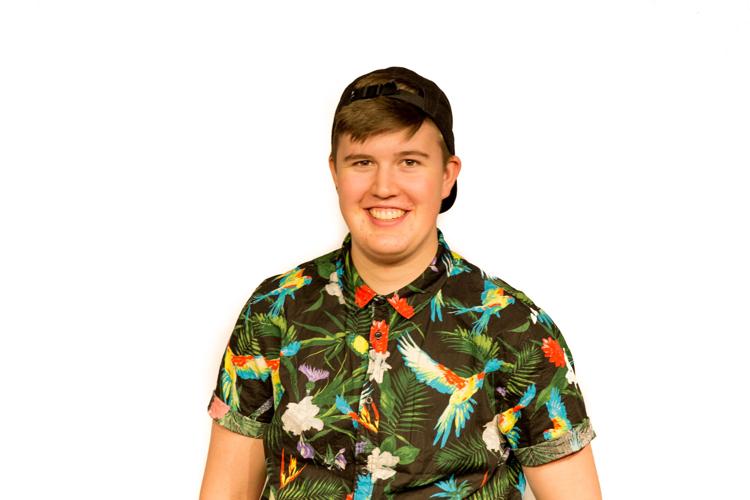 When entering first year in 2015, Noah's entrance survey only offered gender binary options, forcing him to connect with housing and explain his situation. He finally decided to live with women, hoping they would be less hostile to a transitioning person.
Noah explains that his housing experience was positive, but only after finding an alternative channel. "[Housing was] very accommodating, but I don't want every single student who is trans* in the future to do the same thing over and over."
Layne lived on Elgin's rainbow ally floor with Noah last year, appreciating the same sense of community Noah did. Though in regard to gender identification, Layne feels differently than Noah or Max.
"I don't care," Layne laughs. Now in their second year, Layne is indifferent to boxing themselves into a gender binary. "Just use my pronouns please."
They appreciate Western primarily for its reputation as a research university. Layne says being academically driven is their first priority, but recognizes a need for improvement in Western's LGBTQ+ services. 
Pride Western, a USC service, hosts events such as mixers and group discussions, which Noah says have doubled in participation this year, to promote LGBTQ+ acceptance and build an inclusive on-campus community. 
But last year, despite living on the rainbow ally floor, Layne did not know it was Pride Week. As Pride is a valuable resource for promoting inclusivity and connecting LGBTQ+ individuals, Layne believes a wider promotion of pride events is necessary, especially in residence for underage students who cannot go out downtown.
As the hub of early communication, a positive residence experience is crucial to building a sense of identity for Western students.
Chris Alleyne, executive director of residences, says Western is adamant about creating more inclusive residences, and he has already overseen improvements.
Although Western did not run a rainbow ally floor this year due to fleeting interest, he points to meetings with equity and humans rights services as well as Pride Western as examples of housing's improvement.
Alleyne also highlights updates to entrance surveys, which, as of September 2016, gave students entering first year a choice between male, female and non-binary. These choices will increase as designated by the Ontario Universities' Application Centre (OUAC) which controls Western's applications.
The residence bathrooms, though some still without all-gender signs, will be updated as part of a plan stemming from 2008 to implement more all-gender bathrooms on campus.
In discussing this plan, Larissa Bartlett, director of equity and human rights services, explains that all-gender washrooms will have either a purple sign saying "washroom," with either no persons or a person in a wheelchair.
Though the policy indicated all-gender washroom updates would take "a couple years," Bartlett says this was in reference to an initial 10 bathrooms and the process is ongoing, relying on individual feedback and walkthroughs. Bartlett adds that a poster campaign will feature posters explaining washroom usage throughout residences and main campus.
But it is in the classroom where Layne, Max and Noah see the highest potential for affecting people's views toward trans* persons and growing social inclusivity as a whole. 
They feel as though the classroom is an inclusive space that they can be themselves, far from public spaces which may seem dangerously exclusive. Courses within women's studies, but also trans* specific courses such as Queer Theory and Introduction to Trans Studies, have been incorporated into the curriculum and are ardently supported by Max, Noah and Layne. 
Professor Wendy Pearson, undergraduate chair of women's studies and feminist research, taught Queer Theory this year. Queer theory, deriving from the early 1990s, attempts to address gay and lesbian issues while also exploring why, given all sexual options at our disposal, the one that counts is gay or straight.
"No one asks are you sexually active or are you celibate ... We don't ask, 'do you masturbate or do you not masturbate?' We don't ask, 'do you like kinky sex or do you not like kinky sex?' Those are not fundamental questions for us but they are as fundamental parts of people's sexual lives," she says.
The arbitrariness of straight/gay discussion stems in part from the nineteenth-century invention of statistics, explains Pearson, where "normal" seems good and "abnormal" accounts for everyone else; simply counting people, especially in a repressive society, leads heterosexuality to seem normal.
Pearson says courses like these tackle the "fear mongering" some use to provoke a transphobic agenda — pointing to the zero recorded attacks by trans* people in bathrooms versus the regularity of which they are attacked — during a social confluence of white Christianism, men's rights and homophobia.
She feels this confluence is where individuals like Jordan Peterson, who recently spoke at Western, find popularity, masking free speech with "specious" arguments rather than fact. Pearson also feels Western had no obligation to let Peterson come. 
Peterson has been in staunch opposition to Bill C-16 which will update the Canadian Human Rights Act to include gender identity and expression. He sees people viewing gender identity and sexual orientation as social constructions to be incorrect, and says free speech, rather than censorship, is the only way to democratically solve our societal differences.
Noah, Max and Layne feel if students want someone to come, then Western should let them. But they refute Peterson's message. 
Peterson's perception of free speech is "deluded," says Noah. "All opinions have the right to be shared," he adds, but free speech is different than "intentionally insulting someone [by] not using their pronouns."
Max declares him to have minor transphobia. He says Peterson hides degrading sentiments under a veil of free speech. 
"Acting like my identity is up for debate [creates] a negative atmosphere," states Layne. They see Peterson's message as a passing fad, but is disillusioned by the number of peers defending him, saying it creates a less safe environment for them and their friends.
Fostering positive public spaces, as they each explain, is crucial for growing LGBTQ+ people's confidence in their institutional safety and allowing them to flourish as everyday students.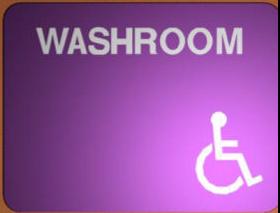 Pearson explains that despite legislative advancements for trans* peoples', like inclusion into the Canadian Charter of Rights and Freedoms, social progression occurs from the ground up through things like language and the attitudes we promote.
A recent motion in the University Students' Council for increased supports for trans* and non-binary students, put forward by science councillor Frank Ye, is a positive example of how on-campus efforts are following the federal government.
"It [is] a step forward for a community who in their everyday lives face emotional, physical and sexual violence. It [is] a respite for students whose very existence draws out irrational and deplorable prejudice, hatred and bigotry from others," Ye wrote in a letter to the Gazette. 
Western is more aware of these problems than ever- and so it seems are the students, trans* or not. It is now up to the administration, but more importantly the campus-at-large, to decide the direction Western will take on trans* rights.
"A lot of people don't realize [transgenderism] is here, and it's no fault to themselves," says Noah. "Unless you have a reason to get to know it, you don't."
Max* preferred to be identified only with his first name.
---
Editor's Note (April 30, 2017):
In the print version of this story, the article erroneously stated that a man and woman entered the washroom. It was two women who actually entered the washroom. The Gazette regrets the error.