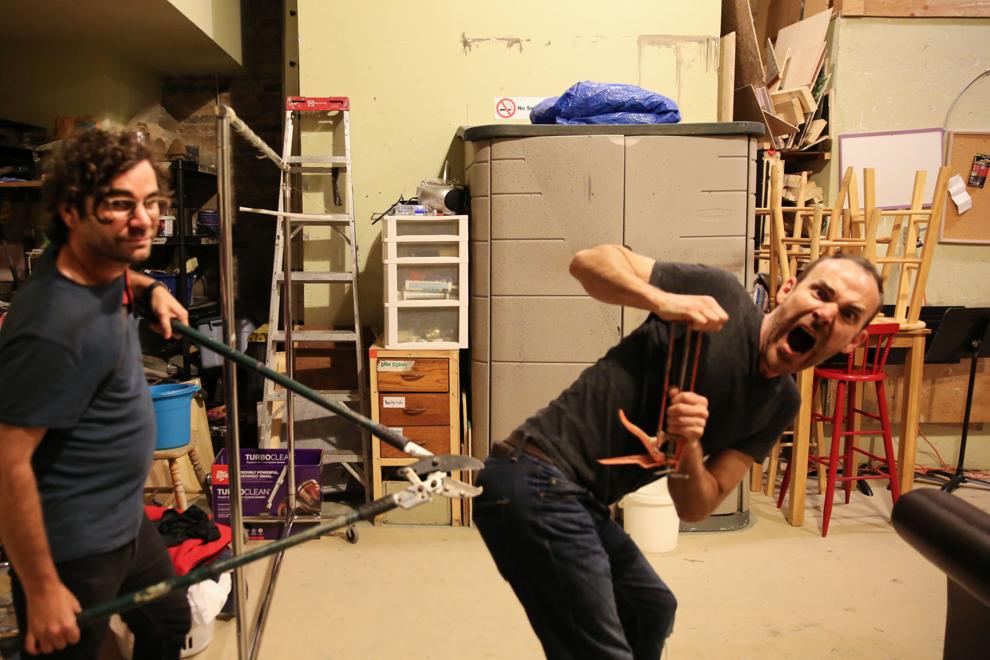 In a small prop room backstage, Jon Bennett and Jon Paterson tell us about their performances. Sort of.
"I'm terrible at selling myself. I hate it," Bennett admits.
"Can I sell him?" Paterson asks.
Paterson, who features in the one-man show HOUSE, launches into the story of how he met Bennett, creator and performer behind How I Learned to Hug. 
It's brief, but Paterson recounts the tale excitedly. The scene is Orlando, Fla., five years ago. 
"All he has is this wine cork [hat] and a little stump!" says Paterson. "He proceeds to wow the whole audience in two minutes just by talking."
Bennett chimes in to add a few details, and they laugh together as they recall the performance. From that moment, Paterson admits, he was "sold." And now, he pushes his friend's show as much as his own.
Australian-born Bennett and Canadian-born Paterson then regale my colleague and me with their fringe festival experiences from around the world. They excite in each other's performances as much as their own.
But is this any more than two friends who visit the same fringe festivals? Or does this speak to something more about the fringe theatre community?
Troupes crisscross the globe to perform at various fringe festivals, and The London Fringe Theatre Festival is no exception. Although smaller than a lot of other festivals, London Fringe is still an important part of the larger fringe community.
Its performers are far from strangers on or off the stage. They're friends. They support each others' work as much as their own. 
Jessica Ireland, part of the ensemble performance Splintered, has performed at London Fringe for several years. She praises its acceptance and friendliness.
"… it's a great way to see performers that come back every year because we become friends with them," says Ireland.
Other performers, like Canadian comedian Mike Delamont, the mind behind Hell Yeah! An Evening With The Devil, share a similar attitude toward London Fringe. Delamont points out that the community is exceptionally close and supportive, something he thinks sets it apart from other festivals.
His act Cana-DUH, a charity show that raises money for London Fringe, embodies the support these performers have for one another.
"I bring in Fringe performers that I like, and they join in on some of the stories, but they don't know what exactly they're going to be doing," says Delamont. "So there's a nice improvised element to it. It's a lot of fun. I love doing it."
After the interview — and with only 20 minutes until the show starts — Delamont turns from performer to stage manager as he rushes us backstage, insisting that we talk with Bennett.
Along the way is where we find Paterson. The interview runs long, and as we part, Bennett gives us a final, somewhat crude anecdote involving mayonnaise, enemas and the Winnipeg Fringe Theatre Festival. The moral of his story is that, good or bad, theatre will get you talking — so "take a chance on a show," he says. 
With that in mind, we take our seats for the Performance Showcase. Each act takes their turn previewing their performance.
This event is an apt parallel for how performers fit into fringe festivals as a whole: they all share the same stage. And they do so graciously.
This sense of community extends beyond professional courtesy. Individual performers and troupes, amateurs and professionals, aren't just concerned about themselves. Everyone wants everyone to succeed.
And if you don't succeed, Bennett and Paterson would hope that you at least get to "find your enema show."