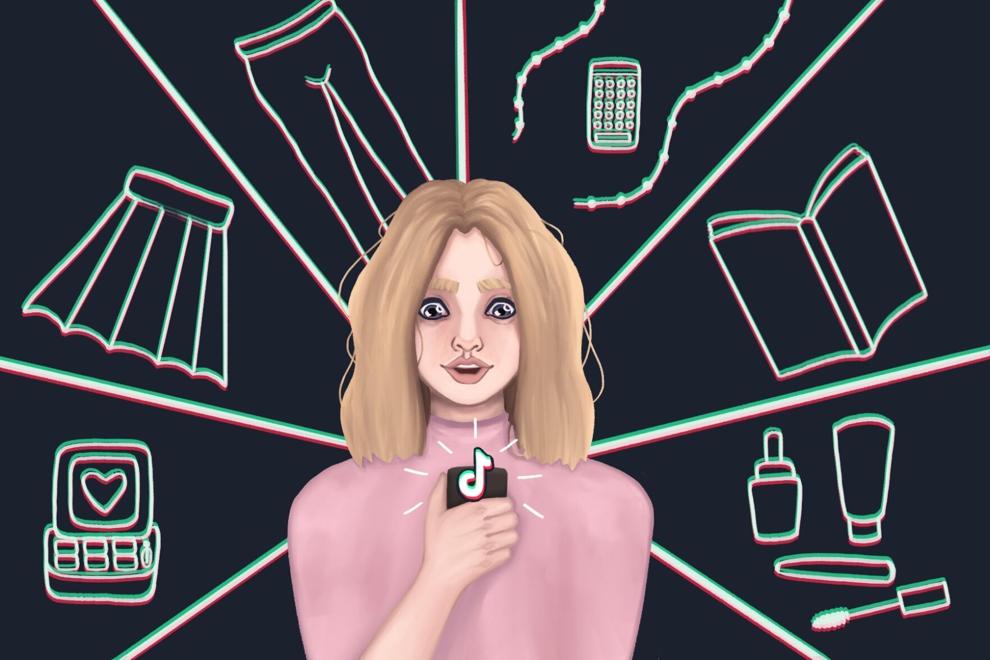 CF Masonville Place, meet your match: TikTok is coming for your shopping throne.
TikTok is one of the world's fastest growing social media platforms. Users spend more than 850 minutes on average a month on the app and it was the most downloaded app of 2020.
The hashtag #TikTokMadeMeBuyIt has over 5.8 billion views on TikTok, and shopping on the app increased 553 per cent since May 2020. With over one billion accounts – and 700 million active users – TikTok has reached new heights for buying and selling products and services.
"[TikTok's] definitely made me want to purchase more of everything," says Thea Medland, a third-year media, information and technoculture student. "I think I've been pretty good at not falling prey to the trends and purchasing everything that I see, but it definitely tests me."
Medland is one of the many students who have turned to TikTok for its product recommendations. Her purchases include clothing and several novels from #BookTok – a collective hashtag for TikTok's book lovers.
"I was drawn to [the clothing] because I could see how it moved on the body and I thought it looked really good on the girl. I might not have clicked on a static image of it on the company's website, but seeing it 'in action' sold me," Medland says. 
"For the books, it was a girl who had read and loved some of my favourite books, so I trusted that if we had the same opinions about those other ones, we would have the same opinion about the new ones she was recommending."
TikTok's purchasing power has translated to real-life businesses. Indigo Books & Music  now has a portion of their website dedicated to books that have gone viral on TikTok called "Now Trending on #BookTok" and has tables dedicated to these books in their stores. Amazon's United States website even has an "Internet Famous" section, encompassing everything from viral makeup to kitchenware.
Books published several years ago – including We Were Liars by E. Lockhart and The Song of Achilles by Madeline Miller – have reappeared on the New York Times best seller list almost a decade after their initial publication. The Song of Achilles sold about 10,000 copies a week in March — nine times more than when it won the Women's Prize for Fiction in 2012.
Chloe Aczel, a second-year criminology student, also turns to #BookTok for recommendations and has also bought various skincare products and clothing.
"They repeatedly showed up on my 'For You' page and I saw how much others were enjoying the products," she writes. "Seeing multiple videos a day of someone buying and using specific products definitely influences me to buy that same product."
Other items that have gone viral include The Pink Stuff – an all-purpose cleaner – CeraVe and The Ordinary's skincare lines, Aerie's OFFLINE high-waisted crossover leggings and e.l.f. Cosmetics' concealer. Many of the products can be found on Amazon, making them easily available. 
These products will usually sell out for several weeks and momentarily increase the company's profits — The Pink Stuff went from $2.6 million U.S. dollars in sales three years ago to $34 million USD in 2020, accounting for half of the company's sales, and CeraVe's media value is up 128 per cent year-over-year.
"I think one of the biggest reasons why people tend to purchase things after seeing them on TikTok is because it's an authentic discovery of the product," explains Medland. "With traditional reviews, I don't know anything about that person other than their opinion — if we don't have the same taste or style, then their opinion isn't relevant to me."
The most effective sales tactic, which is often neglected with ecommerce businesses, is word-of-mouth marketing . Nielsen reports that 92 per cent of consumers believe suggestions from earned media – like recommendations from friends and family – above all other forms of advertising. 
"Being able to visually see how much a product has helped someone is more influential," says Aczel. "I'm definitely more trusting of influencers on TikTok."
With TikTok's rise comes the rise of their influencers and content creators. Brands are predicted to spend up to $15 billion on influencer marketing by 2022 and the app saw a 164 per cent increase in sponsored posts and a 481 per cent increase in engagements in 2020. 
TikTok also has its own Creator Marketplace, allowing businesses to partner with creators for advertising. Brands can choose how they would like to deliver their content, including in-feed videos, brand takeovers – the landing page ads that take up user's screens when they open the app – and sponsored content.
While there may be more ads, Medland doesn't believe the app will become a complete ecommerce site.
"If TikTok becomes more like a shopping site and less like a social media platform, people will stop buying what they see because it won't feel as genuine anymore."