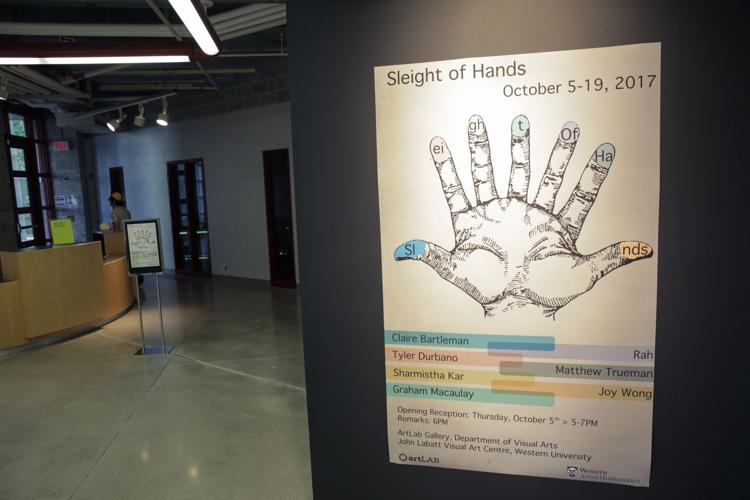 Seven second-year master of fine arts candidates show their sleight of hand in Artlab's latest exhibition. As a compilation of works completed over the summer, the exhibit showcases the work of Claire Bartleman, Tyler Durbano, Sharmistha Kar, Graham Macaulay, Rah, Matthew Trueman and Joy Wong.
Sleight of Hands shows how each artist has created something tangible through the materialization of an abstract idea: essentially, creating something out of nothing.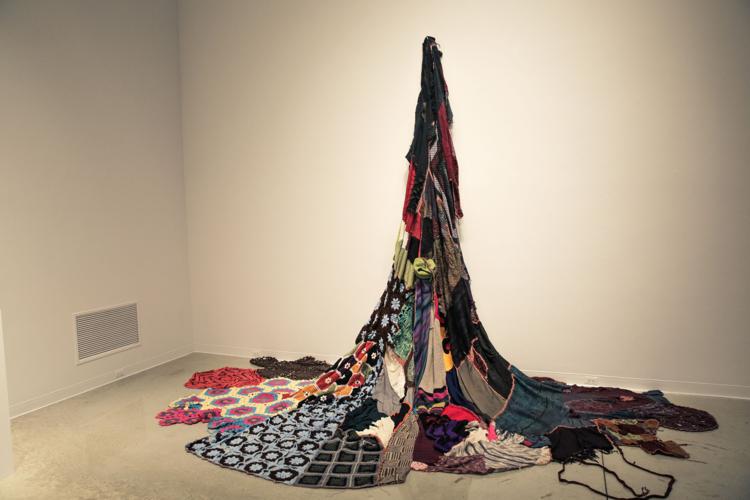 Bartleman brings this idea to fruition by taking unfinished fabric craft projects and giving them new life. At the entrance of the gallery, her cornerstone piece hangs from the ceiling and spills out onto the gallery floor: a quilt of mismatched blankets, articles of clothing and textiles donated to her by members of the London, Stratford and Toronto communities.
"I think of knitting, needlework and craft-based projects as things that are embodied nature … the knowledge is embodied in our hands," says Bartleman.
Bartleman recalls learning to knit from her mother and starting a blanket that never got finished. "I started thinking how many people must have these projects that they start but never finish and are hiding in basements and never get to see the light of day," she adds.
By piecing together the incomplete into something complete, she speaks to ideas of process, materiality and how differences can mold and be tied together.
It's a way of art-making that warrants continual progress. "I still don't consider it a finished piece; as I collect more, I'm going to keep building on it," she says.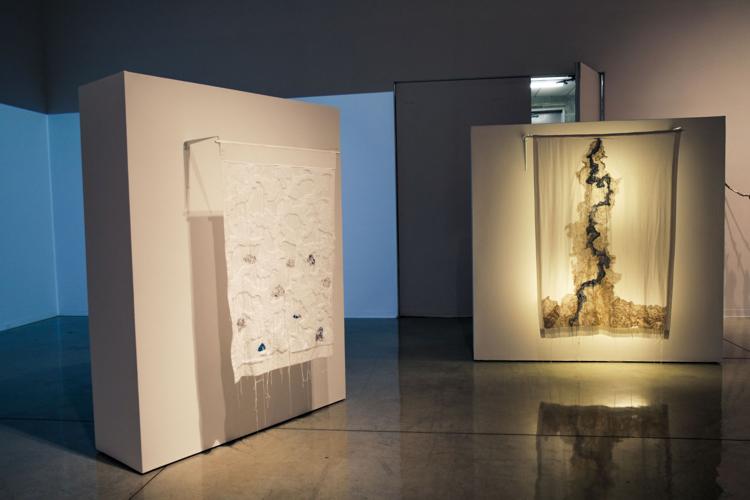 Kar's work is primarily hand-embroidered on fabric. As an international student from India, she seeks to explore the idea of understanding landscape through memory.
"It's very much process-based and meant to demonstrate the term 'cerebral cities'," she explains.
Unlike a cartographic map, Kar's embroidery is a retelling of her experience in understanding Canadian landscapes. One work appears to be an observational response to the Thames River which Kar crosses frequently, but she clarifies that it is more conceptual. She's interested in stitching together memories that she connects with and landscapes that she encounters.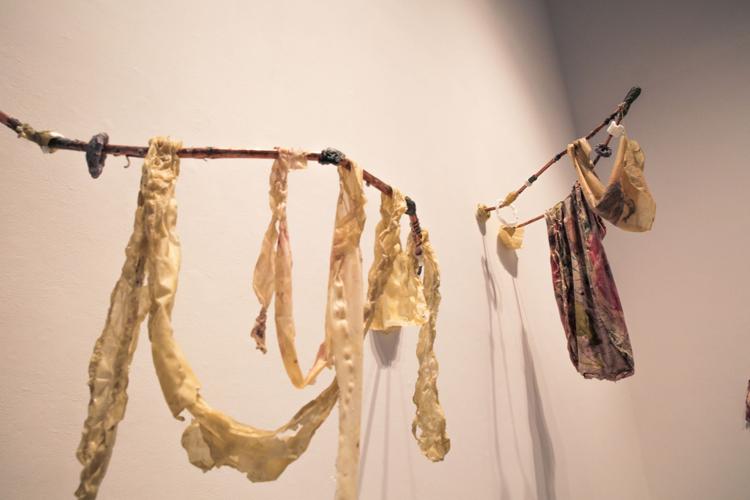 In Wong's work, she observes representations of the body and of the grotesque using latex-based sculptures and installation. "I've been really interested in the weirdness of bodies, in disgust as well, and how that kind of intersects with attraction and beauty," she explains.
"A lot of these works are bodily but they don't reference directly to a specific organ or to a specific part of the body," Wong adds. "So they have this weird, ambiguous aspect to them where you're not quite sure what you're looking at but you don't really want to touch it."
The use of latex in Wong's work is interesting for it's skin-like quality. She explains that the way her work will inevitably dry out and degrade as it's exposed to air, oil paint and humidity helps to support ideas of mortality.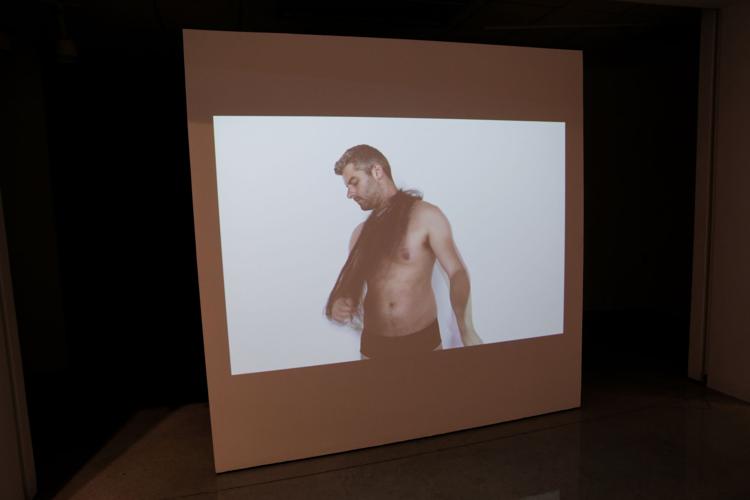 Tyler's work stands out in the gallery for his use of video, which he describes as a documentation and performance of his object of focus: hair.
"What you see in the video is me with this hair necklace on and I'm trying to brush the hair straight," he says. "As the video goes on I sort of realize that the hair will never become untangled and so I'm just trying to brush it out and off of me."
Tyler also includes sculptural components to his collection, including a wall-mounted silicone base with hair hanging down from it and a hygrothermogrph filled with hair.
"The hair in my work is sort of a stand-in for the idea of identity and so when I put the hair inside this machine I'm thinking about anxiety, I'm thinking about personal identity and how other people might react," he says. As a result, Tyler's sculpture is a metaphor for "reading the room in a social way".
Sleight of Hands will be on display Oct. 5 to 19 at the Artlab Gallery, open Monday to Friday noon to 6 p.m. and Thursday from noon to 8 p.m.