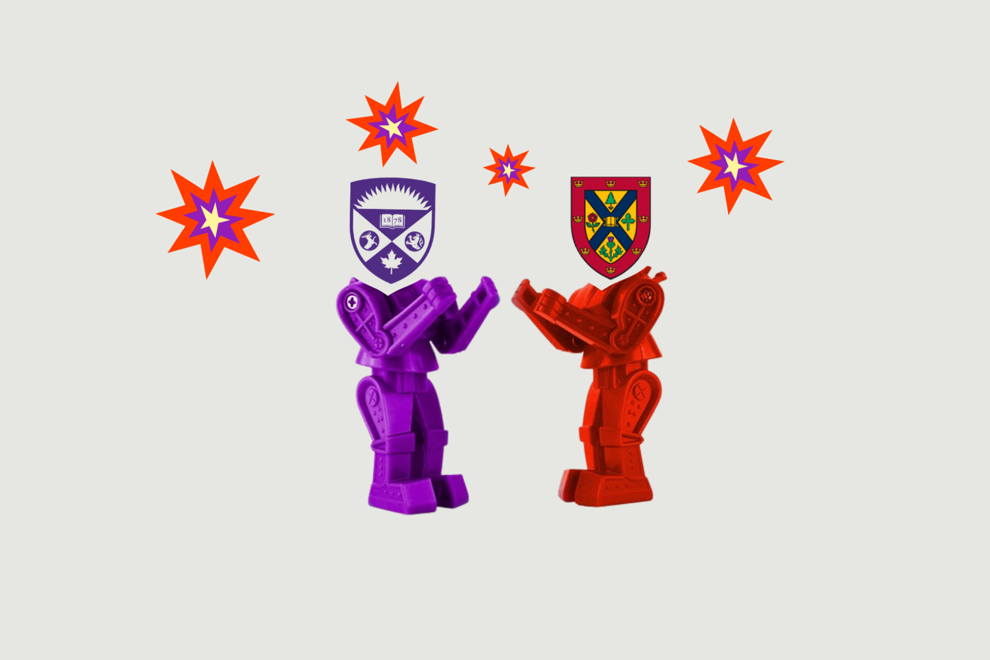 In pre-pandemic Septembers, hordes of students dressed in purple and white would descend on London's Broughdale neighbourhood, often carrying homemade signs with Western students' most coveted mantra: "Quck Feen's."
While Western University's campus is usually rife with signs of the two schools' rivalry, the landscape look a little different this year. In the absence of athletics and in-person events, students are reexamining the once-fiery Western-Queen's rivalry.
The rivalry began on Oct. 19, 1929 — the first time Western and Queen's met on the football field. Queen's walked away winners that day and won every meeting against the Mustangs until 1931. From there, the rivalry was born.
For both schools, the rivalry has transcended sport. There's a culture of competition, from Queen's students' "Wuck Festern" t-shirts to Western's Book Store shot glasses and beer mugs that display Queen's at the bottom-tier for alcohol tolerance.
When Laurie Norman, an alumna with a master's degree in physiology, arrived at Western in 1983, she had a neutral view of the rivalry.
"My suspicion was that it had to do with the origins of the schools," she says. "Two of the oldest universities, both catering to the upper-middle classes, both with the traditional faculties of medicine and law."
Norman admits that university athletics never interested her but she recalls many of her peers applying to Western and Queen's as their first-choice schools.
"There's likely academic competition also," she adds.
Thirty years later, from the other side of the Western-Queen's divide, Bethany Wilken, a fourth-year Life Sciences student at Queen's, reached a similar conclusion.
"They're both prestigious universities and have similar cultures," Wilken says. "Both have a focus on academic excellence and party life. I can't speak too much about Western, but I think the schools have a similar demographic, and they're both considered 'preppy.'"
Emma Denton, a fourth-year Media, Information and Technoculture student, learned about the rivalry through her older brother, who played rugby for Western.
"My impression of Queen's is that as a school and student body, they are very similar to Western — both have a good reputation in academics and sports," Denton says. "But I don't really care about the rivalry. It could be good for team spirit and harmless jokes."
After decades, both schools have embraced the rivalry, leaning into the harmless jokes. Wilken mentions that her mother "hated" Western when she attended Queen's in the 1980s and, like Western, Queen's also has their own line of shot glasses that display their rivals at the bottom tier.
Julia Albert, a third-year School for Advanced Studies in the Arts and Humanities and English student, says she doesn't think about the rivalry anymore. Last year, she remembered seeing posters and signs during Homecoming that poked fun at Queen's — this year, she saw nothing.
"Without sports and especially Homecoming, I think it's progressively becoming less important to people," Albert says. "I just think there are bigger issues that we're all concerned about this year."
For Albert, one of these bigger issues is the switch to online school. She believes the absence of campus life this year may impact the rivalry for years to come.
"With everything online, first-year students may not even feel like Western students — they're not on campus, they're not experiencing any of the social events," Albert explains.  "A lot of them were probably deciding between Western and Queen's, so there's no rivalry anymore." 
"I just feel like people are now more concerned with bigger issues. There might not be much room for the Western-Queen's rivalry."