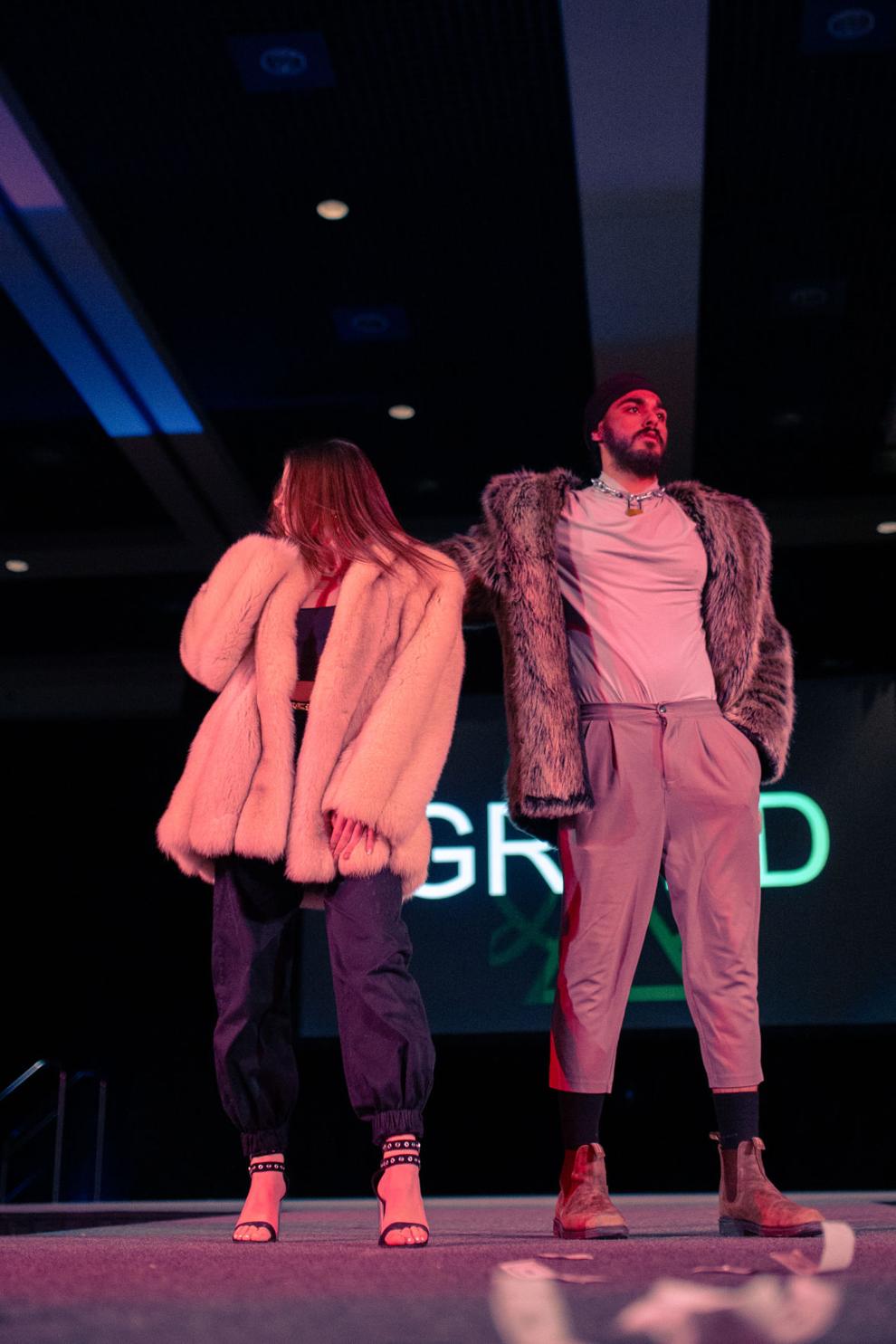 It began with a sinister edge promising the lust for power, embodied in fur coats and sunglasses that dehumanized the models. Greed had taken the stage.
Before Spur's first sins, however, was quiet. And before the doors opened, the auditorium set to sit more than 500 guests slipped into silence as the Purple Spur Society executives and over 100 models sat on stage. They listened to co-directors Natasha Crombie and Tess Power give a final pep talk, raising morale before the big show.
A celebratory cheer honoured the hard work that had gotten them this far, and then bodies dispersed into action. A glittering green dress blurred by and routines being practiced as models frantically added final touches to hair and makeup inspired by this year's theme: Cardinal Sin.
"Cardinal Sin encompasses all of the seven deadly sins.… It's a creative concept for us. We chose to use it as a metaphor for what we go through every single day,… a common ground that brings us together as a Western and a Spur community," says Crombie, a fifth-year Ivey and political science student.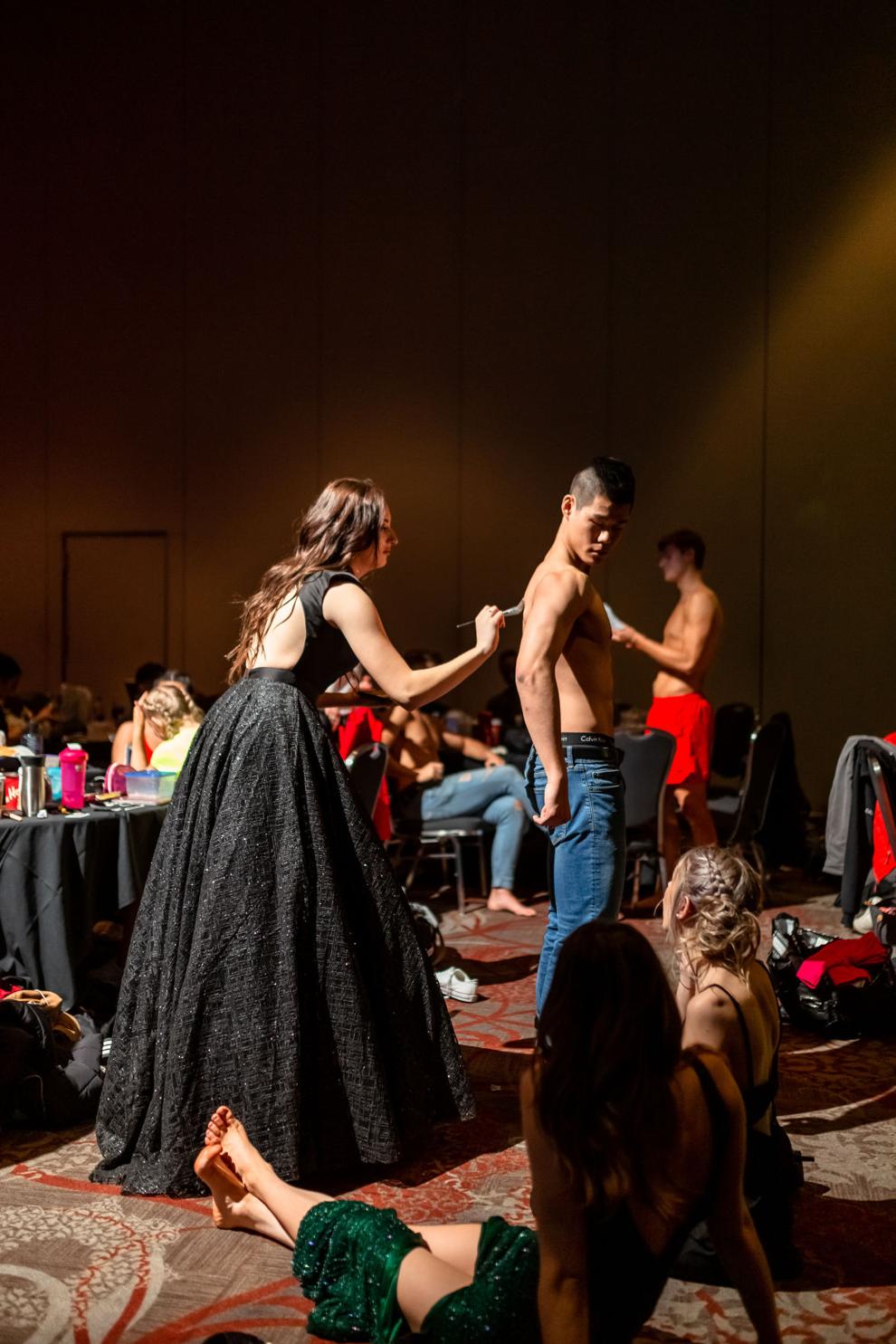 As the models and executives pieced themselves together, modern pop music welcomed guests who began trickling in, grabbing drinks and taking their seats.
This year's show chose to support Jack.org, a charity that encourages discussion and youth involvement in the pursuit of bringing awareness toward mental health initiatives.
"We wanted to choose a charity that we think represents Spur and then do something that highlights the meaning behind the chosen charity," says Power, fifth-year management and organizational studies student. "[Mental health]'s something the executive holds close to our hearts."  
As the space packed with guests, attention was drawn to the stage as an introductory video brought all attendees back to their seats. Opening with speeches from Spur's executive team, Jack.org representatives and others, it was finally time to start feeling sinful.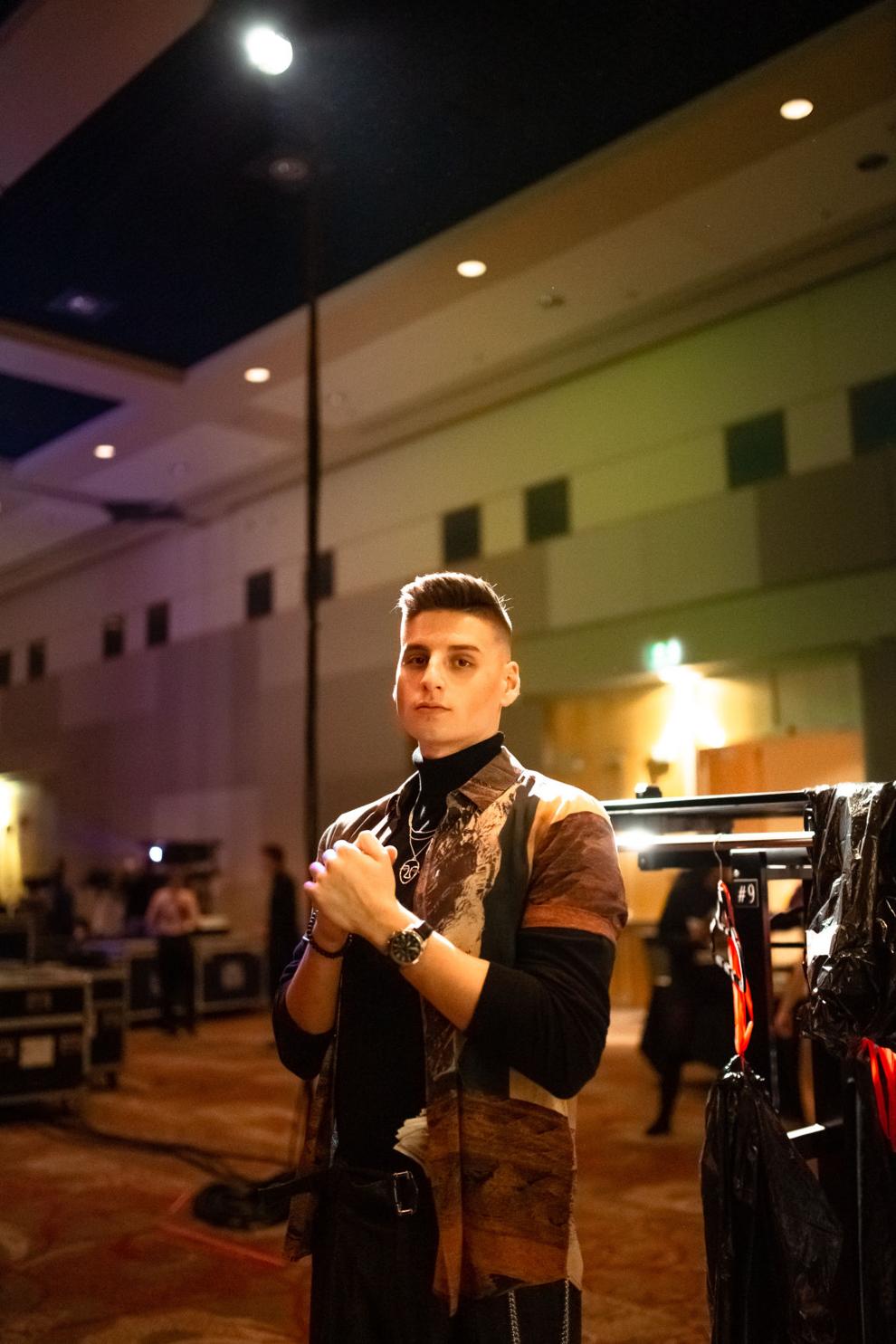 Models stomped on stage and took their positions, pausing as they looked out to the audience. Then the music shifted to an upbeat song as the models danced, threw money and fell off the platform to gather the bills. As they dominated the stage, their actions represented the insanity that is the pursuit of satisfying one's unquenchable thirst for greed.
Formal wear was next to take the stage, embodying the sin of envy. Men dressed in tuxes and ladies in beautiful gowns, all donned in black and emerald — they kept their expressions somber and heads held high. Jealousy burned in the side glances models inflicted on one another, transporting the audience to a moment in which they themselves felt sinfully envious.
The next set, swimwear, was a design by Western University's own Carina Schiappa. It represented wrath — the manifestation of anger. The emotion was painted by the swimwear, which was coloured in dark burgundy, red and black. Models strutted the stage with elegant anger, heels high and skin bare, personifying the rawness of the emotion. A stage set in a red hue, the audience was in an uproar as models posed with barely contained fury.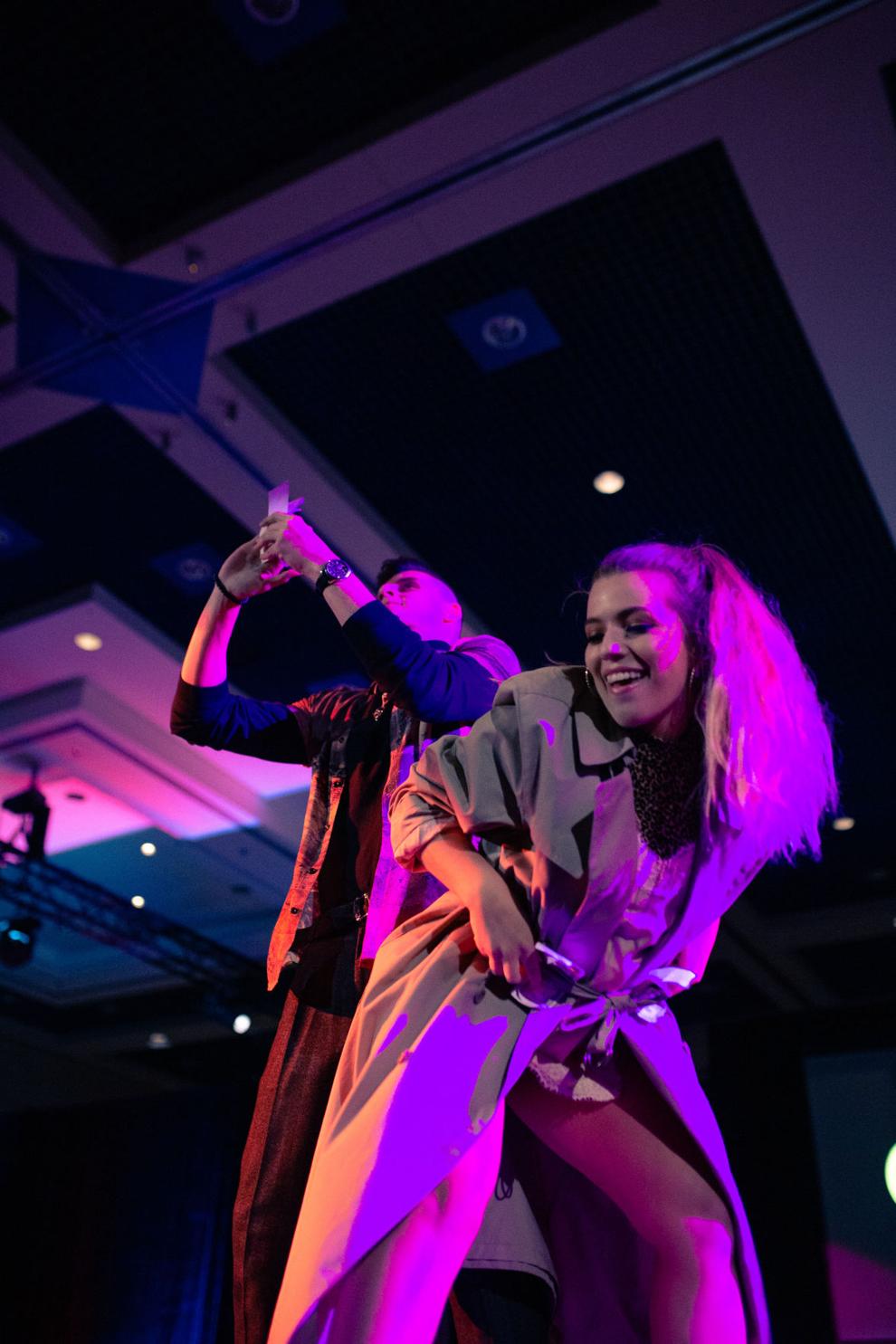 Keeping the temperature high, the set was followed by a guys' Magic Mike-like routine and a girls' burlesque-style dance before the intermission.
"A lot of work has gone into this, so I love seeing it all come together. Seeing people on stage, compared to rehearsal and being in front of the lights is amazing," says fourth-year media theory and production student Selena Romero.
The audience took the 15-minute intermission to visit booths outside of the auditorium, bidding on silent auction baskets and talking to Jack.org representatives before being drawn back toward the stage by musical acts from Patrick James Clark, DEL and Rowan Buratti.
Gluttony was next to take the stage, donned in Urban Outfitters-sponsored active wear — a fun and vibrant set, with a retro, disco-styled dance routines and funky, neon-coloured clothing. There were big smiles and laughter on stage as models threw out candies to the audience, feeding each person's inner glutton.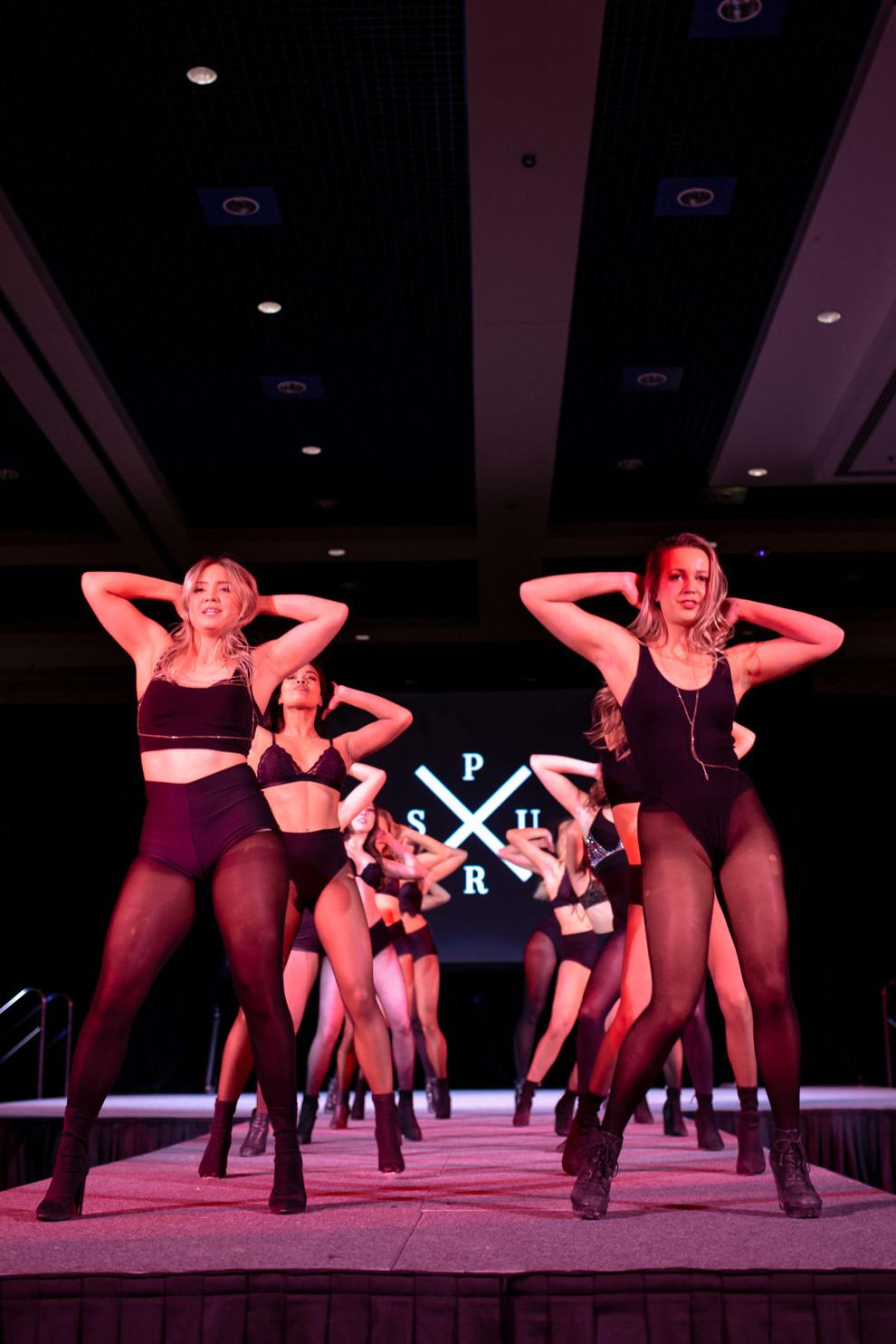 This was immediately contrasted with sloth, modelled after Kanye's Yeezy, which embodied the idea of "less is more." A minimalist modern wardrobe was presented in muted colours and simple movements. While coloured lights flashed onto the models, showing the bustling nature of life, they kept themselves calm and composed, throwing in the occasional routines and tricks to keep the audience engaged.
Next on stage was lust, described as the uncontrollable sensual prowess within all of us. This set generated the most enthusiasm from the audience as models used slow movements and mischievous expressions to draw people in. The clothing followed a theme of red and black, keeping the show cohesive from previous sets.
As the final sin, pride invited all models on stage. It encompassed the excessive belief in oneself and personified one's vanity. This was showcased in an unapologetic tribute to Western and Spur, as models threw on their favourite Western gear, painted their bodies in Western colours and waved the Western flag. Their overwhelming love for the school was matched by the audience, who applauded them on while a sea of purple took the stage over.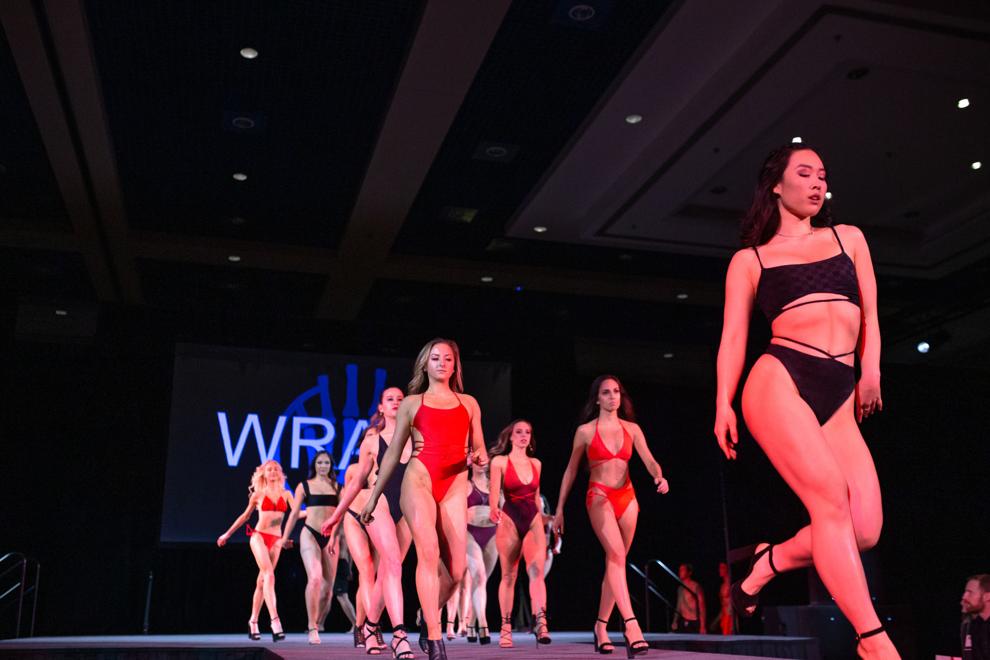 As the final act came to an end, models and the executive team surrounded the parameter of the auditorium and stood on stage. With tears from co-directors for the journey that this year's fashion show took them on, they presented $16,000 to Jack.org.
"The seven sins aren't everyone's journey, but we all experience these feelings. At the end, everyone will walk out with their own interpretation, but we hope that [everyone] can still understand and accept ours," says Crombie.