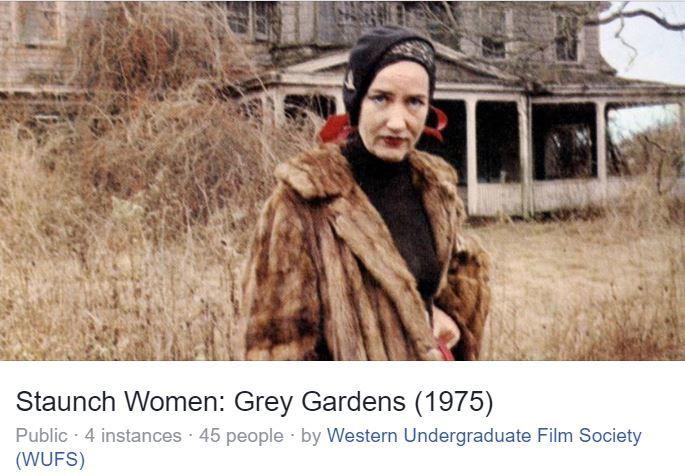 All eyes saw the same thing, but all ears heard different stories. People laughed, others frowned, but all were enraptured by the documentary on the screen. While there were the occasional scoffs of disbelief and snorts of laughter, the room remained otherwise silent as the audience was slowly drawn into the world of the Grey Gardens.
The Western Undergraduate Film Society caters to the inquisitive. With weekly screenings of movies handpicked by the executive team and other groups, including the Iconoclast Collective and the Movies and Videos Productions Club, they aim to present a diverse front of films that keeps their audience aware, engaged and curious.
Most recently, WUFS has programmed a curated set of four films collectively titled Staunch Women that speak to the various types of femininity.
"We got to see women on the margins," says Seline Boer, fifth-year film student and co-chair of WUFS. "We got a film from Japan dealing with expectations with tradition,… a film that experiences a female on the road,… trans sex workers… and finally Grey Gardens, the return to the glamorous figure of 'the woman' but skewed slightly."
Each film was preceded by an informative introduction. Following each viewing was a discussion on the piece.
"In many film classes, there's a certain type of story that's prescribed for the female.… I've always been drawn to films where women were a bit different and a bit nasty. I identified with them," says Bianca Linhares-Huang, fourth-year media, information and technoculture student and co-chair of WUFS.
The event, attended by undergraduate students, graduate students and the executive team, was overall well-received.
This month showcased the beauty and versatility of being feminine. WUFS brought guest speakers, graduate students and outsiders to speak and introduce films speaking to blockbusters, human identity and classics.
Screenings aren't the only events they've organized this year. Kino: The Western Undergraduate Journal of Film Studies, a composition of film-related essays, is published annually to bring students' writing outside of the classroom. The annual Western Undergraduate Film Festival gives students the same opportunity, but this time on screen. This year, WUFS also organized an open-air screening of Edward Scissorhands as an ode to Halloween.
"It was a major success; it was cold, but so many people came out," says Linhares-Huang.
And while the organization is all about watching, reading and talking about movies, it provides students with a community to explore.
"It's a chance to watch [films] not just at home, sitting on your laptop on Netflix, but in a community with other students. It's a chance to have discussions," says Linhares-Huang.
WUFS has given students the opportunity to reach past their immediate social circles and develop a sense of belonging through the common foundation of film.
Third-year Ivey student and WUFS director of finance Evan Attard jokes, "I showed up at Ivey, and they were all creatively bankrupt. I needed to find new friends."
So whether you come in for a single viewing or become a long-term member, WUFS encourages Western University students to enter a world they may not have yet considered. For an hour, gain a new perspective and travel a path with fellow students to a world outside campus.