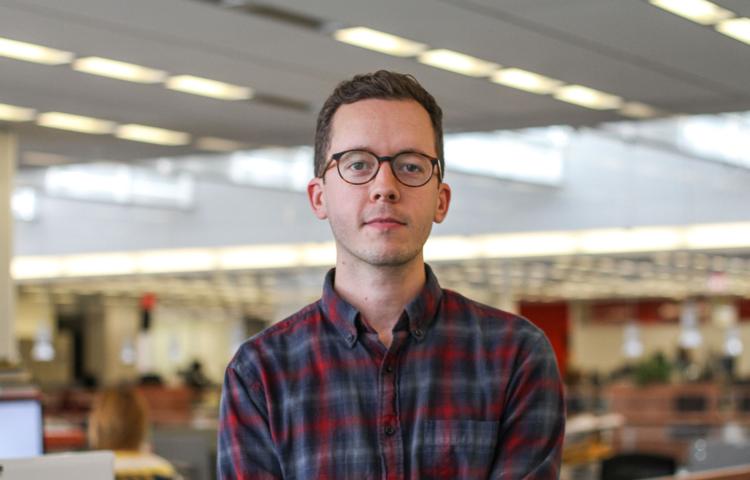 Stuart A. Thompson is young. Wearing a plaid shirt and faded jeans with a sticker-clad laptop tucked under his arm, he looks like he might own a hip startup or be a PhD student. But in the bright, open newsroom of the New York Times, Stuart leads the graphic team of the opinions section. Through the use of charts, maps and interactive elements, they find new ways to make readers feel connected to stories.
Rather than relying on words, Stuart's articles are driven by graphics. His approach to visual storytelling has propelled him far during his decade-long career. Since working at the Gazette during his undergrad, Stuart worked at both the Globe and Mail and the Wall Street Journal before joining the New York Times.
"A regular reporter would interview people and then write a story. But we interview people, then look at data sets and maps and charts, and then we write a story," Stuart explains. "So it's kind of non-traditional journalism, and I lead the department that creates most of that work."
Stuart's involvement with visual journalism started during his time at the Gazette. He volunteered in the news section in 2008, using visual elements to in his articles to set himself apart from other young journalists.  
"I could only get so far with my reporting and writing ability, so I would add charts and add visuals that no one else did," he says. "Journalism is sort of competitive, so it was good to find something that I could do that other people couldn't do."
From there, his focus shifted to web design. He started reading American newspapers and quickly realized that journalism was heading in a new direction: one that favoured digital content as much as print. With the knowledge that well-developed websites were becoming an important part of newspapers, Stuart became the Gazette's first ever web editor.
"I pitched the incoming editors a new role that I could do that focused on web content, and they were really excited about it," he says. From there, he coded an entirely new Gazette website.
Stuart's work has evolved since he was first involved in website design. Now, he writes alongside opinions editors to craft stories that are dependent on visual elements. Whether he's writing about voting rights or unfair sentencing, his articles place graphics at the forefront.
He emphasizes that his work is about more than adding visuals to stories — it's about telling stories that couldn't exist without them. Beyond evoking emotional responses from readers, the visuals and graphics that Stuart creates are integral to sharing information that text alone can't.
"There are untold stories that you wouldn't even think of reporting or telling if you didn't have the tools to engage with things other than just text," Stuart says. "It's more than just finding neat visuals for your story. It's finding stories that couldn't exist if you didn't think about it in a different way."
Correction (5:31 p.m., October 16): Paragraph one was corrected to accurately reflect the group that Stuart leads.