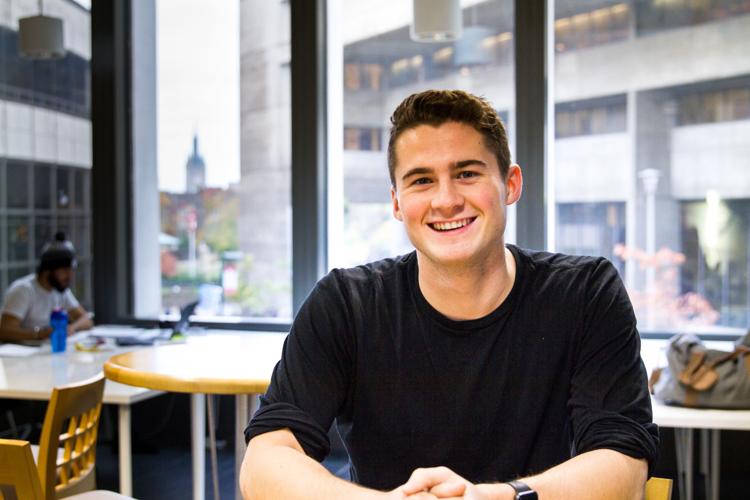 It's not uncommon for Braden Ream-Neal to put in his headphones, play loud music and go running at 2 a.m. For him, it's time to de-stress and think — something that's essential for the third-year Ivey HBA student, co-founder of the Western Entrepreneur Association and app creator. 
At first, Braden was skeptical about doing this interview. He says entrepreneurship already tends to be glamourized. 
"People are doing it more for fame and as a resume pad," says Braden. "I'm supposed to be solving problems for people." 
His desire to solve problems is what led Braden to create two apps — Flare and Yugo Ridesharing — and help establish the Western Entrepreneur Association.
Braden came up with the idea for Flare in high school, recruiting people to help him code. Flare allows users and organizations to share their events in real-time; they are then displayed on maps, allowing users to browse activities in their area. They've partnered with organizations, like the Salvation Army, and two hundred clubs on campus, pulling their Facebook events into the app.
It hasn't been easy. He notes several failed launches, typical for any startup.
"We've launched and failed so many different times now it's insane," Braden remarks. "But Airbnb launched twelve times and failed."
One of these launches was at Ryerson University's Orientation Week. Flare was initially just a nightlife app, helping students find events at bars and clubs. However, it crashed within two minutes from all of the user traffic. Still though, Braden was humbled when international students approached him asking when the app would be back up. They said they thought it would help them overcome feelings of loneliness and alienation in a new country by helping them find new events and new friends. 
"We ended up pivoting after that and taking a more holistic approach," he says. "It's all about us enriching the student experience." With that, they realized their goal.
He started WEA when he realized that it was often difficult for Western students to get the "kick in the pants" they needed to get their companies off the ground. Last year, their community of fifteen entrepreneurial startups had over ten million app downloads and earned over one million in revenue collectively.
Yugo came to him last summer after a particularly long bus ride back home to Toronto. He and a friend created a ride share business model that could compete with Greyhound. They offer the same prices but allow a driver to pick their passenger up directly at the time they desire. It's essentially the long distance version of Uber, but with a flat rate. They hosted seventy rides in their first week and were featured on Product Hunt, a website dedicated to helping users discover new products.
His other most important factor to entrepreneurship is knowing how to manage your time. For him, that means only going to the bars about once a month. He has completely stopped watching TV and, when it comes to watching movies, he skips to parts that look exciting. He says he still finds time to hangs out with his roommates and play Halo.
For Braden, one of the biggest misconceptions regarding entrepreneurship is the idea that one major event would dictate the future of the company, as happens many times in shows like Silicon Valley. Instead, their demise often comes from simple forgetfulness as the aspiring entrepreneur slowly stops putting in the hours and loses their passion for the company.
Unlike these other entrepreneurs, Braden and his problem-solving passion show no signs of burning out. He reminds me with a smile that Flare still has many more failures to come before they become truly successful. 
"Persistence is key. It's not about looking for opportunity; it's about making opportunity find you."