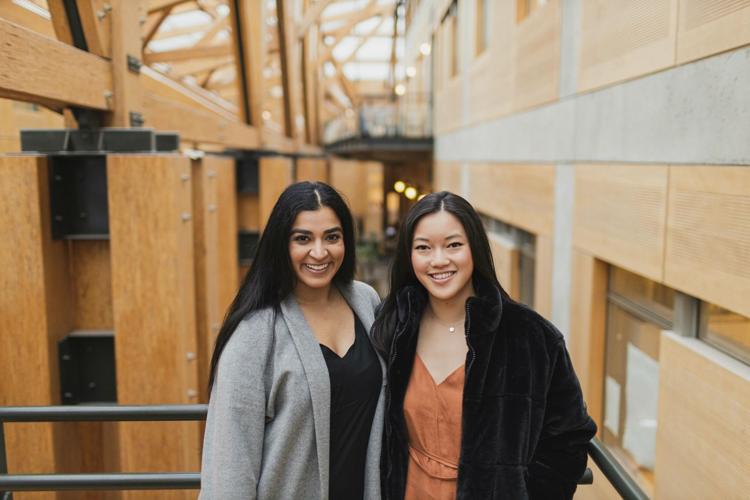 Men don't know how hard it is to be the only woman at a board meeting. After all, according to FLIK's website, less than one in five businesses globally are led by women.
That's why current third-year medical science student at Western University, Michelle Kwok, co-founded the Female Laboratory of Innovative Knowledge, a network that connects female students with women in leadership.
The portal launched in January and is still in its beta phase. But as a cost-free service, FLIK has brought together over 100 apprenticeships in a wide range of industries like consulting, technology, marketing, fashion and product design. And, it's closing in on 1,000 users.
They currently have students completing apprenticeships at companies like The Gist, Greenpeace and The Fashion Innovation Centre.
High profile women in leadership, like Kim Kaupe — co-founder and CEO of The Superfan Company, who regularly works with Justin Bieber, A$AP Rocky and John Mayer — are also on the platform.
"Our main goal is to create meaningful relationships between the female founders of today and the female founders of tomorrow and together increase female ventures on a global scale," Kwok says.
For students looking for opportunities in their careers, this platform offers them a connection to founders who are seeking new, young hires with fresh and innovative eyes.
"It's a win-win proposition," she says.
Starting off as a media company that wanted to showcase female founders' career stories, Kwok and her co-founder, Ravina Anand, realized they could do even more. So, they began connecting female founders with people in their student networks.
Fourth-year genetics student Sarah Whittaker is doing a three-month apprenticeship with Louise Macnab, the co-founder and business manager at Moxie — a digestive health start-up based in New York.
"The beauty of FLIK's apprenticeship model is that it's more of a partnership than a job," says Whittaker.
Alongside their mentor, students can create their own projects based on something that would be meaningful for them.
Applicants fill out a profile online, indicating the skills they want to learn and their desired industry, which helps students connect to the best-suited mentor. Mentors can also be requested on a case-by-case basis.
First-year BMOS student Maggie Chen joined FLIK because she wanted to connect with a female CEO or founder on a personal level — instead, she found two.
Through FLIK, Chen said she's seen the impact a female-led organization can have on a community.
"As a young woman trying to navigate your way into the entrepreneurial or innovative world, you face so many barriers and challenges," says Kwok.
Chen has seen the struggles of being a woman in business. She thinks a lot of young, female students are insecure about their capabilities when they compare themselves to their male counterparts.
FLIK has shown Chen how a small group of women can do so much change by bringing together a community of female leaders across Canada.  
Kwok says having female mentors herself helped her with her self-confidence in building her platform.
"Business doesn't just have to be for men," she says. "If we don't try or leap off the bridge like all these other guys then we're never going to equal the playing field."
The young founder believes women need to support each other now because it's a critical time when women are going to completely shift gears, become entrepreneurs and change the economy.
"It's going to be easier if we have people who look like us alongside us and supporting us," she says.