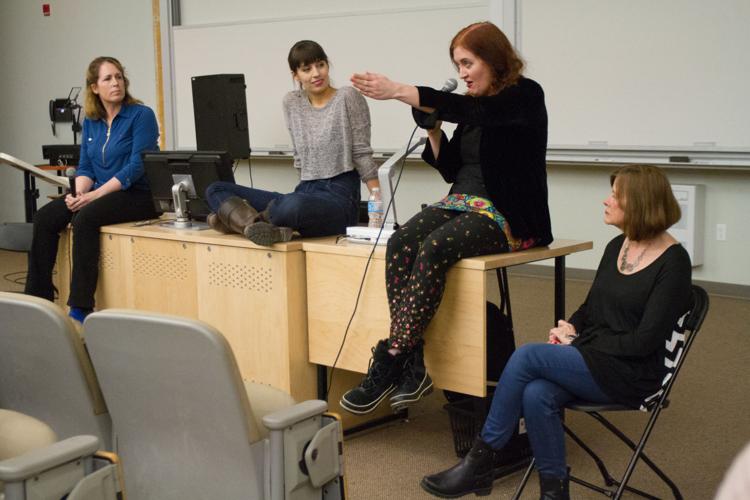 With free popcorn and pre-show indie tunes, the crowd that gathered in the Health Sciences Building on March 7 was ready for Beyond The Books' first ever Spotlight Author Talk. For bookworms and aspiring writers, the event was a major hit.
The star-studded panel included famed young adult author Kelley Armstrong; actress and children's writer Adrienne Kress; the award-winning Barbara Haworth-Attard; and keynote speaker Emma Donoghue. Most notably, Donoghue wrote the critically acclaimed novel Room, which she adapted into a screenplay that was nominated for an Oscar in 2015.
The Spotlight Author Talk was split into two parts: a speech by each of the authors and a panel where the audience members were allowed to ask questions.
During the first half of the event, each of the authors brought something different to the table while discussing their respective topics. While Armstrong and Kress winged their talks and relied on wit, Haworth-Attard and Donoghue came prepared with notes and books. But none of the authors failed to charm the audience.
While Armstrong focused on being a dynamic writer, Kress spoke to her experience writing children's literature. And as Haworth-Attard explained how to own being a writer, Donoghue talked about her experience adapting her novels into screenplays, which includes Room and Frog Music. But they all had one central theme: passion.
The women acted as the literary Spice Girls, all bringing their unique flair while relying on their shared love for writing.
"Writing is my passion," Haworth-Attard says. "And a passion gives your life focus."
But the passion doesn't stop with the authors. Beyond The Books was co-founded this year by Western University second-year political science student Justine Rogers who acts as president for the club. Similar to the speakers, Rogers describes Beyond The Books as a passion project.
"I've always been super super into books," Rogers says. "I worked at Indigo, and I have over 700 books in my room. I'm a book freak! I'm a book addict!"
Rogers says she wanted to provide a place for the book lovers of Western University to get together. Her main goal with the first Spotlight Author Talk was to give readers a chance to meet some of their idols and to get inspired.
After the talk, the audience was buzzing, including second-year English major Sarah Minos.
"I want to write a story now!" Minos says. "I expected [the authors] to be passionate, but I'm still blown away by how passionate and humble they were. They're very proud of themselves, but they're also very aware of who they are."
Beyond The Books is Western's only monthly book club, but they also have put on successful book exchanges and socials. Similarly, they plan to put on trivia and movie nights for the upcoming year. But Rogers wants to do even more.
"I'd love to keep growing," Rogers says. "I know there are way more book lovers on campus that don't know about us yet."
Needless to say, the Spotlight Author Talk wasn't only a huge success for the audience but for the team behind the event. In terms of creating a space for both readers and writers, it's clear that Beyond The Books hit the nail on the head.