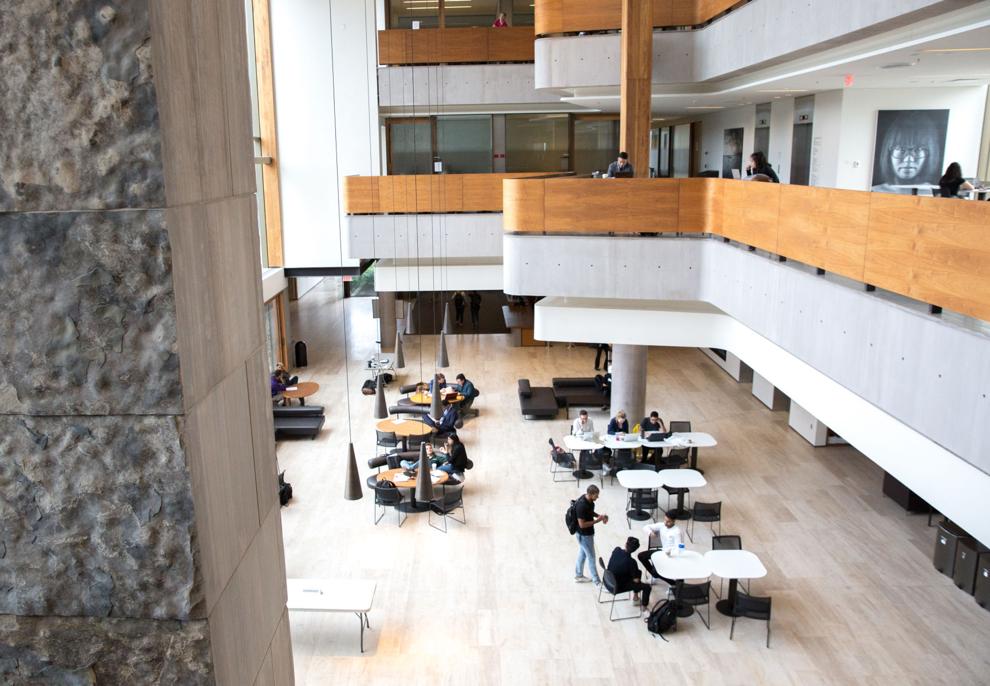 Ivey is one of Canada's most prestigious business schools, but it rarely speaks to the social divide perpetuated by its hefty costs.
With a hefty tuition price, the Richard Ivey School of Business boasts its required competitive averages and above-par extra-curricular involvement. But students describe that it houses a disproportionately high ratio of upper-class students compared to Western's main campus.
An anonymous student-run Instagram page called Ivey Poor Club surfaced in February, featuring confessions from HBA students who feel alienated by the attitudes and comments of wealthier students.
"At the end of last semester when they tacked on $400 for case books last minute I actually had no money to pay rent," one confession reads.
"We are aware of the account and encourage anyone in need of support to connect with Ivey's Financial Aid office at finaid@ivey.ca," Ivey told the Gazette in response to the account.
Many students say a socioeconomic divide at Ivey alienates less privileged students who rely on financial aid or loans to fund their education. Others also note that Ivey's education fails to introduce diversity in socioeconomic perspectives.
Annika Olsen, a second-year student and executive Orientation Week Leader at Ivey describes feeling alienated by her financial standing at Ivey.
"Even if you are well-off, Ivey will make you feel poor. It's just the culture," says Olsen. "Certain attitudes of students will make people of lower incomes feel certain ways."
This culture at Ivey is exasperated by its social nature, according to Olsen, which before the pandemic entailed going out every week for "Frog Thursdays." She describes a pressure on some students to shell out hundreds of dollars for bottle service and booth reservations. Two annual student-paid trips, such as those to Blue Mountain and Niagara, only add to the bill.
Both in London and on these trips, "a socioeconomic divide clearly presents itself in preferences in dining and social activities," describes Olsen.
Taja McLean, second-year Ivey student and Marketing Coordinator of Ally at Ivey — an organization aimed to support students with respect to equity, diversity, and inclusion — explains the importance of social comfort to gaining value from the HBA program.
According to her, those with less financial means can feel alienated, inferior or develop imposter syndrome when surrounded by popular and wealthy student groups. 
"Class contribution is worth 35 per cent of your grade. If you do not feel comfortable in this setting, your grades, pride and mental health could be suffering," she says. 
And with networking supplying 80 per cent of jobs today, much of Ivey's value comes from the opportunity to build and leverage connections with Canada's top dogs.  
"There is only so much you can get from a textbook," Olsen says.
McLean attempted to address some of these issues when she was the executive Ally for her section by advocating for financially feasible activities, but the few events hosted only drew a small crowd. McLean wants the school to prioritize more activities that cater to different students' needs.
"There is a huge stigma associated with saying you would rather not spend money on things. It is very taboo," says McLean.
Furthermore, students explain that homogeneity in socioeconomic perspective is only perpetuated by the school's curriculum and class discussions. 
Nikhil Gowd, a second-year and orientation leader at Ivey, explains how the school fails to empower students to view different socioeconomic lenses, which is crucial to business leadership. 
"For the sake of teaching business acumen, we overlook the harder realities that low-income individuals face. The implications of business decisions on wage workers, overtime pay or firing decisions are brought up as an afterthought. It deprives students of a certain level of reality," says Gowd.
According to Olsen, themes which reinforce the "rich" as hardworking and the "poor" as lazy, are sometimes present in student and teacher discussions. These themes oversimplify the complexity of individuals' socioeconomic situations.
Other comments can be implicitly exclusionary or stereotyped — for example, not understanding why students haven't travelled as much, had a nanny or did not play sports while growing up.
"When different perspectives come up, students are often shocked to learn about them," says Olsen.
"We develop business leaders who think globally, act strategically, and contribute to the societies in which they operate," Ivey states on its website.
Both Olsen and Gowd note that taking steps to diversify guest speakers with different socioeconomic backgrounds, as well as better equity, diversity and inclusion training for professors, can help with this issue. 
When asked about these disparities, Ivey reinforced their four-pillared action plan made in response to the Ivey at the Margins Instagram account, which surfaced over the summer. This plan includes a new equity, diversity and inclusion advisory council, hiring experts and a revised curriculum for HBA students including perspective-taking sessions.
However, many students believe that there is room for improvement.
On the subject of the new equity, diversity and inclusion working group, Gowd says that "students are confused as to what they do, how to access it and who is on it. It is primarily faculty, and concerning that, there are not more student voices on it."
Students also say a set of "listening sessions" hosted by the school in response to Ivey at the Margins, have been largely ineffective.
"A session hosted earlier this year had one student in attendance. Either the event was advertised poorly or it was not conducive to help marginalized students feel more comfortable. This is ironic for a school that teaches marketing and communication," says Gowd.
Andy Chiang, a first-year Ivey student explains that this year, students face less discrimination as virtual socials are more inclusive. However, there is a new set of barriers.
"Some students feel pressured to have a second monitor to make it easier to double-screen excel. Others may feel pressured to upgrade their webcam, microphone or internet."
Barry Kelterborn, second-year Ivey student and co-director of Ally at Ivey urges students to have these important conversations and acknowledge their privilege while recognizing their colleagues' differing perspectives. 
She challenges her peers to break the mould and stereotypes of a typical Ivey student.
Correction (March 9, 2021, 4:57 p.m.): A quote from Taja McLean was removed to correct information about financially feasible activities at Ivey.