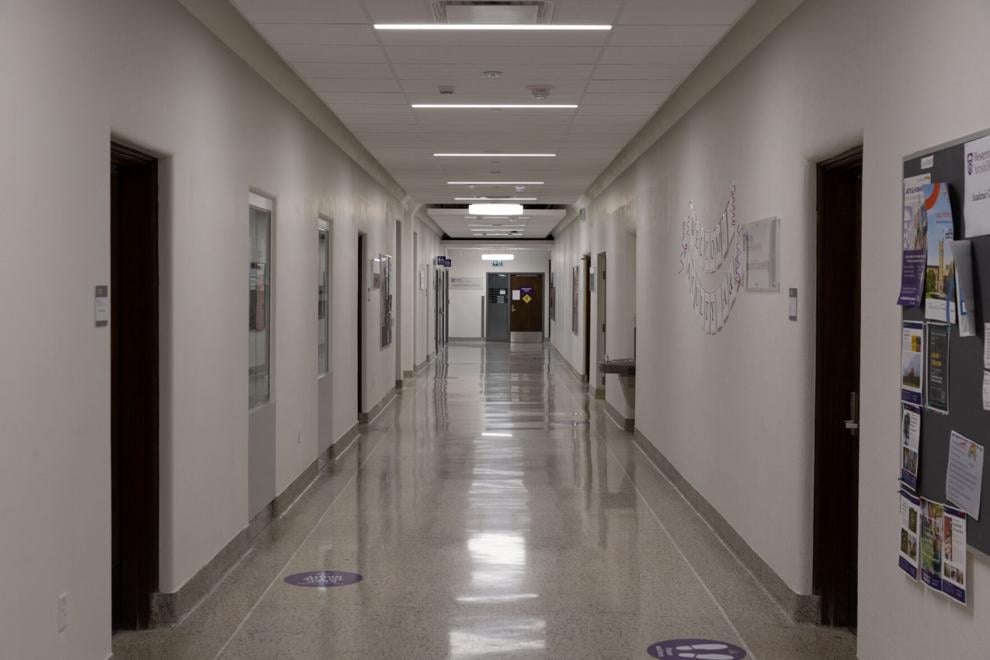 Content Warning: This article contains descriptions of racial harassment and xenophobia.
A week after classes started in the fall, a user posted in the Facebook group "'Must Knows' for courses at UWO," garnering immediate negative feedback from the Western University community.
"If you came from outside of Canada, you need to fucking quarantine for 14 days. That means stay the fuck home," the since-deleted post read. "Don't come to London and disrespect our community by putting others at risk! I don't give a fuck if this is your first year at university or other people are partying so this must be okay… it's not!"
When second-year medical science student Insiya Fathima Moosavi saw the post, she felt numb.
"You experience [xenophobia] so much and hear this kind of sentiment and hear this passiveness so much so that it becomes normal," she says. "This is not something that is normal and we should not see it happen so often that it becomes a part of everyday life."
Fathima Moosavi, a member of Ethnocultural Support Services, half-expected comments on the post to echo the same sentiments: international students and people of colour chastised about how London's coronavirus cases were all their fault. While she was pleasantly surprised to see the comments were the opposite, she still felt frustrated.
"Why should I be surprised?" she asks. "It's a very sad fact, but the fact that we see this kind of behaviour so often within not only the Western community, but with broader collegiate institutions and in our daily life, it's very numbing."
Casual xenophobic and racist behaviour is not new to students at Western. Many students have experienced this normalized behaviour since they stepped on campus. Third-year nursing student Azza Osman describes the struggle to adapt to the environment in her first-year residence building.
"I felt like a lot of the time, in first and second year, I had to adapt to [white] culture or alter my personality a bit to feel more a part of the community," Osman explains. "A lot of people had certain biases towards me and I've overheard people using racial slurs all the time."
Second-year School of Advanced Studies in the Arts and Humanities and English student Matthew Dawkins is an international student from the Caribbean who had his own experiences being forced to assimilate into "Canadian culture."
"There was a lot of unlearning my own culture and having to learn Canadian culture in order to feel welcome and accepted," Dawkins, the coordinator of ESS, says. "I think in Canada at least there's an idea that international students should come here and we should feel grateful and blessed that we're being let into this amazing country. I think that is so wrong and hypocritical."
For student-athlete Daniella Castello, the track-and-field team was an amazing environment but noted that the rest of campus wasn't necessarily the same.
"There's been some positive moments but there's been negative moments," the fifth-year history and governance, leadership and ethics student says. "It's not a secret that Western has had multiple instances of racism whether that's from faculty or other people, like the wider community. I can say that I have struggled to find a sense of community on Western's campus."
She adds that while people may not intend for their comment to be racist, it does not mean that she and other students of colour should be gaslit when they are offended.
"It's racism with a smile at the end. These include microaggressions of people saying 'oh you speak so well,' or even making subtle comments that kind of make you question their intent behind it," Castello explains. "If it's harmful, it's harmful and it doesn't invalidate anyone's experiences … I have every single right to be upset about that comment or that post that someone made or how other people treat me, because it isn't right and it isn't fair."
Fourth-year political science and consumer behaviour student Augustine Mendes said how difficult it felt to be a person of colour in the traditionally white institution of academia and how it can be hard for people of colour to feel like they belong. 
"A lot of BIPOC students are afraid to speak out about things because they're really afraid of how their white peers might perceive them," Mendes says. "As a BIPOC student entering a traditionally white space, students do need resources to access their communities, their own ways of healing and their own ways of existing."
Western has taken steps towards identifying gaps and dedicating more resources towards equity, diversity and inclusion in the past year, following steps laid out in the Anti-Racism Working Group's spring report. The university introduced two anti-racism advisors to the president, Nicole Kaniki and Bertha Garcia, who will guide an emerging council on EDI.
This council will also work closely with a new associate vice-president of EDI, who the school is looking to appoint next year, providing "strategic guidance to the university on collecting and publishing relevant data; setting metrics to measure progress; developing institutional policies, and student, staff and faculty recruitment," according to Western's press release.
Though appointing new positions is a top priority following the report, Western's president Alan Shepard said the university would address all 24 recommendations in the long term.
Xenophobia and racism take many forms, and social media makes it easier for the harmful messages to spread. An alleged screenshot from Western cheerleader Sarah Chevers showed her defending the police officers who killed Breonna Taylor on her Instagram story.
"Breonna Taylor was caught in a crossfire because the police had a warrant for her bf who she was with then and her bf opened fire on the police, so the police shot back, and her bf ducked from the bullets — which caused them to hit and kill her," the alleged screenshot read. "Obviously it's horrible she died but she was killed by accident and the cops were just defending themselves because her boyfriend started shooting first. But y'all ain't ready for that."
In a comment to the Gazette, Chever said her intention was to raise awareness that there was multiple factors that led to Taylor's death. "I believe it is very important to assess all of the evidence in a situation before rendering judgement," she wrote. "It is unfortunate that we can't all enjoy our right to freedom of speech without fear of reprisal by those who have differing points of view."
Christine Stapleton, the director of sports and recreation at Western, wrote a statement to the Gazette on behalf of Western cheerleading.
"We are working with our team to continue education in equity, diversity and inclusion," Stapleton wrote. "It is important to us that we help to ensure that our campus community, including but not limited to our cheer team, is a safe and supportive space for everyone."
"We are all at different points in our journey in learning about equity, diversity and inclusion and are committed to moving forward together as a community," Jennie Massey, associate vice-president of student experience wrote to the Gazette. 
"Among the many actions Student Experience, including sport, is taking this fall, is engaging athletes and coaches in anti-racism training and holding space for BIPOC student athletes with a virtual community of care in November."
Western currently has three paths students can take to report racism in the campus community. Bettering policies for reporting racism on campus is a priority for the newly-appointed anti-racism advisors and EDI council.
Western's Equity and Human Rights Services offers an email and phone number students can contact to request a consultation for harassment or discrimination and EHRS responds within two days.
Students can also go to Western's Student Experience website and submit a complaint to the Student's Code of Conduct. For emergency scenarios, students are encouraged to contact Campus police.
Faculties can also assist with their respective academic counselling. However, even with these resources, the staff are predominantly white and students feel they may not understand the issues that they go through.
"When you walk into Social Science counselling, every single person there is white," Mendes says. "As a BIPOC student, how am I supposed to go talk about my issues being a BIPOC student? How am I supposed to explain that again and again?"
Castello echoes this sentiment, as many students of colour face intersectional elements in cases with no resources.
"For me, it would be like 'okay, my experience as a Black, female student athlete. Do I go the human rights route or do I go the Equity, Diversity and Inclusion route?' Why as a student do I have to make that decision or do I have to go back and forth when it's one complaint and one situation?" Castello asks.
"Even with the student code of conduct, if I wanted to file a complaint, they only give you 150 characters in your explanation in your scenario. How do I explain my racial trauma in 150 characters?"
With limited resources, ESS and the University Students' Council are trying to create more and make the process transparent for students. 
"ESS is dedicated to making these not the only avenues and making these and future ones more accessible, transparent and known by students," Dawkins says. 
As a social science counsellor, Mendes says the USC has also invested more into EDI training and anti-racism work.
"There's the establishment of an anti-racism working group and the USC has round table discussions that they conduct with different students of different communities," he says. "All levels of the USC are engaged in anti-racism work." 
While this work is a start, there's still a lot more that needs to be done. Castello says that more work should be done in Western Mustang athletics and that varsity athletes should go through mandatory EDI training.
Castello also advises that all mental health counsellors should be competent about racial traumas and that there needs to be a streamlined, holistic process for complaints.
"It's not enough to have a handful of BIPOC counsellors," she says. "People need to be informed of racial trauma and its needs. There needs to be more support and this system needs to be easier."
"It's definitely harmful and difficult when you feel like you're alone and have nobody to turn to," Osman says. "You don't want to be more alienated than you already are."