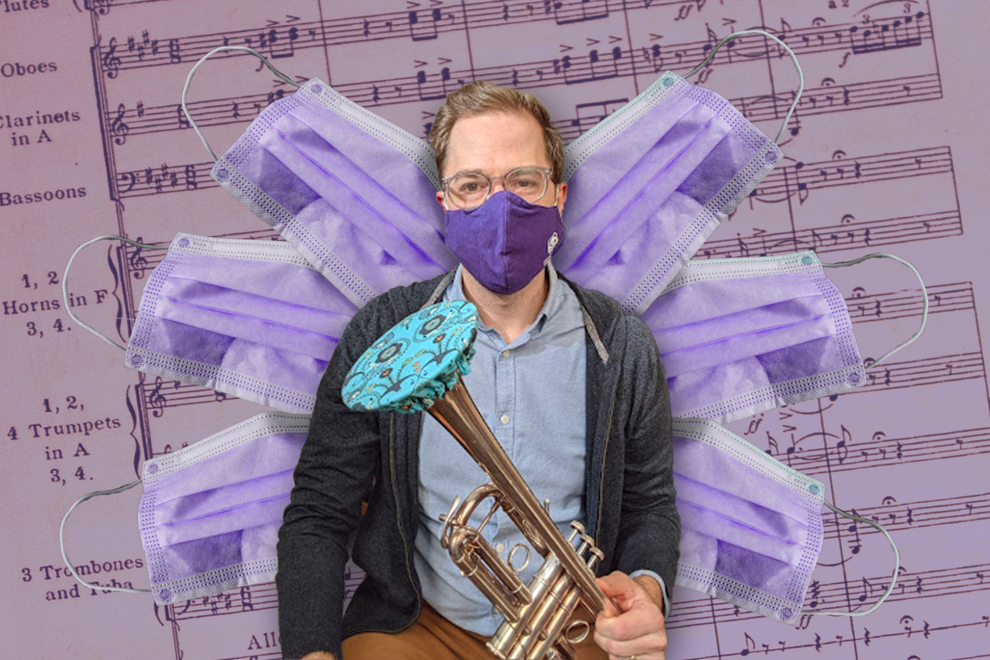 You don't realize what you have until it's gone — and music students can attest to this.
Western University's Don Wright Faculty of Music was dubbed a high-risk faculty due to the need for in-person instruction and close contact classes in 2020. This close contact includes choir rehearsals, orchestral rehearsals and studio lessons for individual students with their instructors. 
As of Tuesday March 1st, the Faculty of Music has allowed performances to be open to the public with the recent decline in COVID-19 cases and with provincial restrictions being lifted. 
Although restrictions were negotiated to play live, some restrictions still affected the quality of playing. This includes using makeshift masks to cover the instrument, preventing germs spreading from wind instruments.
"A lot of people were frustrated by that, especially trying to play in larger ensembles," says trumpet professor Aaron Hodgson. "[The instrument masks] affected the tuning and it affected the volume that you could play at. So they basically just couldn't play loud enough to fit into the ensembles, which was frustrating for them." 
But there's been more than just technical changes to how the program runs. Enya Xue is a third-year saxophone player specializing in music composition who says the pandemic has changed the culture of the program.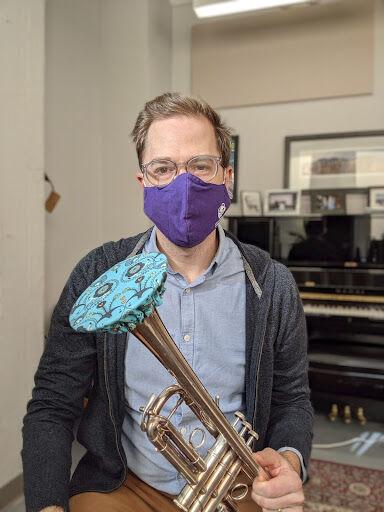 "We used to be a super tight-knit faculty, where everyone knows everyone," Xue recalls. "Everyone has a friendly face — it was very much like a family. But I think since then, it hasn't felt that close anymore. There's definitely been more of a divide."
Hodgson echoes Xue's feelings of disconnect and he notes how the change in environment has taken a toll on creativity. Creativity largely stems from socialization, and due to the hybrid approach to classes, there are less changes to foster artistry.
Xue feels as though she has gone into "survival mode" because of the pandemic.
"This year, I have a survival mindset. Just get through the year, just submit these assignments, just get your degree," she explains. "In first year, I was really looking forward to the experience of university, it wasn't about just getting my degree. It was about being able to perform in front of people and performing with your colleagues." 
Despite all of the negative changes, Romy Macdonald believes that the audition process has improved with the pandemic. Macdonald is a first-year student in popular music studies for voice, and because of the coronavirus pandemic, her auditioning process for the music program was virtual.
"There's a lot more flexibility because I had to send in one song," Macdonald explains. "I had the freedom to play my own piano with as many takes."
In retrospect, Macdonald says this year has made her appreciate what the Music Faculty has to offer, not just for music students. 
"Take advantage of any in-person chance to get any experience, especially because you never know when it will change," she says. "Go see an amazing performance for free. It's so cool to see all of the talent of people your age."
Most performances are free to watch for students and upcoming shows can be found on the Don Wright Faculty of Music website.