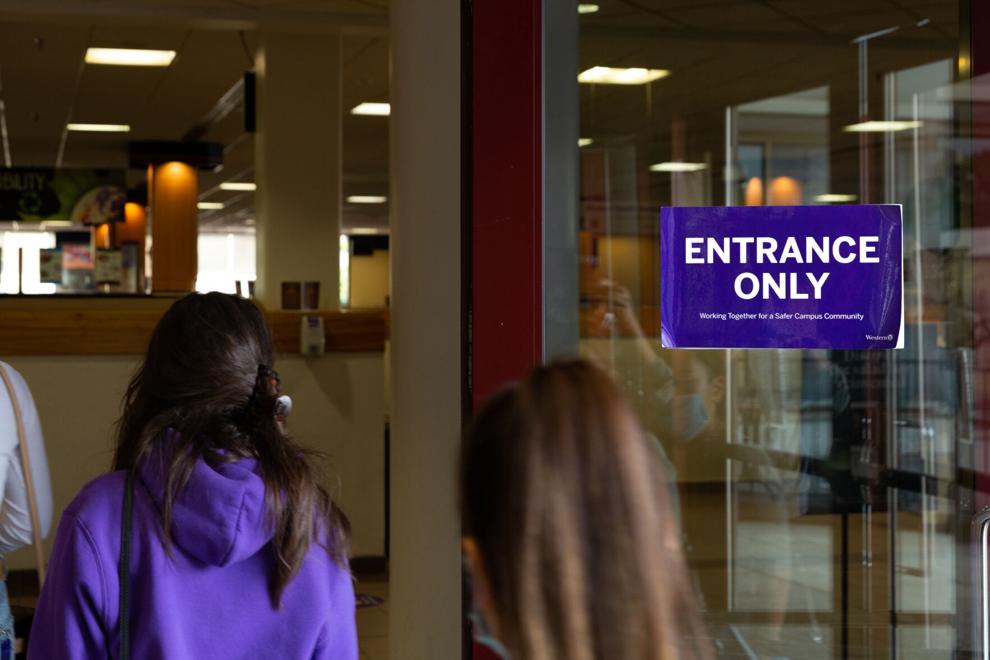 When Hadi Kiani was shown the surging number of law school applicants, his jaw dropped.
Kiani, a fourth-year Media, Information and Technoculture and School for Advanced Studies in the Arts and Humanities student, applied to Western Law in October. The program saw a 31 per cent increase in applications over last year and a 37 per cent increase over 2019.
According to Linda Miller, Western's vice-provost for graduate and postdoctoral studies, the rise in applications is the same across Western University's graduate programs.
"Although we continue to receive applications for many of our programs, to date in this year's application cycle, we have seen an overall increase in applications for both our Master's programs [13 per cent] and our Doctoral programs [25 per cent] compared to the same point in time last year," Miller said in a statement to the Gazette.
In a daunting case for new graduates, this surge isn't limited to Western — more students are applying to graduate school across Ontario. The University of Toronto saw graduate program applications rise 32 per cent over last year, with their law school reporting a 24 per cent increase. At Wilfrid Laurier University, graduate school applications have reached "record levels," while the University of Waterloo reported a 17 per cent increase.
Meanwhile, across the border, applications to medical schools in the United States have increased 18 per cent and Master of Business Administration programs saw a 20 per cent jump in applicants — largely due to the coronavirus pandemic. 
For prospective graduate students like Kiani, the pandemic marks a time of uncertainty.
"Because of where I am in my studies and life, I probably would have applied to grad school anyway," Kiani explains. "But [COVID-19] has cemented that choice."
Kiani isn't alone. Times of economic uncertainty — like the 2008 recession — often accompany an increase in university and grad school applicants. 
"If I got a job that I thought was really promising, I would've taken that," Kiani says. "But that's most likely not the case." 
While the pandemic may have spurred some students into action, for others, grad school was always the path — only now, the landscape looks different.
Veronica Botnick, a fourth-year SASAH, MIT and French student, finds herself in this sticky situation. Graduate school was always the goal, she explains, but COVID-19 complicates matters. The pandemic cancelled Botnick's exchange to Japan last year and she hopes it stays out of her future.
"I just really enjoy learning," Botnick says. "I have been working since I was in grade ten, and it got to the point where I would rather be stressed about an essay than stressed about getting to work on time."
Botnick sees the increase in graduate school applicants as part of a fascinating phenomenon — even if the outcome makes her nervous.
"I talk about this with my friends, but it's always out of our own selfish curiosity," she explains. "Instead of, 'I wonder how the world is impacting grad school,' we want to know if our chances of getting accepted are better or worse."
Botnick also thinks about what lies ahead and asks herself the tough questions. Last year, she scrambled to find summer courses so she could graduate on-time with her classmates.
"I had this idealistic idea of graduating with my friends," Botnick explains. "And even though I caught up, I'm still not graduating with them together in person. I thought, 'what's the point of rushing myself so much?'"
Kiani admits the thought of rejection is nerve-wracking. Despite the data, he remains optimistic.
"Increased competition is unfortunate but there's no use in focusing on it," he says. "You just have to submit the best application possible. "If I didn't get in, I [will] apply again in 2022 — grad school is something I want to do." 
Botnick urges students not to rush. After a summer of cramming courses so she could graduate with her friends, she finds herself staring at a screen nowhere near them.
"This year proved that the world could stop on a dime," Botnick says. "Everyone's life is off track a little — so seriously, what's the rush?"