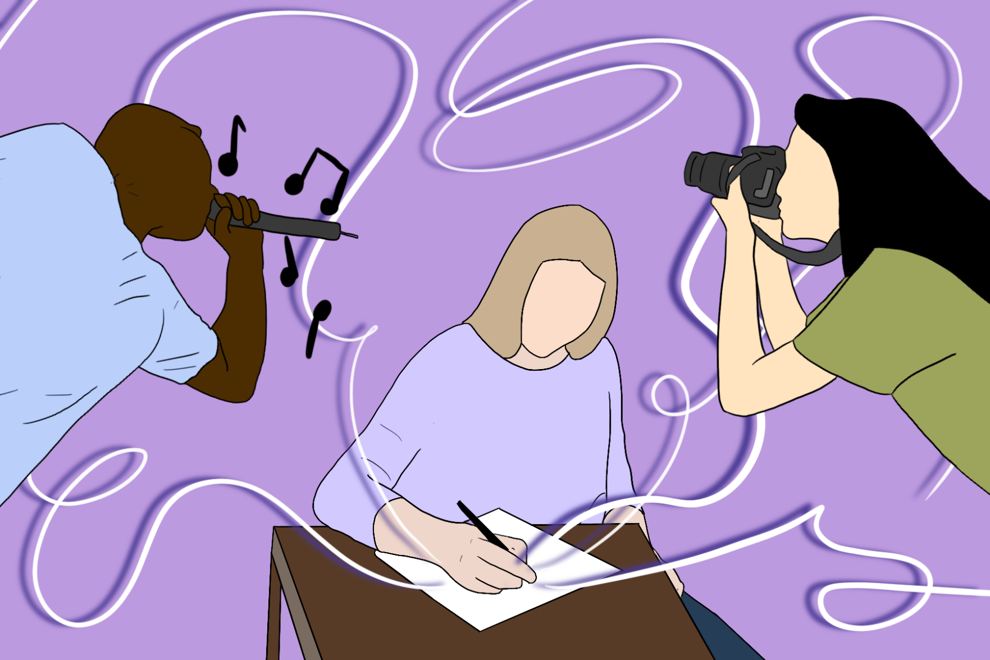 "When the pandemic is over" has become the global catchphrase of the past year as nearly everyone yearns for the normalcy and freedoms they once had.
Most students can agree that Zoom lectures and online socials just aren't "it" — and for Western University students pursuing creative endeavours, the pandemic can feel even more disheartening.
"I've definitely lost my momentum when it comes to shooting," says Christine Chu, fourth-year biology student. 
Chu has pursued portrait photography for nearly three years, turning her skills into a business just a few months prior to the pandemic.
"I really only shot in the summer when the cases were lower and we were allowed to have social gatherings of more than five or 10. It was easier to shoot just because, you know, we weren't in a stay-at-home order," she says.
Chu lost business from hopeful clients as meet-up restrictions heightened over time.
Alex Stekl, fourth-year media, information and technoculture student also lost work, as he would typically perform as a DJ at London nightclub Lost Love.
"For a while I was working there probably like once a week last year. It definitely sucks, I stopped in March [2020] when everything shut down. Since then, I just haven't really been doing much DJing," Stekl explains.
However, instead of being pessimistic, these students found other ways to keep their creative spirits high — finding work in other places and pushing themselves to stay inspired.
Stekl used this time to work on his own music, putting nearly five hours a day into improving his piano and sound engineering abilities. 
"Before [COVID-19] I wasn't doing [music] on a daily basis. But then I got really into it during quarantine and I would just spend hours every day working on it," says Stekl.
"I took this month-long program over Christmas break with a producer from [Los Angeles] and I'm doing another month-long program right now and then a six-month program. So, I'm doing all this extra education because I just want to get better," he says. 
Prior to the pandemic, students may not have had the extra time or opportunities to improve their craft to this degree. 
Alex Seligman, fourth-year management and organizational studies student is an electronic music producer who goes by the stage name Distant Matter. Like Stekl, he has been using this time to dive deeper into his music, hoping to learn more about himself as an artist.
"I'm not trying to focus on the fact that there's a pandemic, I'm sort of just trying to immerse myself in the music world and not get bogged down because obviously it's easy to when you think of the pandemic, but it's all a mindset in my opinion," says Seligman. "It's been a great learning experience because I've been able to sort of just try out different things and see what works and see what doesn't."
Maintaining creative momentum involves finding new avenues for inspiration. This fosters personal growth and encourages students to continuously challenge themselves despite the bleak overtone of the current world. 
"This year I joined three clubs as a photography director or executive. This was the first year I've done that. I joined to meet other people, collaborate with others and stay inspired through school clubs at Western," says Chu.
Part of this challenge is not only turning to new ventures but also innovating old ones.
"For [Fashion and Lifestyle Society at Western], we weren't able to do any of the shoots in person. We had to do a FaceTime shoot, and I have never done a FaceTime shoot or virtual shoot in my life," explains Chu. "I didn't know how we would run. But it ended up being a success and I was able to learn Photoshop skills along the way."  
As time drags on, students try to remain optimistic about their futures.
"I'm just using this time to build my music, my brand and my sound, just getting the name out there and trying to create as much buzz as possible so that when [COVID-19] is done, I can really just sort of hit the ground running and get ready to just propel myself into an industry, and a new industry for that matter," says Seligman.
Many creative students are trying to use this time to their advantage, hoping they can truly enjoy the fruits of their labour "when the pandemic is over."