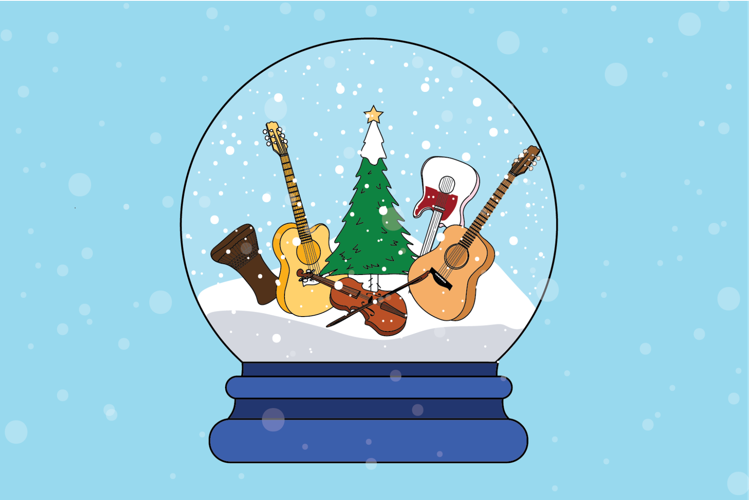 The Christmas season is upon us, and along with it comes the ubiquity of Christmas songs. For most, the pervasive carols are almost like coal in their stockings. Their inescapability is unpleasant, not to mention most of them sounding indistinguishable from one another. Give or take a Bublé, your standard Christmas tracks are just that. Standard.
If you're sick of the homogenized cheer, then the Sultans of String may be the antidote. The Toronto-based, multi-instrumentalists are playing at London's Victorian-style The Aeolian Hall this coming Sunday.
The JUNO Award winners first formed around 10 years ago when bandleader and producer, Chris McKhool, met guitarist Kevin Laliberté while they were both playing a jazz show in Toronto.
"A lot of those early improvisations turned into great songs," says McKhool. "One of the things we really love to do is to perform music and rhythms from around the globe, everything that comes here to Canada through musical immigration."
It's that improvisational spirit combined with their international view that led in part to the creation of Christmas Caravan. Each track pulls from a different world flavour, like "Little Drummer Boy" and its use of African djembe drums or "Turkish Greensleeves," in which the band collaborated with a group of Turkish Roma violinists.
Perhaps the biggest example of their multicultural approach is the mash-up of "The Little Swallow/Al Vuelo." The latter is a Spanish song that the band wrote, and it was only by accident that they realized it was in the same key as the former, a traditional Ukrainian New Year's carol.
"It's really fun to do a mashup like that and put the [City of Prague Symphony Orchestra] on top, which was icing on the cake," says McKhool.
This means they also recruited a vast litany of guest musicians and vocalists for the album: like singer Nikki Yanofsky and sitar player Anwar Khurshid, who has worked Life of Pi and taught Mike Myers the sitar for The Love Guru.
Beyond the global perspective, though, is an attempt to remember the original intent behind many of the now-commercialized carols. The track "Jesous Ahatonhia (Huron Carol)" is generally known as Canada's first Christmas carol, but the common lyrics are a hundred-year-old rewrite. The Sultans found the original Huron Wendat lyrics and had a professor translate them.
"We're really trying to do things that bring those songs to a deeper level of authenticity and find the beauty in those songs again." 
The Sultans of String play at The Aeolian Hall this Sunday, Dec. 3 at 8 p.m. You can get tickets here or at the door for $30.