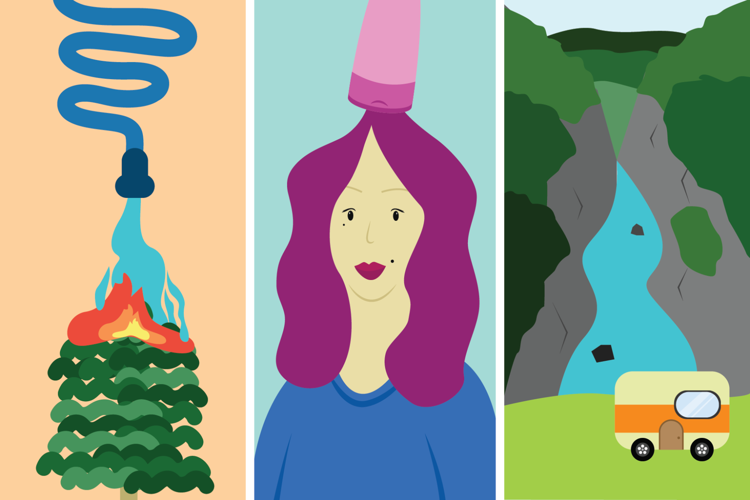 With the 16 C weather that hit London today, it's easy — ish — to look past exams and bask in the glow of soon-to-be summer. While it's tempting to hide behind the haze of rose-tinted Ray-Bans, summer provides an opportunity to follow a passion or a goal that one usually just doesn't have the time for during the school year.
Sitting by a friend's pool sipping iced tea for months does sound nice, and maybe you genuinely think that's your only option, but I'm sorry to tell you when you think to yourself, "Everyone my age is watching eight seasons of Grey's in one day," you are sadly mistaken.
Francis Coulombe, a second-year economy student at Western University, is forgoing refreshing pool-time for wildfires. Coulombe will be working with a unit to combat sustained action fires in Alberta. He'll be part of a crew of almost 20 people — and strangers at that — working together to hold back flames and cut off the fuel supply for wildfires.
Strangely enough, it's not really the fires that are worrying Coulombe.
"I'm with those 19 other people for 16 weeks straight. Sometimes, we could be living in tents on the fire-line for up to 15 days. So the social aspect can be a little daunting as well. If you don't get along with these people, you've still got to fight forest fires with them; you're still responsible for one another's lives."
Coulombe articulates that while many people use summer jobs and internships to bolster their resumés, this is something that he's genuinely interested in, and he also feels a sense of duty to use his body, while still in good form, for the "greater good." The skills taught through this experience will surely not be limited to physical feats of quenching forest fires, but also perseverance, resiliency and problem-solving skills, which will serve him well in the future.
Although, this is not to say that you shouldn't beef up your resumé, as Matthew Conacher, a fourth-year media and information studies student, largely credits his upcoming internship with l'Oreal to his previous experience.
"Last summer, I worked at an advertising company, which I got through networking with MIT alumni," says Conacher.
Something else that helped Conacher is a faculty-led internship program: "That experience is kind of what set me apart for applying to this job."
The idea that it's only that top one per cent of students, the ones with the highest grades and the ones who have taken all the right courses, who get all the "cool" jobs, is just simply untrue.
Third-year biology student, Aejah Blesch, will be working in White River over the summer sampling and collecting data regarding biodiversity of the land, in addition to starting her own honours thesis project.
"Honestly, I don't know how I got this job," says Blesch.
To many biology students, working in the field is a far-fetched dream reserved for grad students. So what's Blesch's secret?
"I talked to one of my profs who I really liked her course — she teaches community ecology — and was like, 'I'd like to do my thesis with you!' That being said, with ecology you have to do field-work, so she suggested I should apply for the NSIRC grant, which I didn't get, but she hired me anyway."
All three, while preparing for very different jobs, share a common feeling of being chosen "by chance." Some of the jobs didn't even have open online applications, and it was through initiative to ask for a position that they received an offer. Not all of us are brave souls, but when it comes to attaining a future goal or seeking out an opportunity for self-improvement, we should take a page from Blesch, Coulombe, and Conacher's books. None of them felt they were necessarily the most qualified, but the three took the proverbial leap, realizing that the worst that can happen is someone saying no. And if they do?
Well, you just ask someone else!