The Symposium and Semicolon fall launch party brought students together at McIntosh Gallery on Friday night for a celebration of the languages and visual arts.
Both Symposium and Semicolon are bi-annual magazines produced by the Arts and Humanities Students' Council. Symposium features Western University students' poetry and art while Semicolon features academic essays.
The event was a small but intimate gathering. The inclusive nature of the visitors and students spoke to something more than just an opportunity to showcase published works: the event was a chance for students to come together, express themselves and temporarily escape the stress of final-exam season.
Along with the publications on display, the launch party featured a series of spoken word artists, musical performances and an open mic. 
Third-year media, theory and production student, Marissa Racco, came to support her roommate Megan Levine. Racco appreciates those who share their creative works, especially seeing what an emotional outlet writing is for Levine.
"It comes from such a place of truth and vulnerability," Racco said. "It's just so courageous for someone to put themselves out there like that."
Levine said her faculty soph in first year prompted her to get involved with Symposium and with the Arts and Humanities Students' Council Publications Team. The now third-year English and creative writing student hopes others will take the chance to showcase their work.
Symposium and Semicolon editor-in-chief, Areesa Kanji, noted that artists and writers may not always get the chance to showcase their talents or may not feel comfortable doing so. But events like Friday's launch party allow students to experiment with exposure.
Many students took advantage of the opportunity, with many spoken word artists and musicians performing at the open mic.
Second-year creative writing student, James Gagnon, gave a passionate delivery of his poem, "Well, okay" that spoke to the raw emotion behind heartbreak and mental well-being. It was Gagnon's first time getting involved with Symposium and he plans on contributing again.
Second-year English and creative writing student, Danielle Dam, also submitted to Symposium for her first time with a poem about "musings on Oscar Wilde." Dam said much of her inspiration comes from classical writers like Wilde, Orwell and Shakespeare.
"I try not to replicate them, but to draw inspiration from them," she explained. "They have such a certain capture of the English language that it's been lost nowadays."
The breadth of works included in Symposium and Semicolon was wide and refreshing. As there was no theme for artists to adhere to, it allowed for complete creative freedom that reflected the diversity of interests within the crowd.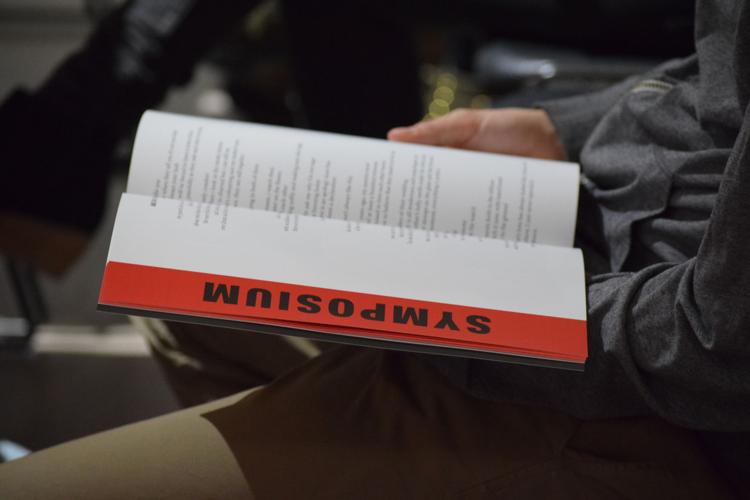 According to Kanji, though, the second set of Symposium and Semicolon publications will likely adhere to a theme, with submissions opening later this month.
For more information regarding upcoming submissions, students are encouraged to visit the Arts and Humanities Students' Council Facebook page.