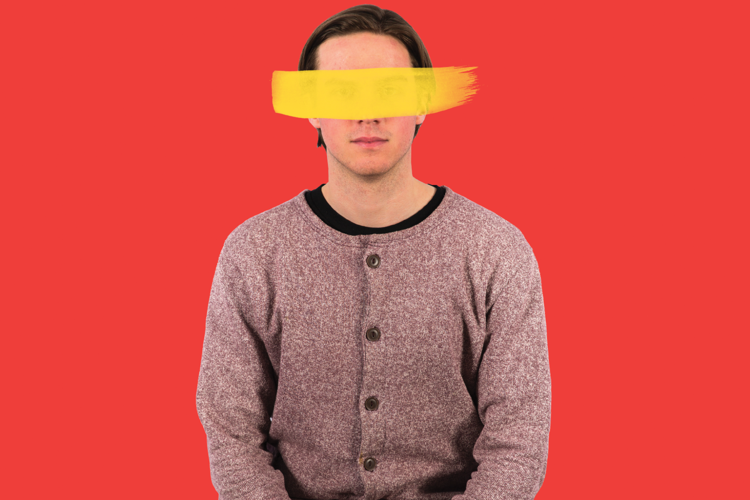 Michael's Perspective
Olivia's nose ring worked hard. But her smile worked harder.
Before she arrives, I have a crisis. Probably my only one of the night. I'm waiting inside the The Tasting Room's main door when I get a text:
"Hey! Sorry, I'm running a bit late; I'm just calling an Uber now!"
Damn. So do I go sit down? 
What would Brad Pitt do? Do I want to be like Brad Pitt?
I wait. Then I get another text:
"Okay, I'm in the Uber so I'll see you soon!"
At this moment the sky clears and three words appear: waiting is weird.
I don't know if the words are meant for me. But in my situation, ambivalence is all I have.
I sit down at our table that is tucked in the back corner. 
The metaphorical blindfold comes off, and Olivia walks toward me. I think to myself: she's lovely.
The service is slow, but the conversations flows. 
I even felt comfortable enough to show her a viral video of a University of Guelph student fake-masturbating in front of security.
She expertly selects the wine. I got seafood pasta, while Olivia orders a steak. There's a healthy chatting-eating balance, and I dominate my meal like the statistically average man on a date does. She eats slowly like she was taught.
Olivia casually uses the word "muck," and I like it.
Conversation pivots to Amanda Bynes's She's the Man. We bond over our shared love of sports; Olivia plays football and I used to play soccer. We both love peanut butter, a staple in my diet. She eats jam, but says she doesn't like fruit. I inquire further and she equates me to people who always bother her about this. I fall back.
Dinner ends after good fun, and I pay for the meal. Would you believe I consider myself a feminist?
But Olivia went on a blind date with a random Gazette editor who is writing about it — for free! She deserved it.
We ride-share to her home.
No, not to hook-up, but because she lives near me. Get your mind out of the gutter. 
Nice hug. Short pause.
We don't kiss. First date kissing is a lot. And I'm not trying to cement my legacy at 23 as a guy-who-kisses-on-the-first-date.
Also, I was nervous.
Would I have tried going for a kiss without this article coming out?
I don't know. And neither do you.
---
Olivia's Perspective
When the Gazette first asked me if I was interested in going on a blind date, my first thought was "Oh god, absolutely not." After all of the blind date horror stories I've heard, my mind quickly went to all of the ways this date could go wrong. But after hearing some convincing arguments from my friends, I decided that it could be fun. And if it went wrong, I'd at least be able to tell one of those entertaining horror stories myself.
As I tend to be pretty shy and awkward when meeting new people, my biggest worry was that we'd have nothing to talk about on the date and sit there in uncomfortable silence. Luckily, my roommate graciously offered me her bottle of wine to help me loosen up a bit while getting ready.
I always tell my friends that I am perpetually five minutes late, and the date was no exception. So when Michael texted me that he was at the Tasting Room 10 minutes early, I started to panic a little. After calling an Uber, I chugged what remained of my second glass of wine and quickly threw on every girl's go-to going out outfit: jeans and a nice top.
Within the first couple minutes, my first impression of Michael was somewhere along the lines of a hipster, creative type. He mentioned he didn't have a Netflix account, which immediately threw me off because I was banking on TV shows as a topic of conversation if things slowed down. This made me a little worried about not having much to talk about, since I'm not really a creative person.
Luckily, this wasn't the case at all. Michael was pretty talkative, and we actually found a few other things to talk about, like first-year drinking shenanigans, our mutual friends and even astrology. 
I knew things would be OK when the waitress came to take our order: we were so busy chatting that we hadn't even looked at the menus. The bottle of wine we split likely helped, but it also probably led to me mentioning a few too many weird quirks about myself. Michael was a pretty funny guy, and we talked about our mutual love of comedy, so the conversation stayed friendly and light.
Overall, I think my first blind date experience was a success. I had a good time and enjoyed getting to know my date over good food and drinks.
I guess I won't be telling anyone any blind date horror stories just yet.