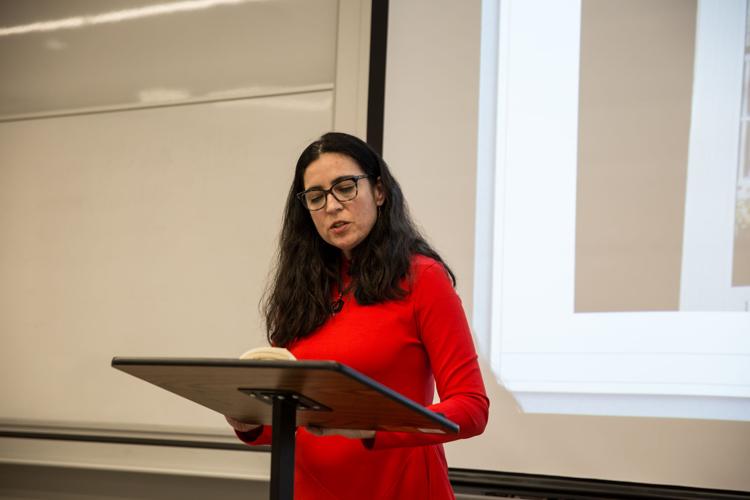 Jordan Wabasse, Kyle Morrisseau, Robyn Harper, Reggie Bushie, Jethro Anderson, Curran Strang and Paul Panacheese — these are the names of seven Indigenous high school students who disappeared or died in Thunder Bay, Ont. between 2000 and 2011. They're also the focus of journalist Tanya Talaga's book Seven Fallen Feathers: Racism, Death, and Hard Truths in a Northern City.
Talaga came to Western University on March 20 as part of the Faculty of Information and Media Studies' annual Clissold Lecture. The talk, named after London journalist Edward Clissold, was open to all students. Talaga's talk centred on the stories in her novel about these teenagers and how their disappearances connect to the horrific legacy of residential schooling.
Talaga was selected to speak at the FIMS and nursing building thanks to her book and her journalistic accomplishments, among which include receiving four Michener Award nominations for public service journalism and being named the Atkinson fellow for public policy in 2017. The classroom venue had almost every seat occupied for her talk. Previous Clissold lecturers include CBC's Rosemary Barton, Buzzfeed's Craig Silverman and Toronto Star's Michelle Shephard.
"It's a story about Canada's past. It's a story of erased and ignored history, and it's a story of how the misdeeds of the past contributed to the deaths of seven students in Thunder Bay and how it went ignored for so long," says Talaga about her book. 
Each of the seven students left the Nishnawbe Aski Nation to attend Dennis Franklin Cromarty High School in Thunder Bay.
"What they leave is home. They leave communities that love them. They also normally don't speak English as their first language," says Talaga. "They're leaving places where there are no traffic lights, there are no malls and they're lucky if there is a Northern Store."
According to her book, authorities regularly ignored investigations into these disappearances. Their inquests took place years after, and answers were hardly forthcoming. Talaga draws the students' diaspora and posthumous mistreatment all the way back to 1966 and the tragic death of 12-year-old Chanie Wenjack.
Wenjack was an Ojibwe boy who attended the Cecilia Jeffrey Indian Residential School in Kenora, Ont. He died trying to walk from school 600 kilometres back to Marten Falls First Nation reserve where he lived. When it came to the federally-ordered inquest into Wenjack's death, there were some startling parallels to the present day.
"This might sound familiar. There were no Indigenous people on the jury. Chanie's family did not know an inquest was taking place; they were not given any legal representation," says Talaga. 
This is compared to the case of Paul Panacheese, who inexplicably died on the floor of his mother's home in 2006. His mother waited nine years for the start of an inquest, by the end of which she was told "they had no idea" how it happened.
Christian, father of Kyle Morrisseau, designed the painting that adorns the cover and served as the influence of the title of Talaga's book. He created the painting because he was sick of the media framing the teens as the "seven dead students."
"He rightly says every child came from a loving home, family and community; every child was their own person. So he made this painting," says Talaga.
Talaga ended her talk with recommendations of media sources that cover Indigenous stories, including Duncan McCue's guide to Indigenous reporting, CBC News Indigenous, Aboriginal Peoples Television Network and the Missing & Murdered: Finding Cleo podcast.