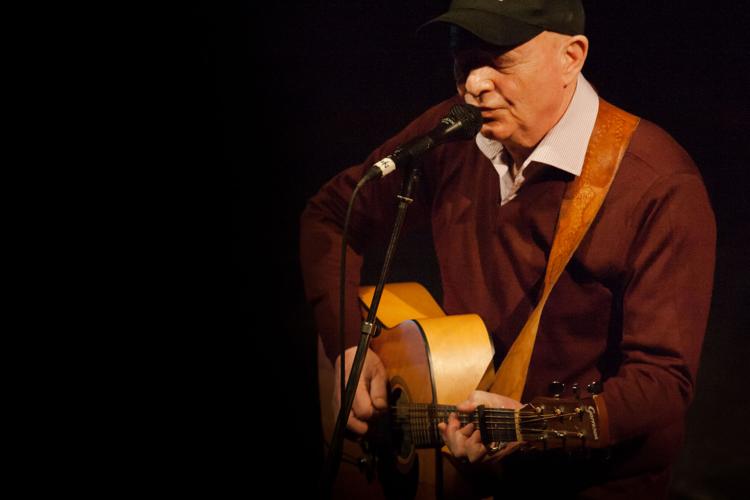 Morning session
"Sweet Caroline - ba ba ba."
The crowd sings along as Rick McGhie closes his TED talk with his top hit — first performed at Western in 1975. McGhie was one of the four presenters at the morning session of TEDxWesternU: Colliding Worlds, which took place at the Paul Davenport Theatre on Sunday, March 11.  
The lights dim down in the theatre, spotlight on the speaker on stage. The speakers' stamina and powerful messages fill the space with energy and emotions. Enlightened and inspired, the audience listens in silence and immerses themselves in the colliding worlds.
An independently organized TED event, TEDxWesternU brought eight individuals from different backgrounds and disciplines together to share their unique insights and stories with the audience.
Rick McGhie's acoustic performances showcased a powerful moment of energy exchange through music, as did the indigenous chant sung by the event's host, Erik Mandawe, during the opening remarks. An indigenous artist and medical student at Western University, Mandawe comes from the Beaver Lake Cree Nation in Alberta and opens the event with a song — what he describes as the teaching and healing energy carried on from the past generations.
To Mandawe, music is more than just sound. It allows people to communicate and relate to each other. In a particular setting like this, music helps bring people together; "head to head, heart to heart," says Mandawe.
Barbara MacQuarrie, the community director at the Centre for Research & Education on Violence Against Women & Children, discusses gender-based violence as a health and safety hazard in the workplace. Being one of the first researchers working toward legal recognition on gendered-violence at work, MacQuarrie worked with many victims and family members to help them claim justice. 
MacQuarrie emphasized the significance of having workplace conversations. "It is at our work where we really have the opportunity to debate, deliberate and discuss important societal issues. Gendered violence is an important societal issue," she said.  
After 20 years of battle, activists like MacQuarrie have pushed the government to legally recognize workplace harassment and to implement systematic changes. 
"If we want to end harassment, we have to transform the inequality and discrimination that is woven into our culture and workplaces," said MacQuarrie.
Chimamanda Ngozi Adichie shared her journey as a feminist in the screening of TEDxEuston: We Should All Be Feminists. TEDxEuston is a series of locally-organized TEDx events that focus on providing an authentic narrative about Africa. 
Adichie described herself as "an African feminist who does not hate men, and wears high heels and lipstick for herself." From being undervalued for her academic achievements in elementary school, to getting lesser respect in public spaces than her male counterparts, she discussed her frustration and anger at gender inequality with a twist of humour.
Nonetheless, Adichie remains hopeful. Hopeful for a future in a different, happier world that recognizes women as fully equal beings.
"Culture does not make people. People make culture," says Adichie. 
The speakers taught attendees the importance of challenging the existing social and cultural norms, and resist practices like gender discrimination. 
TEDxWestern: Colliding Worlds encourages us to embrace difference, discomfort and to never stop questioning. Sometimes, it is only through the process of unlearning and relearning that we can expand our views and truly empathize with each other.
—Vicky Qaio, contributor
---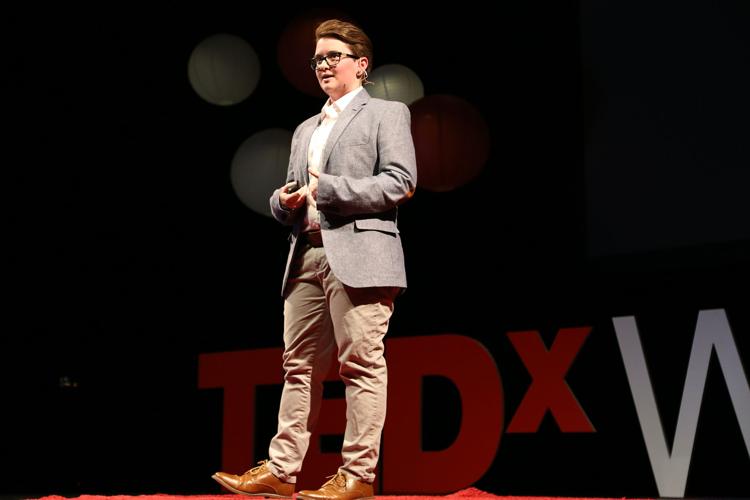 Afternoon session
Paul Davenport theatre was transformed by the three staple colours of TEDXWesternU — red, white and black — in preparation for this year's TEDxWesternU talk "Colliding Worlds." 
"Colliding Worlds" prioritized challenging people's pre-existing thoughts and opinions. TEDXWesternU curator and first-year medical school student Timothy Varghese explained that colliding worlds was a metaphor for two people who had different notions of the world.
"If you're pro one idea and someone is against that, we are then two worlds and we collide," said Varghese.
The afternoon session included community influencers, directors, professors, students and scientists. Among them included, Jeff Preston, an assistant professor of disability studies at King's University College, Syed Shoaib Hasan Rizvi, a fourth-year media, information and technoculture student, Sacha Batia, the Founding Director of Women's College Hospital, Arthur Brown, a scientist at the Robarts Research Institute, and Levi Hord, Rhodes Scholar and fourth-year sexuality studies student.
The event didn't have one cohesive theme; however, all the speakers spoke about the importance of learning and expanding one's knowledge. Topics discussed included healthcare, gender and poverty, types of knowledge, transgender and disability studies. 
Erik Mandawe, a first-year medical student said that knowledge building was important because "we have an obligation to be the next generation of teachers and thinkers and part of that is the idea exchange." 
The first speaker, Rizvi, no amateur to public speaking, told an empowering tale about his parents' sacrifice.
"My mother gave up everything to bring us to Canada for a better education...Where I come from in Pakistan, voices are not heard," said Rizvi.
Beginning with a humbling recap of his upbringing and journey to Canada, Rizvi then told the stories of women that he'd met in the Pakistani slums.
"Everyone has the same story with different circumstances. Young people have the knowledge, technology and innovative ideas that previous generations don't," he emphasized. "Let's do something that can create change in your community."
Preston also knew how to work an exhausted crowd. Although his speech regarding normal and disability binaries contained serious material, such as the ways that 'normalcy' impacts service delivery, he cracked jokes and made light of "normalcy" versus disability. He made fun of the way that people perceive normalcy and pursue "normal," fit, able-bodied body types.
Although one speaker, Hord, didn't have a powerpoint, they talked about the importance of gaining knowledge in a popular, and sometimes contentious, topic today: transgender studies.
The event engaged patrons overall; however, the TEDTalk videos in-between speakers detracted from the event because they were not as impactful as the live speakers. 
The conference provided a setting that allowed for discourse based around the talks during the breaks. 
"Different experts talked about the importance of education, and how we should expand our knowledge by speaking to those in different fields," said fifth-year interdisciplinary medical sciences student, Aayushi Joshi. "That's what I find so interesting about sharing ideas. You can be an expert in your own field, but there's so much that we don't know about other things and the only way that we bridge these gaps is by talking about other people."
TedXWesternU hopes to become a yearly Western tradition and to continue inspiring students to pursue knowledge for many years to come. 
"To strengthen your belief is to have it challenged, and that is what this is about: your world, challenging ours," said Varghese.
—Alyssa Therrien, contributor