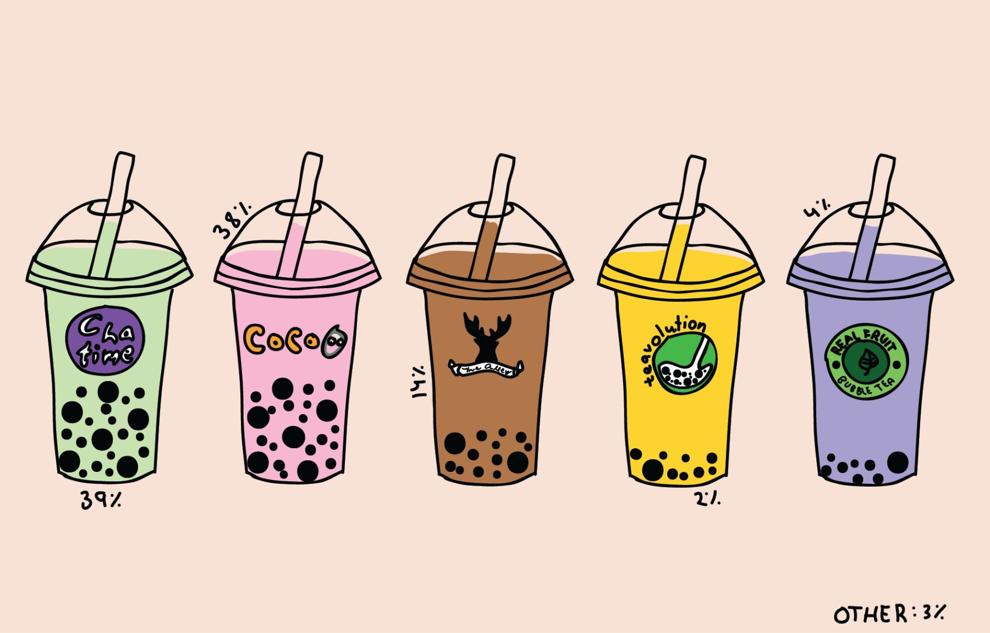 London has officially jumped on the boba bandwagon.
An influx of bubble tea stores have opened their doors to the city, and in turn, to Western University students. And while Torontonians, "Sauga" city residents and other GTA-raised people are all too familiar with this Taiwanese tea-based drink, for many students, London is their first introduction to milk tea madness.
We asked people on Western's infamous "Must Knows" Facebook page what their favourite bubble tea spot was. Across 200 votes, the most popular responses are below.
1. Chatime
Chatime has been in London for three and a half years, making it the first "big brand" bubble tea shop in the city.
"We secured the lease for the place while it was still a cornfield. We waited for the land to develop for Sobey's to get built and finally this was the last building to be brought up. It's my baby," said Grayson Li, Chatime's store manager and owner.
Chatime serves over 70 drink options, including milk teas and fruit teas, with its most popular being the pearl milk tea. However, they offer something different with their Taro drink. This bubble tea is more viscous than others of its kind, as it's made with ground-up Taro compared to other companies that use a powdered base.
Alongside drinks, the store offers desserts such as cake and macarons, as well as a study space for students to enjoy.
Chatime is located at 541 Oxford St. West, at the Oxford and Wonderland Road intersection.
2. Coco's
Having been around for a little over a year, Coco's came a close second.
Offering over 50 drinks, Coco's is the world's largest bubble tea brand — making it easy for store manager Lisa Ma to penetrate the Western's student market.
Coco's offers the largest space for seating and studying, which separates it from competitors.
According to Ma, it's not the only separation.
"We don't have as many flavours as a lot of other places, but what we focus on is the quality of each drink."
Across the street from Chatime at 654 Wonderland Rd., Coco's also offer's Taiwanese food from Chi Chop, making the space a one-stop-shop for students with hours of studying ahead of them.
3. The Alley
In third place, The Alley is relatively new to London, although it isn't new to the bubble tea scene.
With a bourgeois interior, it's no surprise that their drinks are costlier than both Coco's and Chatime, although perhaps this is warranted as much of their material is made in-house.
The Alley makes their own cane sugar syrup and handcrafted tapioca, which they call "deerioca". They attribute their well-textured tapioca and their tempting aroma to the process.
Located at 735 Wonderland Rd., The Alley is also close to restaurants allowing students to grab food from a myriad of places.
4. Real Fruit Bubble Tea
Real Fruit focuses on freshness.
With no artificial preservatives or additives in the drink, they go the extra step by adding freshly cut fruit into every order. Fruit drinks are never pre-made or prepackaged and are always processed on-site.
It has a smaller sitting area compared to the other bubble tea locations — but for students looking for a quick grab-and-go, this may be the ideal location.
Ranking in fourth, students can try Real Fruit Bubble Tea at Masonville Place.
5. Teavolution
Finally, last but not least, Teavolution is situated downtown at 205 Oxford St. East, right around the corner from Urban Outfitters.
Teavolution, alongside The Alley, offers the latest operating hours — closing at 12 a.m., it's perfect for a late night dessert. Offering over 90 drink options, Teavolution by far has the most options compared to other bubble tea brands.
They also offer over a variety of desserts, including seven different types of cheesecake.