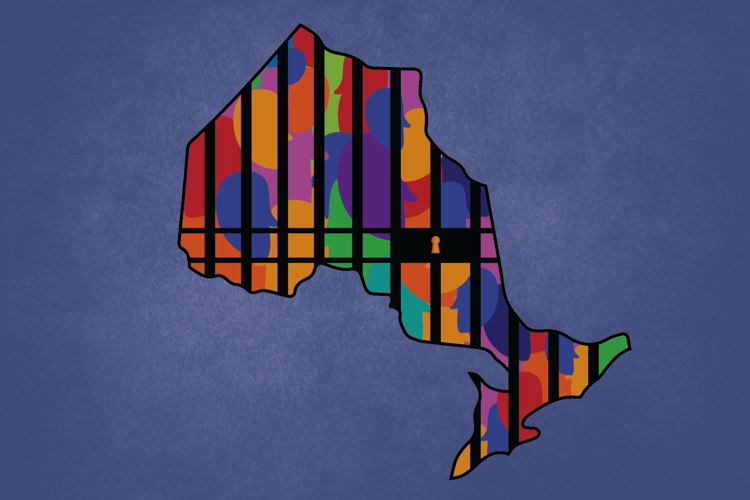 The Elgin-Middlesex Detention Centre is nothing like Orange is the New Black.
Netflix's minimum-security prison drama Orange is the New Black has coloured a lot of perceptions of what prison can look like, but the reality in London's own backyard is much different — a reality where 13 individuals have died since 2009.
Often referred to "the devil's playground," the EMDC, located just north of the 401 highway on Exeter Road, is a provincial maximum-security prison with a maximum capacity of 450 inmates — 300 over the capacity it was originally built for — in questionable conditions.
After years of increasing media coverage on the EMDC, including inmate deaths, drug overdoses and frequent lockdowns, Kevin Egan, London lawyer and guest lecturer at Western University, began a class action lawsuit against the Government of Ontario against the conditions and practices at the EMDC, citing the violation of prisoners' rights.
Now working with a class size of 13,000 inmates housed at the detention centre between Jan. 1, 2010 and May 18, 2017, Egan filed the Statement of Claim to bring about the lawsuit in 2013, which describes severe violence, minimal medical care and overcrowding within the prison walls.
"There's overcrowding, understaffing, poor institutional design, and there is a deep cultural malaise within the EMDC that involves laughing at the bad fortune of inmates," says Egan.
But this overcrowding is despite a 33.8 per cent decrease in crime since 1998 as of 2017. However, the introduction of Bill C-10 in 2012, a tough-on-crime legislation, significantly contributed to further overcrowding in prisons. Changes included mandatory minimums, fewer conditional sentences and harsher sentences for youth, resulting in a growing remand population according to research.
And despite increased awareness among the community and the Ontario government, there is still little being done to improve the EMDC.
"The problem is that the EMDC has the original model of supervision and design, where the guards can't see what is going on unless they go up and look in the block," Egan shares. "And they don't look because they have more inmates to look after."
Many of the EMDC's problems stem not from the inmates, but from the overcrowding and insufficient response from facility management and provincial government. Egan notes that, due to an inadequate response to overcrowding, the guards have allowed larger and more violent inmates, known as "servers" in prison argot, to make their own written rules, post them in the cell block and enforce them. The class action claim states that "prisoners were instructed [by guards] to follow those rules or risk being beaten."
In his guest lectures, Egan often visits sociology courses to discuss the inhumane treatment suffered at the EMDC. As Egan explains, most recently on Nov. 16, he undertook this class action lawsuit after two inmate assaults surfaced in 2009, Jesse Henebry and Randy Drysdale, the latter of which died from his attack.
Though separate from the class action, Egan illustrates that he first got involved on behalf of Drysdale's family.
With a growing awareness of Drysdale's story, "other individuals began to come forward," says Egan. These individuals would later make up the constituents of the class action lawsuit he now heads.
Earlier this year, the court supported Egan's case representing Henebry that there were the violations of the Canadian Charter of Rights and Freedoms, which resulted in a payout of nearly $1 million.
In the decision, Justice George stated that "the prevailing public sentiment seems to be that those in jail deserve to be there, and what happens to them while inside is what they had coming.… This ignorant view fails to recognize that many inmates are in custody for crimes they have not yet been convicted of."
Egan believes that this message is precisely what students needs to hear and ensures that students leave his guest lectures with a deep understanding of the situation.
The EMDC declined to comment for this story.
Liam Kennedy, King's University College criminology professor, says in an interview that through his research, he's learned that "there are issues about how we frame people who have been criminalized. We know about these occurrences from the media, but society doesn't care because this group is othered."
"When teaching students, I draw attention to the humanity of incarcerated individuals," says Kennedy. "I want them to reflect critically about the people in prison as individuals and how they got there."
For Kennedy, this is critical, because not all at the EMDC are convicted criminals.
"I want [students] to see people who have been or are incarcerated talk about their struggles," says Kennedy. "It is really easy to see the individuals who died in the EMDC and care little about them because these people are 'criminals.' But you don't know that they are actually criminals because they often have not been convicted of anything yet and are in remand."
Kennedy's experiences within the academic realm of corrections reveals a general disinterest to extreme cases, such as the EMDC, which, in turn, results in little incentive for the government to act on the issue.
"We need to reflect critically about the laws and what we declare as criminal and what we don't. Certain populations are more likely to come into conflict with the system," says Kennedy.
The long-term solution for these issues, however, may not be building new facilities or hiring more staff. Instead, Kennedy says the correctional system needs to "stop putting people in the system who don't need to be there.... We shouldn't hold people in detention before they're found guilty, because a lot end up not being guilty."
Similar to Kennedy, Egan believes that the current prison system fails prisoners.
"What we really need to do is not look at these detention centres as warehouses, but as opportunities to rehabilitate," Egan emphasizes. "Our system makes inmates worse, and we are impacting society at large."
To Egan, it all comes down to a change in political will, and he has come to believe that the only way to affect that political will is to continue to sue the Ontario government and make it expensive to maintain its current course.
"The government will come around to the right way of thinking for financial reasons and not for altruistic reasons," says Egan.
Egan believes that changing the public attitude regarding prisoners — and thus inciting change in the government — begins with university students.
"That is one of the reason why I go to different campuses to speak, because I see a need to sway the public sentiment," says Egan.
Matthew Yeager, a criminology professor King's, has applied practice in prison and court advocacy on behalf of convicts and points toward eligibility as the issue, an idea that suggests prisons will only act as deterrents if prisoners live in worse conditions than the lowest social class.
"The nature of prisons is historic, and they run on the principle of 'less eligibility.' This means that overcrowding, poor food and understaffing are tolerated, and there are often several guards who are known as enforcers who will use gratuitous violence when they can get away with it," says Yeager.
Yeager's beliefs echo Kennedy and Egan: students do have an integral place in this issue. As such, he urges anyone interested to get involved.
Students can expect to see Egan on campus again for a guest lecture in February (more information and a tentative date can be found in the New Year) and are encouraged to contact Egan with any questions about his work. Those interested are also encouraged to get involved with the correctional community, as there are always opportunities in London put forth by Correctional Service Canada and The Salvation Army.
Update (6:51 p.m., Dec. 8): Paragraph three was updated to indicate that the detention centre's maximum capacity is 450 as opposed to its current housed population.
Update (10:19 a.m., Dec. 9): The article was updated to reflect that the EMDC has declined to comment.