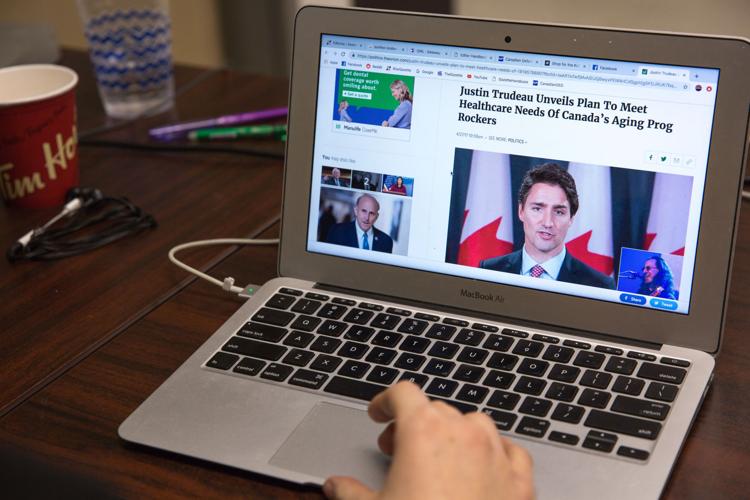 Political memes, ranging between funny cat pictures and fail videos, have become commonplace on social media. These appear all around us — from Saturday Night Live skits to comics and memes all over Facebook. It's cathartic to laugh at them, but could this cause more harm than good?
Satire at work
Western University professor Albert Katz, a cognitive psychologist, draws on both personal and professional experiences to form his opinion on satire.
"One of my interests is in the processing of non-literal language. [This is] where someone says something but means something else," says Katz.
Through his interest in non-literal language, Katz examines the mechanisms behind satire and puns. As he explains, humour often requires a sense of community. For example, a lot of satirical comics about Donald Trump have a similar theme; orange, small hands, barely any hair — this is context that anyone would understand
"Context is super important because it allows you to have a shared knowledge. In reading, shared knowledge is the text, but in real life, the shared knowledge is a lot more than that," Katz explains.
When writing a novel, an author can control the context. In real life, there are a plethora of cues for understanding satire and irony — tone of voice, body and language cues, etc. So in reality, it can get pretty tricky to figure out when someone is being satirical or ironic because there's more info that can mislead you. If it's so complex, what happens when there is a lack of knowledge? As Katz explains, it starts to get a little more personal.
"You kind of take a risk when you use something that has non-literal [language] meaning in that you are assuming the person will understand it — and if they don't understand it, it's almost an emotional jab to you — and that's why I wonder if it is different or even less so online because it's so much more… hurtful," he states.
People online recognize this. There's a reason why peoples are using so many emojis — because people are spending more time online and want to convey the subtle cues we would pick up on in real life. Even still, this doesn't always work. When it doesn't, it has the potential to come off as aggressive.
"I think it's going to be humorous, and when people are asked to rate their conversations, they can say, 'Oh, that's funny.' When you ask the other person, they don't see it that way. They often see it is as not funny; it's more of an aggressive statement. There's a disconnect between the speaker and the listener." Katz says. 
The big picture
Thomas Streeter, a professor in the faculty of information and media studies, is particularly interested in how culture, media and technology interact. He's able to fill in the gaps about how this conversation of satire and political memes fit into society.
"The question [is] of power and powerlessness. Bitter humour has historically often been most popular in places where people don't have power," says Streeter. "As a college student, you are not [totally] powerless, but … you are not in a position of great authority, so I can kind of see how that sort of 'joke-y' culture evolves partly in relationship to that."
He talks about how comedy and satire are often voices for the voiceless and are often used by people who feel powerless. From his point of view, memes are a natural thing that have evolved out of a community of people who often feel powerless in politics: students.
However, the rise in political memes and satire has done something entirely new to democracy. Streeter tells us that in the past, only a few media outlets were the ones able to effectively criticize and define political parties, which set the boundaries of acceptable discussion. In recent times, the Overton window, which Streeter defines as the range topics taken seriously, has been greatly expanded due to social media.
"Bernie Sanders and Donald Trump, who [were] before 2015 outside the window, [wouldn't get taken seriously, and so] we can just safely ignore them, but that's not quite true anymore," he says. "So I think, part of what's happening then is meme culture and humour creates this space that used to be just on the fringes for people who had no power. But now you can start building community around it; that can do things like influence elections."
Political memes can make light of reality, especially with their prevalence and repetition. And although this has not been directly proven, professor Katz shares a similar feeling.
"I think in some senses, repetition [of satire] makes you miss the steam, nastiness; you become inert to things," he states.
This means that, although political memes can give a voice to the voiceless in some sense, it doesn't have the same affect. In the end, no change may be enacted, and people might stop caring about serious issues as they become the butt of a joke and commonplace.
Re: Democracy
Professor Streeter has seen this effect, recalling an experience a colleague of his had. When she asked a group of young, passionate people who cared deeply about social issues they wished to see in politics, she realized they missed the greatest part about democracy.
"She said, 'OK, here's the thing, go to the marches, make your statements, that's a great starting point, but at some point you have to go to that committee meeting, and you have to do the long, slow slog of ordinary political life,' " says Streeter.
Recently arriving at Western from the United States, he believes that Canada's politics have a certain strength — even if young people are gravitating toward memes instead of committee meetings.
"One of the things Canada has going for it is, more people are willing to say, 'Yeah, I will support someone who is running for provincial government, or I will go out to a meeting,' " he says. "Government feels a little more accessible, but you also have to build on that."
Streeter, however, is optimistic about the future — how students have let their voices be heard and have found their own way to participate in politics.
"I think there's reason, amid all the scary stuff, to kind of wonder if there's not some reason to be optimistic about it. We've kind of messed it up so far, but there is potential for better democracy."